My love for copyright policy finally paid off in a big way. As one of five finalists in the GRAMMY Foundation Entertainment Law Initiative Writing Competition, I won an all-expense paid trip to this year's Grammy ceremony in Los Angeles. It's basically the coolest thing you can possibly do as a law student, and maybe the least cool way to get to the Grammys. So I found myself in Los Angeles for the first time ever, with a folder full of VIP passes and a star-studded itinerary.
DAY ONE
The festivities began on Friday with the ELI Luncheon, where my four cohorts and I were awarded our scholarships. We were treated to a taste of red carpet glamor, complete with paparazzi-style photography. I kept secretly thinking that the cameras were fake, and it was all just a ploy to make us feel more important than we were.
Friday evening brought us to the MusiCares benefit honoring Bob Dylan at the L.A. Convention Center. This was the concert where Dylan gave his monumental acceptance speech that recently made the rounds on music blogs and social media. I was told that the majority of attendees at this massive event were "super-rich Bob Dylan fans."
Before dinner, there was a silent auction filled with rock memorabilia, artwork and various luxury items. I couldn't afford the lowest bid on any of the items, so I just circled around looking for celebrities, but I only spotted one: comedian Richard Lewis. Womp womp.
The real stars were seated in the ballroom. Before taking a seat at my table in the very back of the venue, I did a little walk around the floor, pretending to look for a friend. Jeff Bridges brushed my shoulder on the way to his seat. Willie Nelson was chatting with friends, wearing a puffy silver jacket. Jack White was there, looking pale and stoic. My ELI friend spotted Gaga and Tony Bennett strutting through the door, but I was too distracted by the sight of Ringo Starr eating a salad. Neat!
There was a live auction before the event, as well, including a Lexus and a tropical cruise. I nearly choked on my Bob Dylan chocolate when someone dropped $110,000 on some Dylan memorabilia. By the end of the night, MusiCares raised a record $7 million. I thought back to all the Nuçi's Space benefits I've attended or participated in, trying to get people to throw $5 in a jar or hand over $100 for a brick.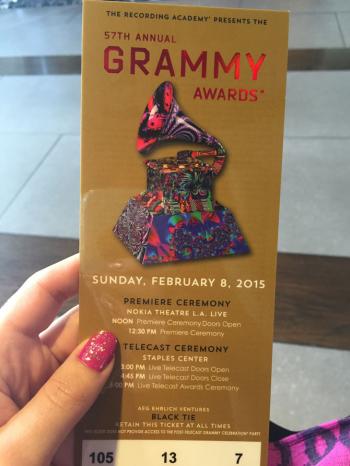 A bunch of famous performers each did a Dylan cover. Jack White managed to make "One More Cup Of Coffee" sound like a White Stripes song. The lyrics were projected on the back of the room, which was too far away for Willie Nelson to read from the stage, so there was an awkward pause while we waited for techs to set up a closer screen.
Tom Jones provided a particularly stunning rendition of "What Good Am I?" (My favorite quote of the night, from a tipsy attendee: "I don't know how or why, but Tom Jones killed it") and Springsteen and Neil Young closed the night. The star power on that stage outshone the Grammys by a mile.
DAY TWO
I had a little time to explore L.A. Saturday morning, but by 3 p.m. it was time to gown up again for the Grammy Special Merit Awards & Nominees Reception at the Wilshire Ebell Theatre. This is where the winners of Lifetime Achievement Awards are formally recognized, among other recipients. It was an emotional evening; many of the performers were honored posthumously, such as George Harrison and the Louvin Brothers. Barry Gibb accepted the Bee Gees' award on behalf of his brothers.
After the awards were handed out, we were paraded into a large reception hall for the nominee party. When I say "nominee," keep in mind that there are 83 Grammy awards, with five nominees in each category (many of which are collaborations or groups) and they all have guests. So, this party was pretty huge. There were endless buffets of food and open bars.
The nominees themselves were gifted medals that they wore around their necks. It was a treat striking up conversations with medallion wearers; I met people nominated in categories like "Best Contemporary Instrumental Album."
I didn't see any super-famous celebs there, although one of the other ELI students spotted Miranda Lambert and hubs Blake Shelton. My guess is most of the pop stars were partying at the exclusive Clive Davis pre-party. I think it's safe to say that not all Grammy nominees are treated equally.
DAY THREE
The big day. Although we could have easily walked to the Staples Center from our hotel, we were told that our means of arrival determined whether or not we got to walk the red carpet. So instead of arriving by foot, we took an Uber to another hotel farther away, so we could board the Grammy shuttle.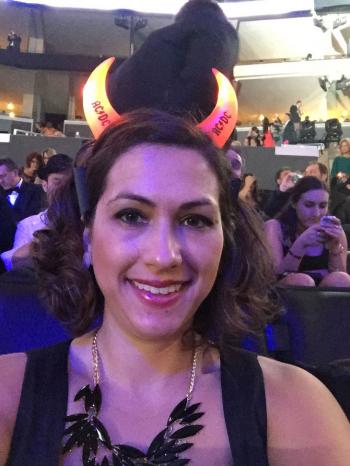 Photo Credit: Michelle Davis
We were funneled into the red carpet area—basically a big, long tent, divided in half by a velvet rope and some windowed partitions. It felt exactly like visiting a crowded zoo. The nobody attendees (like us) slowly proceeded down the carpet, peering over the rope to see what celebrities were on the other side. (I spotted Weird Al, Ariana Grande, Ryan Adams and Tom Jones, among others.)
The only celeb to come over to our side and say "hello" was porn star Ron Jeremy. I… don't know why he was there. One of the other ELI winners took a selfie with him, which I am pretty sure immediately disqualified him from meeting the "character and fitness" requirement for passing the bar exam. Worth it?
Taking photos was tricky, because the celebs were backlit by the huge lighting rigs brought in by the media. But we all had our phones in the air anyway, like the zombie voyeurs in the "White Bear" episode of "Black Mirror," trying to capture whatever stars we could to brag about on our Facebook pages.
Before the show began, we were handed light-up AC/DC devil horns. Grammy producer Ken Ehrlich gave the crowd instructions about cell phone use (don't do it) and when to wear the horns and when to take them off. He interrupted his speech to address a man making his way through the front row, "Excuse me, sir, do you have a ticket?" The man in question walked up and shook his hand—it was Paul McCartney. I squealed.
The performance itself was as you saw it on television, more or less. Everyone has asked me what happens during commercials, and here is the answer: Everyone gets naked and swaps outfits with the person sitting next to them. It's really weird.
Just kidding. They actually just showed prior Grammy performances on the screens while everyone ran to the bathroom. Then God himself (I'm pretty sure) announced that we were live in 30 seconds, or whatever, and everyone ran back to their seats.
Oh yeah, and Kanye did that thing where he pretended to walk on stage. I totally missed it, because I was trying to get a photo of Prince looking like Prince. "Wait, did someone just try to get on stage?" I asked the other ELI winners. "Oh, I think Kanye was pretending to interrupt him." And that was that.
AFTER THE PARTY…
There are a ton of Grammy afterparties. The folks sitting behind us were headed to one thrown by whatever record label they worked for. We were given tickets to the Recording Academy's Grammy celebration at the convention center, along with about 5,000 other people. The theme was "Passport to the World"; there was a giant boat in the middle of the room and hot air balloons everywhere.
The buffet tables were decorated with live human beings in period costumes with vacant eyes and plastic smiles who stared at you as you piled up BBQ short ribs on your plate. There were costumed extras on the boat, as well, just sort of aimlessly strutting about. I guess that's what happens when you throw a party in a city saturated with unemployed actors.
This party is not usually the place to spot celebrities, but by some miraculous act of Yeezus I walked in at the exact same time as Kanye and Kim Kardashian. Kanye looked annoyed, and he was sort of dragging Kim behind him. They walked with purpose and muted aggravation, like when you're in a huge rush but you left your damn tab open at the last bar and have to run back to close it.
I fumbled with my cell phone and tried to grab a photo, but they were too fast and I was too awkward. Kimye were shorter than I expected, and before you even ask, I didn't get a chance to properly assess Kim's rear. Sorry. I kicked off my shoes and danced all night to live performances by Jessie J and Gloria Gaynor, who was celebrating the 35th anniversary of "I Will Survive."
Like what you just read? Support Flagpole by making a donation today. Every dollar you give helps fund our ongoing mission to provide Athens with quality, independent journalism.