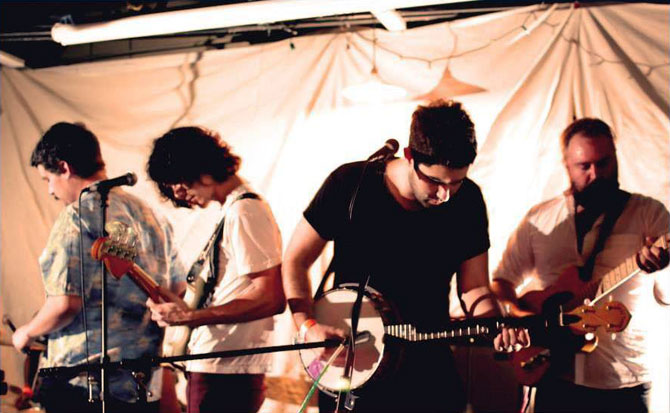 Orlando's Day Joy is proof positive that even in the cluttered chaos of a blog-dominated industry, persistence still pays off. Songwriter and guitarist Peter Perceval says he often dedicated up to six hours a day pumping his music into the Internet ether, hoping the tunes would "pick up traction." Slowly but surely, it worked. A girl in Newark shared the band's Animal Noises EP on her Tumblr. One of her followers reposted. And then another, and another, until Day Joy caught the attention of vinyl-centric label Small Plates Records, who offered the band a record deal.
"A lot of people look at [the blogosphere] in a negative way—that it's really overwhelming and hard to be heard… but you have a better chance to get known now than even five or 10 years ago," says Perceval.
It helps that Day Joy's tunes are pretty irresistible. Led by vocalist Michael Serrin, the band crafts mellifluous melodies that are equal parts delicate and decadent, airy songs rich with harmonies and emotion. It's beautiful music from a group that shares members with Loud Valley, An Introduction to Sunshine and Saskatchewan—all established purveyors of dream-pop in their own right.
"We're all very supportive of each other's projects," says Perceval. "I had pretty much given up my dreams of being in a band… but [my bandmates] were a huge influence… I would never be doing this without their encouragement."
Day Joy's debut full-length, Go to Sleep, Mess, will be released by Small Plates on double-vinyl in October. The label also secured a proper PR team, so maybe Perceval can finally take a break from the 'net and focus on the tour ahead. This is the perfect chance for Athens to catch a band on the brink.
Day Joy performs at the Caledonia Saturday night, but get there early (really early—like, 7 p.m.) for local band White Violet's free record-release show.
Like what you just read? Support Flagpole by making a donation today. Every dollar you give helps fund our ongoing mission to provide Athens with quality, independent journalism.