Outside press on Athens tends to focus on our music scene—only, it's the scene of decades ago. A few big names—Modern Skirts, Drive-By Truckers, of Montreal—have kept up the Classic City rep since the days of R.E.M. and the B-52's. But those success stories are few and far between, and although the local music community continues to thrive, bands seem to have to leave town to make a name for themselves.
Some local leaders say it's because Athens lacks a strong support network for musicians, as well as key industry connections to the outside world. To address these issues, a group of local artists and supporters, with the help of a Colorado-based nonprofit, are promoting two events this weekend to make connections with music communities across the nation.
"We have this legacy, but it doesn't highlight how much we have going on still today," says Michelle Davis, an artist advocate and former Flagpole music editor who has been active in the Athens and Atlanta music scenes for over a decade. "Any opportunity to put the spotlight on Athens is great."
While interning with the Future of Music Coalition in Washington, D.C., last fall, Davis heard about a Colorado group called SpokesBUZZ that worked to link bands across the country to make the touring process easier.
"I've always felt strongly that Athens needs to be on the national map," she says. "The local music community needs more opportunities to branch out and have contact with all areas, especially the West Coast."
We have this legacy, but it doesn't highlight how much we have going on still today.
So, Athens joined BandSwap, SpokesBUZZ's cultural exchange program, which pairs bands from small-market cities around the country to create a national network of touring opportunities and link bands to new fans. Host cities feature their own shows at the end of September and send representatives to Colorado to play the BandSwap Homecoming festival the first weekend in October.
Athens is one of nine cities this year, alongside Charleston, SC; Chico, CA; Denver and Fort Collins, CO; Lafayette, LA; Madison, WI; Nashville, TN; and Portland, OR.
On Friday, Sept. 19, Athens Intensified will help kick off the BandSwap activities at Hendershot's with SyncroniCITY, a panel discussion and mixer focused on indie touring. It will feature David Barbe, from Chase Park Transduction and UGA's Music Business Program; Coley Dennis, Maserati guitarist; Alyssa Dehayes, of Riot Act Publicity and Arrowhawk Records; and Mike Turner, of HHBTM Records and Crashing Through Publicity. The event is free but requires an RSVP.
Saturday, Athens' k i d s will play the Caledonia Lounge with Denver-based pop group Eldren, a seven-person band that infuses psych-pop and electro rock with acoustic introspection. As self-proclaimed of Montreal superfans, Eldren already has a "to-do" list of spots to hit in Athens.
The overall goal of BandSwap is to highlight what nurtures each city's creative climate and tell a story about each unique music scene, says SpokesBUZZ founder Dani Grant.
"We spent a lot of time learning from the musicians who are part of our organization and found out how difficult the linear touring model is, [where it] takes five to 10 years to develop a great fan base," says Grant. "There's a breakdown that happens during touring, and we want to show the benefits of sharing your fanbase and sharing the stage."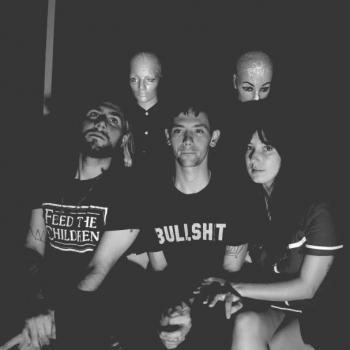 In Athens, Davis set up meetings with the Athens-Clarke County Commission, Athens Downtown Development Authority, Team Clermont and UGA's Music Business Program. After a nomination period, Flagpole named k i d s as this year's featured band.
"Overall, I think Athens has the most specific and unique sound compared to the other cities on the list," says k i d s guitarist Jared Collins. "We have that pop aspect, with a '60s rock mix and a lot of noisy parts. I think BandSwap is into it, and we're looking forward to showing the other bands what it's like here."
The group is also looking forward to its Colorado engagements: k i d s was initially booked for a small venue at the Homecoming, but as festival plans fell into place, BandSwap representatives moved them into a larger space and added a second show during the weekend.
Collins agrees that Athens music could benefit from stronger outside connections. "When I first started working at a venue in town, people would hit me up for shows, and I was excited to book them. But then the venue wouldn't promote it, they'd show up, and I'd feel terrible," he says. "In general, Athens should support touring bands more, and I think this event sheds light on that type of thing and how we should treat them."
Across the country, different BandSwap cities will feature unique aspects of their scene at their respective host shows, such as farm-to-table cuisine and craft beer. To Collins—one of the forces behind the new art space and music venue Noun Factory—this weekend's overall focus is to show Athens as an artistic community. To wit, k i d s is planning visuals to accompany their set Saturday.
BandSwap goes beyond simply engaging the music scene in each host city, encouraging local governments, cultural associations and academic institutions to be involved in the planning process. Grant hopes this will open up the conversation about supporting music.
"If we can have more discussions with municipalities, they can see the economic development benefits of supporting artists in various ways," she says. "Let's talk about why the music scene is important, and why it's valuable for the city to support it."
That's particularly true for smaller cities where the industry and infrastructure can't typically take bands from garage to label, adds Davis. "We're at the stage where we have a great artist community, but aren't New York City or Los Angeles," she says. "There's a benefit to reaching out and pooling resources with other music towns, and geographically, Athens is in a good place to offer a lot to touring bands."
Davis and Grant want this year's first-time event to spark a conversation, with the hope that next year, more community members can help out by booking shows, brainstorming additional events and joining as sponsors.
"When all the bands come back to Colorado for Homecoming, they spend a lot of time together and talk about the same struggles they're all facing," Grant says. "We've already seen [BandSwap] bands go on tour together or record together. We want someone in Athens to be able to call up someone in Fort Collins or Portland and set up a tour."
WHAT: SynchroniCITY: Making Indie Touring Work
WHERE: Hendershot's Coffee Bar
WHEN: Friday, Sept 19, 7 p.m.
HOW MUCH: FREE! (RSVP required)
WHAT: k i d s, Eldren, Spirit Tramp
WHERE: Caledonia Lounge
WHEN: Saturday, Sept. 20, 9 p.m.
HOW MUCH: $5 (21+), $7 (18–20)
Like what you just read? Support Flagpole by making a donation today. Every dollar you give helps fund our ongoing mission to provide Athens with quality, independent journalism.