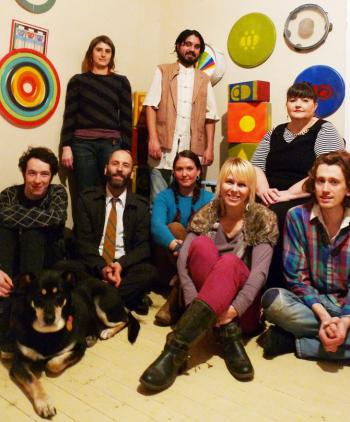 Sometimes, Athens music is such a tangled web of collectives, shifting lineups and multi-band artists that it's almost impossible to keep it all straight. The beauty in that, of course, is that musicians get to take turns as bandleader as they change roles, instruments and often genres from one project to another. Hannah Jones is one of those musicians.
Jones, the songwriter and frontwoman behind the newly re-energized The New Sound of Numbers, has been on the local music scene for quite some time. Formerly a percussionist with Circulatory System, she formed New Sound in the mid-aughts, releasing a debut album of textured, experimental post-punk, Liberty Seeds, in 2006. Since then, "I've been playing drums with Supercluster and working on paintings," Jones says. "I wasn't ready to figure out who to get to play in [New Sound's] new formation."
With seven years having passed since her last release and some of the band's original members, like bassist Jeff Tobias, having relocated, reconfiguring the lineup was no small task. Jones did have a chance to record Tobias playing bass for New Sound's new album, but she still needed someone for live gigs. Enter Eric Harris.
"Eric has a really awesome, dirty sound," says John Fernandes, who plays violin and clarinet in the band and also brings a playful spirit. "We were playing 90.5 [WUOG] the other day, and they passed around an album for us all to sign," Fernandes says with a laugh. "When it got to me, I looked at it and said, 'Hey, who signed Jeff's name on this thing?'" The culprit, of course, was Harris.
Jones released Invisible Magnetic, the follow-up to Liberty Seeds, last month on Fernandes' Cloud Recordings, the label she shares with many of her longtime collaborators. "[The new album] has a much more celebratory feel, with tribal-type rhythms," she says.
That celebratory feel will be on display at the upcoming Schlitzmas festival, an annual event put on by recognizable Flicker fixture and booze-infusing alchemist, bartender William Chamberlain. Launched last year in honor of everyone's favorite swill and Flicker's top-selling item, Schlitzmas is a three-night engagement of live music, swag and suds.
Thursday, Dec. 5 will kick things off in low-key style, with performances from Madeline, Four Eyes, Brett Vaughn, Chris Barnett and an acoustic set from Yo Soybean. Friday features Parrothead, Shade, Deep State, Brothers and The Cryptides. The New Sound of Numbers will perform Saturday, Dec. 7, along with Future Ape Tapes, Thayer Sarrano, Moths and Hand Sand Hands. Admission is $5 per night, or $10 for all three.
Though he won't specify exactly what he's got up his sleeve this year, Chamberlain promises "lots of free Schlitz merch." Last year, that merch included a skateboard, a talking Schlitz fish, jackets and more. He has even organized a photo booth this year, "where you and your friends can get a proper Christmas-style photo." Most importantly, all the cash raised from the event goes to benefit Nuçi's Space.
And isn't that what Schlitzmas is all about, after all? Charity, generosity, giving unto others… actually, wait a second. That's what Christmas is all about. Schlitzmas is about something else entirely, says Chamberlain—namely, "sharing and friendship and getting too drunk to remember who it was you made out with in the Johnny Cash memorial bathroom." Now that's more like it.
In the spirit of the season, Jones says New Sound will be playing an unrecorded song at the festivities. So even if you don't walk out the door with the perfect piece of kitsch and an epic photo of you and your pals blitzed on Schlitz, there's still a lot to look forward to.
WHO: Schlitzmas
WHERE: Flicker Theatre & Bar
WHEN: Thursday, Dec. 5–Saturday, Dec. 7, 9 p.m.
HOW MUCH: $5 ($10 for three-night wristband)
Like what you just read? Support Flagpole by making a donation today. Every dollar you give helps fund our ongoing mission to provide Athens with quality, independent journalism.