Jamming on the blues is as natural for Athens-based musician and studio engineer Rick Fowler as anything he ever does on stage or in the recording booth. A rock and roller at heart, Fowler can easily handle most rock-centric situations, but when the opportunity to collaborate with a truly authentic blues act comes up, he jumps at it.
This week, Fowler and his bandmates will enjoy trading mean licks and deep grooves with one of Georgia's finest guitarists, the legendary Beverly "Guitar" Watkins.
"Beverly is an inspiration—the way she's still up there and doing it at her age of 73," Fowler says. "It will be an honor to share the stage this week."
Local promoter Troy Aubrey initially contacted Fowler with the idea of doing a co-billed show at the Melting Point with Watkins, who often performs with a group called the King Bees. Together with Watkins, they decided that the Rick Fowler Band would perform a 70-minute set as the opening act and another 70-minute set as the septuagenarian guitarist's backing band.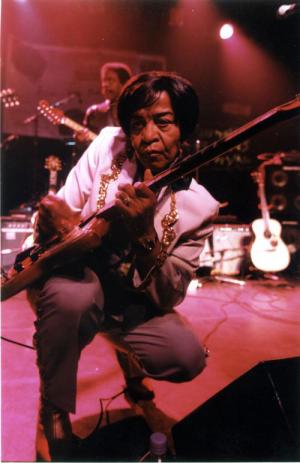 "We'd performed together like that once before, and it went great," Fowler says. "We just followed her during our first set together and tried to hang on. At one point, she turned around to me and said, 'Y'all have got to go on the road with me.' We all laughed and thought it was great. We've stayed in touch about recoding and playing festivals and gigs."
Interestingly, shortly after that first jam, Fowler realized he already had an unusual musical connection with Watkins.
"I used to play with one of Beverly's old bandmates, Roy Lee Johnson," he says. "Johnson's main claim to fame was his composition 'Mr. Moonlight,' which was covered by the Beatles in 1964. He was an R&B and blues artist who taught me a whole lot about music in general, years ago. He and Beverly played together in a Georgia-based group called Piano Red and the Interns."
The leader of that band, Piano Red (a.k.a. William Lee Perryman), was already a well known radio personality, pianist and singer when Watkins joined the fold in the early 1960s. The group scored a handful of hit singles, including "Dr. Feelgood" and "The Right String (But the Wrong Yo-Yo)."
In the 1970s and '80s, Watkins struck out on her own as a solo artist and side player, nurturing her enviable guitar talent along the way. Usually playing a vintage Fender, she regularly drew from a blend of rockabilly, big city blues, roadhouse soul and gospel.
Watkins also developed a reputation as a soulful, expressive vocalist who could easily switch gears from gentle and sweet to guttural and fiery from song to song.
Six decades into her career, Watkins is rolling strong and steady. These days, she still sways and swings with classy swagger, and she can blaze things up with Hendrix-esque pyrotechnics, too.
"She's definitely the frontperson and the star of the show," Fowler says. "We can't wait to hook up with her in front of an audience [again]. She's a real sweet lady, and she really interacts well with everybody, with solo-trading and all of that. We'll be in backing-band mode, for sure. It'll be a blast."
But there will be a wealth of talent onstage Saturday. Fowler's current group is a tight combo comprised of several skillful Georgia veteran musicians: bassist and vocalist Greg Veale, guitarist and singer Michael Doke and drummer Deane Quinter. Organist Tim White will appear during both sets at Saturday's show as a special guest on the Hammond B3.
"Michael is a great slide player, which is a blessing to me, because it adds a really cool element to the music," Fowler says. "With Greg on bass and Deane on drums, it's a great rhythm section. I'm lucky to have these musicians in my band, because they make anything I write sound okay."
WHO: Rick Fowler Band with Beverly "Guitar" Watkins
WHERE: Melting Point
WHEN: Saturday, Nov. 30, 8 p.m.
HOW MUCH: $8 (adv.), $10 (door)
Like what you just read? Support Flagpole by making a donation today. Every dollar you give helps fund our ongoing mission to provide Athens with quality, independent journalism.