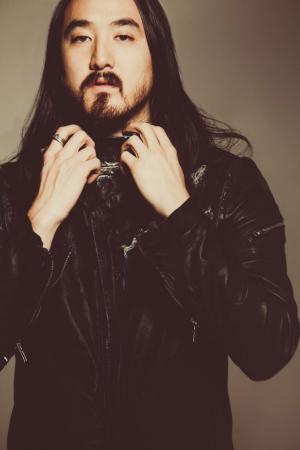 Steve Aoki—lanky, longhaired and mustachioed in the style of Sax Rohmer's Fu Manchu—bears all the visual subtly of an emoticon. It is exactly this signature look that has turned the DJ, producer and record label boss into something of an underground icon. Quintessentially hip, Aoki's image is unmistakable although not quite ubiquitous—especially compared to his half-sister, the supermodel Devon Aoki. This may change soon. With the recent release of debut album Wonderland and a huge international tour underway, Aoki is primed for a mainstream crossover, whatever that means these days. He probably couldn't care less.
"I don't think this album is made for the radio, and if it gets played on the radio, it doesn't bother me, either. It's just a whole different world now, and you don't need the radio to survive as an artist or to be successful touring," Aoki says. "With this album, I'm speaking to my friends and to people who know my music and want to hear it."
Regardless of what Aoki says about radio play, Wonderland is unabashedly a Marquis Who's Who of Billboard top-radio ephemerals, featuring LMFAO, Lil John, Kid Cudi, Travis Barker and Rivers Cuomo, among many others.
Aoki's music is unapologetically hard and in-your-face. "When I go to the studio and I write a club song, I write in the respect that I want people to lose their minds; I'm not trying to be subtle. I want people to be screaming at the top of their fucking lungs when they hear the drop," Aoki says. Loud and decidedly of the maximalist school, an Aoki track mixes hypercolour electro synth stabs, dubstep bass drops and the sort of gaudy melodies you hear in trance and progressive house.
And although some in the electronic community have deemed his brand of electro "over," Aoki doesn't feel pigeonholed and appears to still love the genre that he helped define at its peak five years ago. "My music up to this point has been a really edgy kind of aggressive-sounding dance music—which, in my definition, that is electro. At the same time, I think with this album we'll be showing a lot of different sides of my productions as well."
Although Wonderland is his first full-length, Aoki is no doubt a veteran in the game. Starting out at as a DJ and party promoter, he founded his record label, Dim Mak, in 1996. Since then, he has helped break artists like The Kills, Battles, MSTRKRFT, Bloc Party, The Bloody Beetroots and many others in the United States. Producing his own music since 2006, his first "crossover" hit came in 2010 with his huge remix of Kid Cudi's "Pursuit of Happiness."
Among those in the L.A. DJ jet set, 34-year-old Aoki is probably the most multifaceted. You can call him a fashion designer (of Supra sneakers and KR3W apparel), a venture capitalist (of Sol Republic Headphones) or a videogame character (in the NBA 2K series).
"When I'm in L.A., I'm working on many projects, but obviously everything always revolves around my record label, Dim Mak." In fact, you can probably call Aoki most anything; just please don't call him a hipster (or question his authenticity).
"The whole concept of the hipster, people definitely put that thing on me, but the definition of a hipster is definitely not me. That 'over it' attitude? It is absolutely not in my vocabulary." Aoki continues, "If I'm ever 'over it' I don't even want to be a part of it. If I ever really feel like 'fuck DJing, DJing is fucking whack, these people suck,' whatever, I'm not going to DJ. But I love it. I love the people that come to my shows; I sincerely love them. I look at them and I'm so incredibly happy that they come to see me play my songs… That's the attitude that's driven the album Wonderland, this tour and Dim Mak. It's all love."
Ultimately, the man who is known for pouring Grey Goose vodka down his fans' throats at concerts doesn't seem likely to stop his most iconic schtick anytime soon.
"I do that because [my fans] want it. I only pour vodka in people's mouths that want it," Aoki proclaims. "That's why in my rider I have like 60 bottles. You know why? Because I want to hydrate my front of the crowd that is slammed against the barricade and they can't get a drink and they won't fucking leave because they are so fucking passionate about the fucking show. I want to make sure they're having fun, and if they want a drink, I will fucking give them a drink myself."
WHO: Steve Aoki, Datsik, Alvin Risk, Feral Youth
WHERE: The Bad Manor
WHEN: Wednesday, Feb. 8, 8 p.m.
HOW MUCH: $25–$35
Like what you just read? Support Flagpole by making a donation today. Every dollar you give helps fund our ongoing mission to provide Athens with quality, independent journalism.