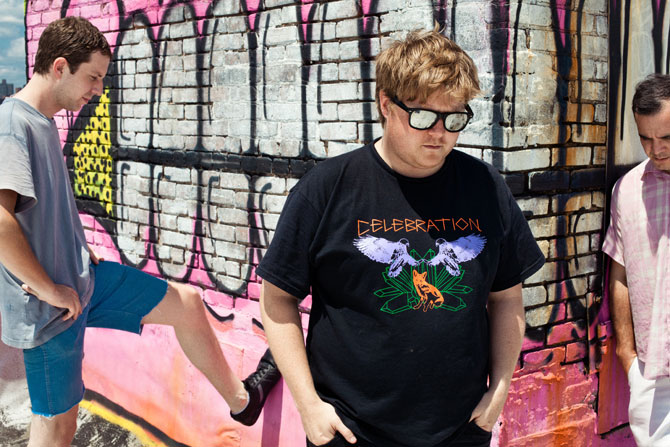 Few things irk Samuel Herring—one third of synth-pop outfit Future Islands —like a show that clocks in at anything less than its full potential. So much so, it seems, that months after the band's last tour, one such show still sticks with him.
"There was a show on the last tour—my body was shot. I got a little sick before the show, I had a little stomach thing and was really kind of crippled onstage as far as my physical movement,†he says. "I felt terrible because the truth was that I didn't feel I had given everything I could. I didn't live up to what people may have heard or people know about our live shows. And even if people don't know that, [I] know that. â€
Maybe it seems ridiculous for this show to still stand out in Herring's mind, but fronting a road-warrior band comes with pride in your craft as a necessary survival skill—the same pride that originally made the Baltimore via Greenville, NC group an indie hit with its 2010 sophomore effort, In Evening Air.
"In Evening Air changed the game for us in a lot of ways, allowing us to get out there,†says Herring. It was a record we really believed in, and when we put that out it was more the feeling of 'This is it. If this one doesn't take us somewhere, then what the hell are we doing?' That record changed a lot of people's opinions who did know us and turned a lot of people on to us.â€
It seems that once you've got an opinion formed about your band, the logical thing is to change it, which is precisely the formula the trio adopted on 2011's On the Water, a more subdued, introspective addition to the band's discography.
"We were wondering how to elevate what we had done or how we should challenge ourselves,†he says. "There was also 'Do we challenge ourselves [or] try to essentially make the same album again?' With On the Water, we knew we were taking a chance by slowing things down, making it more introspective and talking about some issues that were probably more personal to us.â€
Slowing down is a big deal for Future Islands. Frankly, it's something they haven't done a lot of since hitting the touring circuit. The daily rat race that indie touring musicians deal with can be hell on one's psyche, but, as was the case with On the Water, it can also become inspirational when a lull is found. Before the writing for On the Water began in earnest, the threesome did something with which they were pretty unfamiliar: spent some time apart.
"Some of the songs deal with the grind of being a musician and a bunch of questions that had been going through our mind for the last few years as we get older and keep doing this. Your brain gets bigger, but your body gets weaker, and it just makes you feel all kinds of different things,†says Herring. "We started writing these songs that were a bit deeper, a bit slower. I think that was us coming off of that rush and all that work. That's where the music comes from, through all that personal experience. It's not until you get a chance to sit down that you actually get to look at it and say 'Where did the last six months go?' The album really deals with those kinds of feelings.â€
"Feelings" is an operative word for Future Islands, and despite a more emotive and personal record, nowhere does the band express anything better than on tour. The stage is a place they know well, and it's a place to which they're eager to return.
"The biggest thing we want to do [live] is just create some kind of experience for people, to make a show atmosphere as intimate as possible and give people any kind of release we can. We can give ourselves to people onstage, and they can kind of live through us or feel a release through our release,†says Herring. "If you can move people physically, you're doing good. If you can move people emotionally, you're doing really good. If you can tackle both of those things, then what else can you ask for?â€
WHO: Future Islands, Ed Schrader's Music Beat, Party Party Partners Variety Show
WHERE: Caledonia Lounge
WHEN: Saturday, Jan. 28, 9 p.m.
HOW MUCH: $8 (adv.)
Like what you just read? Support Flagpole by making a donation today. Every dollar you give helps fund our ongoing mission to provide Athens with quality, independent journalism.