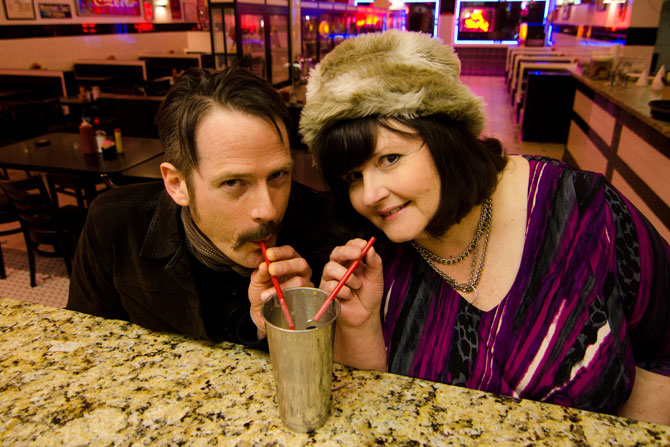 Forego the sappy Hallmark greetings this year and give your sweetheart something truly meaningful: songs of passion, desire and romance. Or, if it's been that kind of year, maybe a set of brooding ballads filled with heartache and longing is more apropos. Either way, you'll find something to love here as Pylon's lead singer Vanessa Briscoe Hay and Abandon the Earth Mission frontman Josh McKay serenade each other mixtape-style.
"When asked to make a mix for Mixtape Wars," reflects Hay, "I realized that I had never made one before! I tend to listen to an entire record or CD by an artist… Here are the songs I ended up with on the particular Sunday that I put this list together. Any other day I'm sure I would have come up with a completely different mix. Love songs are personal, as is musical taste."
McKay, on the other hand, is a mixtape vet. "Mixtapes have been a thing since my first Panasonic in elementary school," he says. "Turn a friend onto some favorite nuggets, get a good sequence going… But for Valentine's, well, the jams gotta go down like wine and chocolate, right? Go ahead… indulge yourself, Valentine."
Josh McKay's Valentine's Mixtape
Stream this mix in its entirety!
"Me and You" by Brenton Wood
Why Josh McKay picked this track: This song always puts a smile on my face. The best mid-song sweet-nothings rap ever. And I love how he gets side-swiped on his first spiel by his crooning alter ego! "Remember those lovin' fools, Romeo and Juliet?"
Vanessa Hay's reaction: When he earnestly starts spinning his rap for his lady, I chuckled. But he's so earnest he had me sold by the end. We all like to be reminded of someone's deep love for us ocassionally.
"Viens" by Françoise Hardy
JM: When I pulled this LP at the record shop and asked them to put it on, as I was hearing this song for the first time, a single tear rolled down my cheek. The dispassionate clerk stared blankly back across the counter. Valentine, don't do me like that…
VH: French really is the most romantic language. The arrangement swoops in to caress her voice like a lover. In another vocalist's hands, it would be over the top. I think she is singing about someone leaving, but I'm not sure.
"Love Is the Drug" by Roxy Music
JM: In 1975 this was a no. 2 hit in England. What fun the U.K. '70s charts must've been. It was also Roxy Music's highest charting single in the U.S. Yeah, you think you've heard it enough times already, but take a listen, one more time. "Boy meets girl, where the beat goes on."
VH: I think he is really singing about lust here, but that's OK by me. Hey, it's Bryan Ferry, and it's a dance tune.
"??????" by ??????
JM: This is kinda my Holy Grail after years of Indonesian treasure-hunting. I took a chance on a plain-label '60s 7-inch from a Javanese eBay seller, and had my ears braised by this smoking-hot vocal performance. Smoldering production to match. Valentine, you won't find this song anywhere else; I assure you. I'm keeping the title secret. You'll have to find out when we meet…
VH: Picture this: mysterious, beautiful female vocals singing in another language accompanied by Hammond organ, a fruity cocktail, a quiet dark bar in the afternoon, rain falling on jungle green leaves just outside the open window.
"The Arab Boy" by Björk(ita)
JM: The opening track from Björk's real debut LP. She was 12. There's a great story to the whole thing; she won a school contest with a song she wrote for recorder. The prize being she got to make a record. Became a surprise hit in Iceland… there's more, look it up! Great lyrics on this one. She's singing about falling in love with a boy one night while in Cairo. The line she repeats emphatically at the end of each stanza is "I LOVE HIM!"
VH: She sounds so damn cute and adorable on this song. Icelandic bubble-gum pop made for driving around together in the car. Sit as close as possible and head for the country.
"Swallow" by My Bloody Valentine
JM: Obviously. This is from the Tremelo EP in case you didn't have it already. Pre-Loveless MBV feels like a tipsy first night together.
VH: Lush, beautiful song, not sure what it's about. The soundscape seems to be the thing.
"Blood Rainbow" by Tim Hecker
JM: As apocalyptic soundscapes of the 21st century go, Tim Hecker's are the sexiest. If you've made it this far, here's a blood rainbow sorbet before the dark night ahead.
VH: The dark side of romance. Vampires, werewolves, all taking a rocket together to Mars? A little scary. You had better know her/him well before you pull this one out.
"Willow's Song" by Magnet
JM: I got lucky and saw The Wicker Man at a film-fest when I was 14. This scene and song made a big impression. I learned then, never be the policeman-—always be the Britt Eckland.
VH: Sweet and innocent sounding, but completely risqué! Milkmaids were very popular for a reason. No, I didn't really just say that…
"Believe" (Cher cover) by Macha & Bedhead
JM: From a recording I did in 2000 on cassette multi-track. I got my Fun Machine organ sounding like a Funeral Machine, put the lyrics in past-tense to make it a murder ballad, and got my friend Matt from Bedhead to sing it, running him through the then-brand-new affliction known as auto-tune. I miss my land line.
VH: What is a love song list without at least one phone song? Sounds like it is being sleepily sung to a special someone while off on the road somewhere wishing he was there. Great version.
"I Get Along Without You Very Well" by The Durutti Column
JM: OK, Valentine, let's be real. We've all had a heartbreak or two, but let's not let it get in the way. This song has it all. The joy, the gloom, the springtime AND a ripping guitar solo out of nowhere in the middle of everything! This 7-inch is a Hoagy Carmichael cover, courtesy of Factory Records' first signee. Good story to this one as well—the guest vocal is by Lindsay Wilson, having just divorced Factory founder Tony Wilson. Let me know you're out there, V… I don't think we've been properly introduced yet…
VH: Well, of course, we should be able to stand on our own two feet. She's really telling him off! I find that independent spirit very sexy.
Vanessa Briscoe Hay's Valentine's Mixtape
VH: Allison Goldfrapp and composer Will Gregory address the importance of relationships in this bare-bones synth-pop dance piece.
JM: Aw yeah… teenage Autobahn glam vibes to break the ice. Did she just say "I'm like a dog to get you"? Let the good times roll…
"More Than This" by Roxy Music
VH: Bryan Ferry's vocals are absolutely lovely, and the last one-third of the song is synth-driven pop which makes it perfect for romantic dance floor spinning.
JM: Roxy Music certainly cornered the market on fearless romanticism. This song has such a sweet ache to it. I picked 'em for my mix as well!
VH: There are many versions of this song, but I think this is the one I first heard dancing somewhere in Athens at a party. There is always the chance when we first declare our love for someone else that it might be shot down/unreciprocated. It is an act of bravery to act on that feeling and declare your love. Anywhere that there is a wall of any type that needs to be reached across, well this one is for you.
JM: Taking it to the next level. Bowie really digs in on this one, and it never gets old. I think I heard this was used for a commercial, which I'm glad I've never seen.
"Just Like Heaven" by The Cure
VH: I understand Robert Smith wrote this for his new wife, and you can feel the happiness and love come through in his voice and in the lyrics.
JM: I'd never actually sat down and listened to this one before, but have noticed how it always picks up the party when it comes on. It's that effortless, inviting feel.
"Ain't No Cure for Love" (Leonard Cohen cover) by Jennifer Warnes
VH: Jenny covers Lenny. I am a huge fan of both Leonard Cohen and Jennifer Warnes, and this song definitely belongs here for many reasons. No one can sing like Jennifer Warnes and no one writes more honestly about relationships and love than Leonard Cohen. The whole album is fantastic.
JM: Ah, you beat me to the Cohen… but it's good because I'd picked one from the dark side. This is one I'd never heard.
"Let's Stay Together" by Al Green
VH: Who would or could leave Al after hearing this? His voice was one of the great ones of the 20th century, and here he uses it to full advantage—crooning, growling and pleading his case.
JM: Hearing your mix before I'd finished mine knocked some of my prime contenders out! I debated doing an All-Green Mixtape, because I mean really… can you ever get enough of that voice?
"Fly Me to the Moon" by Astrud Gilberto
VH: Best known for "The Girl from Ipanema," Astrud here lends her cool, spot-on delivery to a song that has been covered by many, many singers, making it all hers.
JM: I've got a total fixation with the lovers-who-are-performers-together. Astrud and Joao, Deborah Harry and Chris Stein, Exene and John, Kim and Thurston, Stevie and various members of Fleetwood Mac [hahaha]. My imagination goes wild!
VH: Mr. Bennett released this record to commemorate Duke Ellington's 100th birthday. Some interesting things happen with the trumpet toward the end of the song, courtesy of Wynton Marsalis. "Mood Indigo" was obviously written about the blues one suffers at the end of a relationship. This is precisely the type of record you must listen to, to get over it—cheerful, happy love songs will not do at all.
JM: Always heard this song referenced, as classics are, but never heard it before now. Only ever heard Tony Bennett on TV as a kid, too. Dang, this shizzle's lushhhhhhhh.
VH: This is the last song on a concept record co-produced by Joanna Newsom and Van Dyke Parks. The inspiration for Ys comes from a legend about a mythical Cornish town which was swallowed by the sea. Romantic fantasy anchored by beautiful voice, harp and orchestrations.
JM: She boggles.
"And I Love Her" by The Beatles
VH: It's just another love song until Paul McCartney sings, "Bright are the stars that shine, dark is the sky/ I know this love of mine, will never die." George Harrison's acoustic guitar lead is really cool. When I was a young lass, I thought this song was so romantic… and I still do.
JM: Ahhh, simpler times. Thanks, Vanessa dear!
Like what you just read? Support Flagpole by making a donation today. Every dollar you give helps fund our ongoing mission to provide Athens with quality, independent journalism.