What are you thankful for, Athens? Judging by the makeup of our downtown, alcohol is certainly high on the list. And when things get awkward around the dinner table this Thanksgiving, you might be extra thankful for inviting special guests Jack, Jim and Evan to help ease the tension. For this Mixtape, we enlisted the expertise of Matt Hudgins (of Shit-Hot Country fame) and the crew of orchestral pop band Venice Is Drinking, er, Sinking (don't let the sweetness of the violas mislead you, VIS is a drinking band) to present their soundtracks for drunken celebrations and wallowing alike. Cheers!
Matt Hudgins' Mixtape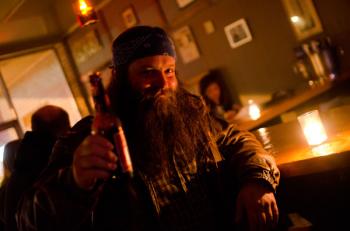 Photo Credit: Mike White
1. "There Stands the Glass" by Webb Pierce
Matt Hudgins: Hey, Venice Is Sinking, let's meet at the bar around four and see if we can't shut that sucker down. What do you think? Only thing is, I'm running a little late, so order up and give this jam a listen.
Lucas Jensen: Gave it a listen. Awesome. Never heard this one, though we're all pretty into the golden days of C/W. I love how they can say so much with such economy. That song's what? A minute-and-a-half? By the way, what's your poison? We're scotch drinkers, except Jeremy, who likes the bourbon.
MH: Beer is my Poison. Jameson is my Motley Crue.
2. "Why Do Lonely Men and Women Want to Break Each Other's Hearts?" by The Star Room Boys
MH: OK, sorry about that; I sweated through my shirt from throwing iron at the gym earlier and had to go change. Dave Marr is a real sonofabitch for writing this one, don't you think? If we can't get drunk to The Star Room Boys, might as well just pack it in and head to church.
LJ: This one's just a monster. Thanks for choosing it. Dave Marr and Co. were one of Athens' greatest outfits, and the fact that they aren't millionaires – along with the existence of Puddle of Mudd – is one of the reasons I question the existence of God
3. "Chug-A-Lug" by Roger Miller
MH: Roger Miller is the man. Don't you guys love Roger Miller? I love your band. Hey, do you all need an opener for anything any time soon? Because my band is really good. And we would totally do it.
Jeremy Sellers: Thanks! You ain't so shabby yourself. Sheesh, we should get a room. We don't have a ton of shows coming up on account of writing album number four, but you're on the docket, sir. And of course we love Roger Miller. Was that a rhetorical question?
4. "Whiskey You're the Devil" by Clancy Brothers
MH: Hey, Karolyn. I bet you're Irish, right? I'm like 1/32 Irish myself. I got real drunk in NYC for St. Paddie's one time. Have you ever been to McSor… ? No, it's cool, finish your Scrabble game. I'll be right here at the bar.
Karolyn Troupe: Matt, a lot of people make that assumption about me due to the red hair, but what makes me seem Irish actually comes from Eastern-European heritage. However, this song could make anyone crave whiskey, whether they're Irish or not. So, I'm done with Scrabble… I'll see YOU at the bar.
5. "Whiskey River" (live) by Willie Nelson
MH: Take a shot, pussy. I'm looking at you, Daniel.
LJ: Daniel couldn't respond because he is in a cabin on the Blue Ridge Parkway. He asked me to water his tomatoes while he was away. Make of that what you will. As for this song, it's a great choice, of course, but I actually might prefer the Johnny Bush version… is that sacrilege?
6. "16 Shells from a Thirty Ought Six" by Tom Waits
MH: I can't tell if I'm drunk or just that into this song. And I say that completely out of character from the pretend drunk date we're on for the sake of this little bit of "legitimate journalism" for Flagpole. Tom Waits is such a freak.
LJ: Well, you know how to pick 'em. Consider this one firmly in our wheelhouse. Swordfishtrombones is in my top three Waits albums. Daniel's favorite Tom Waits album is Heartattack and Vine… interesting choice! Bob Seger covered this. His version stinks. Though we are not anti-Seger, his general persona reminds us of pouring motor oil on a wool sweater.
7. "No Pussy Blues" by Grinderman
MH: Ouch. Close to home, bartender. Like a salty snack, the truth often leaves one with a powerful thirst for more booze. Especially when it sounds this Bad-A.
LJ: Love Nick Cave. Saw him with the Bad Seeds in 2002, and it might be the best show I've ever seen. Haven't had a chance to check out the Grinderman flavor of Nick Cave live, but I'm sure it kills (much like this rager). We are a completely partnered band right now for the first time in a while, so these lyrics have taken on a thankful lyrical irrelevance to us!
8. "I Do Not Know How to Live My Life" by Harvey Milk
MH: Oh, crap… how did we end up at the Engine Room 10 years ago? I must be more wasted than I thought.
LJ: No offense to RPM, but I miss the old, old Engine Room. When I moved here in 1998, I ended half my nights there. The other half I ended at parties that I found out about at the Engine Room. Those were good times… blurry, but good. I only saw Harvey Milk once back then before they broke up (Neutral Milk Hotel, too), but it was a blurry good time.
9. "Angel of Death" by Slayer
MH: I think I drink with too many dudes. My 20s would probably have been a lot different if I hadn't always been drawn to places that played stuff like this the closer it got to last call. Oh well, my reward will be in heaven.
LJ: You might find this surprising, but Venice Is Sinking always toasts to Slayer when doing shots, a tradition started by our first bassist, Steve Miller (of Savagist and Ceramic Dvck fame). We've kept it going in his honor. Even the most non-metal person has to respect Reign in Blood, right?
10. "Sick, Sober and Sorry" by Lefty Frizzell
MH: And now we fast-forward to tomorrow "morning." Hangovers sure suck, but at least we can laugh at our own pain along with Mr. Frizzell. Thanks Venice Is Sinking for a great time, sorry I called you all those names I don't remember calling you. I really had a lot of fun, I think. And seriously, email me about that opening slot. I'm totally down.
LJ: Zzzzzzzzzz.
Venice Is Sinking's Mixtape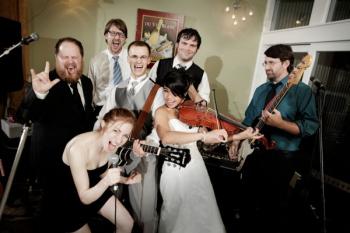 1. "Loving Cup" (demo) by Rolling Stones
JS: I love the version that came out on Exile on Main Street, but if you're going for something a bit more drunk, then look no further than this much earlier version. The sound quality of the one I was able to find on YouTube is atrocious, but I've heard this demo with much better audio quality, and it's glorious. The Stones are obviously pretty wasted (notably Keith), and it's just a great example of how a song can be quite messy and loose, but still be amazing.
MH: Rolling Stones, eh? Never heard of them, but they sound like a real nice little bar band. Don't mind if I do, good sirs!
2. "Tales Facing Up" by Drive-By Truckers
JS: I used to play this song with some of my friends that I was in a band with from Vidalia, GA. I'm not sure if we ever actually played it at a show, but I definitely enjoyed playing it when we would just get drunk at the house. The Truckers were one of the main reasons I moved here back in '99 (and the fact that I got into UGA). They're still one of my favorite bands.
MH: This song just reeks of sweat and booze. I'm all thirsty now. Look out… tonight the liquor is calling the shots, Randy!
3. "If Drinking Don't Kill Me (Her Memory Will)" by George Jones
LJ: This is probably an obvious choice, but I can't think of a better song about drinking from perhaps country music's most notorious imbiber. Daniel saw George Jones a few years ago, and he described it as "weird," saying that George didn't even sing on some songs, sitting in a chair half-comatose. Looks like the drinking did get him after all.
MH: Oh, Possum. You are the one thing every drunk son of a drunk has in common with his father. Well, that and alcoholism. You guys are good. Almost too good.
4. "Drinkin' Bone" by Tracy Byrd
LJ: Even for a modern country song, this one has ridiculous lyrics. It featured prominently in one of the oddest (possibly alcohol-fueled) local performances we ever saw. We consider Zach Gresham from Summer Hymns kind of a genius and one of the town's best songwriters, but this one night at Little Kings he was all over the map, fiddling with drum machines, making random noises, half-playing his own songs, and interwoven with everything was this song over and over again, only played much looser, more atmospheric, and creepier. By the end of the night, it was downright menacing.
MH: I'm calling Jeff Griggs to hang out while this gem's playing. It combines two of my favorite lyrical themes: specifically, drunkenness and wildly inaccurate anatomical descriptions. SHOTS.
5. "Hearts on Fire" by Cut Copy
LJ: Late night, after shows and/or drinks, we like to start impromptu dance parties, and Cut Copy's album, In Ghost Colours, is usually the catalyst for this. It's like the perfect mashup of New Order and Depeche Mode. I'm pretty sure you won't like this one, Matt.
MH: Haha, I love that about 2/3 through both our mixes we get weird in a way that reflects where we like to get drunk. Let me guess, you guys hang out at Go Bar? Dig the bar; dig the musical change of pace. VODKA SHOTS. Let's get weird.
6."Mamma Mia" by ABBA
LJ: ABBA is another late-night impromptu dance party favorite. You can grouse all you want, but ABBA are masters of concise, complex pop songs; I mean, this jam has, like, six choruses or something! After a botched show in Savannah, we got slizzered and danced around to ABBA in front of three scowling straight-edge cyclists who sat on the couch, quietly judging us. Karolyn slept in the van that night, and a knife fight erupted around her. Good times.
MH: I prefer the Original Cast Recording, but OK.
7. "Indian Outlaw" by Tim McGraw
LJ: Both Daniel and Jeremy suggested this one. I have no idea why.
MH: FIREWATER SHOTS. Tonight we are all Indian Outlaws. Good job, Venice Is Sinking, now Hudgins Is Stinking. I dunno… I always think I'm so damn funny when I'm drunk. Cheers.
Like what you just read? Support Flagpole by making a donation today. Every dollar you give helps fund our ongoing mission to provide Athens with quality, independent journalism.