Well, we made it to Cardiff. We found the venue pretty easily (it was located across from a giant castle), pulled down a side street to load in the gear and went to find a parking garage. We killed time before the show by going to get some dinner at this cheap-ass but deceptively fancy restaurant. Then we went to a Sainsbury's and got some snacks: digestive biscuits and whatnot. Then we walked back to the venue and played our show.
We've gotten into a habit of writing down "talking points" during our sets of like, things we did during the day that we can talk about. Seriously, if we don't write that stuff down, we won't think to talk about it during our set. Maybe we're just so caught up in our, um, performance. We didn't write any down for Cardiff, so we just recycled Liverpool's. It was a big hit. People in the UK seem to eat up banter, where it seems like people could care less in the States.
After our set, but before Bunnygrunt's, we went back out to the Sainsbury's to get more snacks, only to find when walking back that there was a better store literally right next to the venue. The snacks here are just way, way, way better. Bunnygrunt had started having duck-walk competitions during their sets where the winner would get a free T-shirt and the loser would get a free T-shirt and a CD. Jake had to judge. After the show, we went back to the house of Chris and Meins (of the Waiting Room Radio Show) and went to bed. There were some apologies about having us sleep on camp beds, but we all fell asleep pretty much instantly.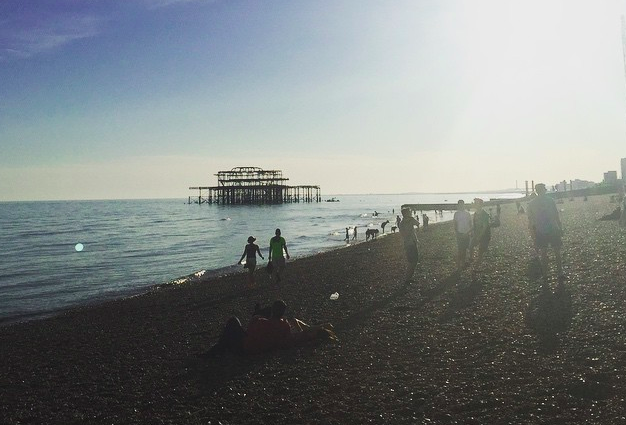 For a lot of reasons, we were pretty late getting into Brighton, which was a little unfortunate because it's such a fun city to hang out in. Chris took us to this record store where Mike and Bunnygrunt found all sorts of things they were into. After a pretty rough drive, we loaded into The Hope & Ruin really quickly and had a much easier time finding parking than the previous times we'd been there. We had time for a really quick walk down to the beach (rocks, not sand) and then to a vegetarian restaurant for, like, actual vegetables.
I think our touring party had a good night all around. We finally succeeded with decent stage banter revolving around tattoos and whales (there were laughs, I promise). I think at some point we all kind of felt like we were dying, so we caved and drove half an hour closer to London to a hotel. We don't usually do the hotel thing all that much; our van is big enough so that we can both sleep in it if it's safe and the weather is nice, and we really usually can't afford it. Even if we can afford it, it seems like such a huge expense that's not worth it in the end. The studio time at the end of this tour, though, is way more expensive, so that's kind of what we were thinking about.
This morning was some classic Eureka California tour luck, as we got up and left with plenty of time to make it but got stuck in an agonizing drive. Being so unfamiliar with the motorway system, we were at the mercy of the sat-nav. We stopped off for gas about a mile off the motorway, and instead of taking us back the way we had come, the sat-nav took us through several small towns, all of which seemed to be having farmers markets or outdoor festivals. It took over two hours to get the 45 or so miles of the trip to Notting Hill, and then we had to park illegally in a mostly pedestrian area overrun with tourists and shoppers that didn't feel the need to look either way before stepping out into heavy traffic.
The purpose of this trip was so Mike could deliver some records to Rough Trade—mission accomplished—and then we had the fun of driving through central London in the middle of the day to get to the Shacklewell Arms for the Fortuna Pop all-dayer.
We were lucky enough to get street parking half a block away from the venue. We got there around 1 p.m. and our set time was at 4 (the show was scheduled from 3 until about 10). The coffee shop next door was a totally pleasant surprise, as was the food we had later from the bar (a few people had kind of made "meh" noises about it, but it was great). Mostly we were sitting around, because at some point I (Marie) finally caught what Jake had been sick with and was feeling pretty fucking terrible. The phrase that frequently came to mind was, "My face is sliding off."
Our buddies Witching Waves that we had played with last year were first and sounded amazing. The show got pushed back a little for some reason, and on the new schedule our set time was 4:20. We made this the subject of some stage banter but apparently they don't really do the 420 thing over here, so it was a little awkward. The full bill for this show was Witching Waves, us, Mammoth Penguins, The Spook School, Tigercats, Colleen Green, September Girls and Bunnygrunt, so it was kind of stacked.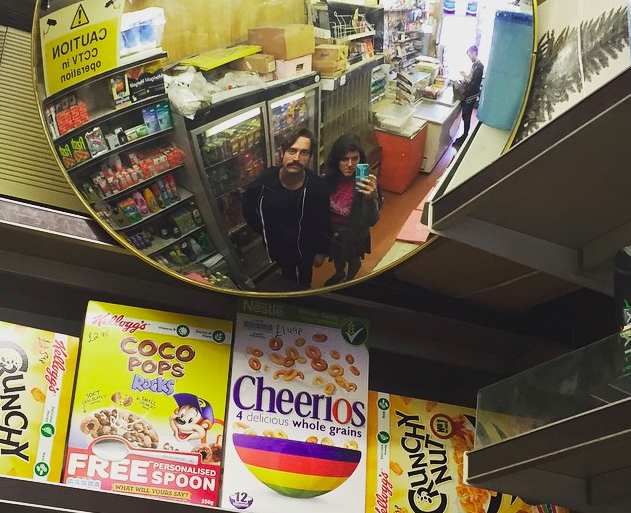 After playing, we got some burgers with Ashley from Bunnygrunt. Then Marie stayed behind at the venue and I (Jake) went walking around London for a couple of hours. At the end of the night, we watched Bunnygrunt play and I came up onstage and played a song with them. Then it was all over and tour was officially over with. We said our goodbyes, packed up the car and drove to our friend Jen's flat (where we are right now). This was easily the most successful EC UK tour we've had yet, and we can't thank everyone we've met along the way enough.
Now we're going to go to bed, take Mike to the airport and go to Leeds, where we're going to record our next album. Bye, y'all.
Like what you just read? Support Flagpole by making a donation today. Every dollar you give helps fund our ongoing mission to provide Athens with quality, independent journalism.