As I write this, we are making the jaunt from Liverpool to Cardiff. It's been a couple of days since the last update, so let's see what all we can remember.
We finally bid farewell to Nottingham/Indietracks on Monday morning and made the way to Edinburgh/Scotland. In all honesty, I spent most of the entire drive asleep in the back, so I (Jake) don't really have any interesting bits of info about the drive. Mike and Marie said they saw some water and sheep and stone fences.
Edinburgh was absolutely gorgeous. We arrived at the venue about a half hour early, so we decided to park and explore around the area. We picked up some postcards in a local shop and I found a book with the Ward crest on it. Instead of buying said book, I took pictures of it. Apparently, the Ward family motto is "Faithful even till death." Whether or not that is true, only time will tell. After that, we made our way back to the venue, The Banshee Labryinth, a sort of metal/B-movie/horror-themed pub boasting that it is "Scotland's most haunted pub." Pretty spooky. There were multiple bars and even a movie theater (which was showing The Fifth Element all night) within the club.
The show went about as well as a show at a haunted pub could go (it was great). Our friend Will from Liverpool recently relocated there, and this was the first show he put on in town. Nice Church was the local support. They came out to an REO Speedwagon song. Our friend Len (This Will Be Our Summer. Records) was in town and saw us play. We chickened out of the house shooters, several of which involved a combination of tequila and Bailey's. A good night all around. Being the rock and roll stars that we are, after the show we went back to Will's flat and went straight to bed.
In the morning, we ventured out to explore a little bit of the city. Some of the highlights included: finding a really great breakfast cafe, exploring this massive park, spying the castle from far away, discovering a memorial to Robert Louis Stevenson and taking a photo with a dog statue that symbolized Edinburgh's connection with its Sister City, San Diego.
Then we made the drive to Glasgow in the rain. I think I slept, but I really don't remember. For the record, Glasgow is fucking massive. Before we went to the venue, we went to a few record stores. Monorail was our first stop and was sort of tucked away off the beaten path in the back of a coffee shop. Record Fayre was our second stop and specialized more in things that would appeal to the bad teen demographic: Rob Zombie chain wallets, Judas Priest posters, Megadeth CDs. We each preferred one record store over the other.
Then we went to a drum store where Marie could buy some felts for the drums. Up until this point, we hadn't really had to use the full kit that we had rented, which is kind of odd, since in the UK it's kind of customary for the all the bands to borrow the touring band's gear. (This is obviously not the case in the U.S.) After getting a little turned around, we ended up at the venue, The Glad Cafe, a quaint little spot with art and poetry on the walls and a club in the back. We had lunch (burgers mixed with haggis—we're all so adventurous and worldly) and just hung out in the cafe since it was cold and rainy and cold. And cold. After the gig, keeping with tradition, we went back to where we were staying with Chris, the promoter, and went straight to bed again. Is that punk enough for you?
We woke up fairly early and made the trip to Liverpool so we could spend time with our dear sweet friends in Good Grief. If you'll remember correctly, we brought Good Grief over last year to tour America, Land of Dreams. Some highlights from that tour were: watching them freak the fuck out over portion sizes/free refills, getting yelled at by Patrick Stickles at Shea Stadium but having the rest of +@ be really sweet to us, playing SlopFest (which we're very sad we can't play this year—miss you, Derek) and introducing them to various bro-sodas such as Budweiser and Icehouse.
Again, I slept most of the way from Scotland to Liverpool. I know we stopped to use the bathroom/get some food. We got pasties (fancy Hot Pockets) and sausage rolls (Pouch has these sometimes. Not enough of the time, if you ask us). Mike gave some of his food to some crows and they started fighting over it. We spent a little way after that talking about how fucking cool crows are. Seriously. If you don't know then look it up. Do it. Oh and we also found a radio station called "Absolute Rad '90s". The "rad" is just "radio" cut off, but it's pretty alright.
Our friend Paul took us out to the Albert Docks to go to the world's most depressing maritime museum, as well as a less depressing museum about pop music from Liverpool. The museums sit on the edge of the Mersey, which is worth noting, since you could see jellyfish swimming about in the water. After spending time in the two museums, we went back to the parking garage where we relived that episode of "Seinfeld" where they can't find their car. Spoiler alert: We found it.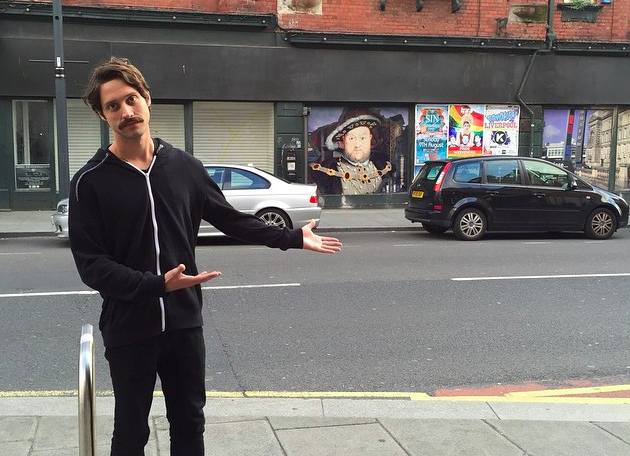 Pizza Bar for our show. They gave us free pizza, and we also shelled out for a hot dog wrapped in pizza. Dear Athens, open a pizza bar. Peaness (unfortunate name/awesome band/only their second gig) opened, then us, then Good Grief (UK sweethearts) and Bunnygrunt closed. Bunnygrunt's "Where Eagles Dare Pt. II" has been stuck in my head for most of the tour. This is not a bad thing. The Liverpool show was fantastic: We ate pizza, we got to see lots of old friends, and even some people that had seen us at Indietracks came and saw us again. A+.
In the morning, Paul took us to an American-themed restaurant. The place was decked out kind of like an Applebee's with goofy shit on the walls but also had cacti (I swear I heard someone call them cactuses) and a model train. Marie and I split the "American Breakfast," which was kinda right? It included eggs, bacon, hash browns, toast, beans and one amazing pancake. I mean, we don't eat beans for breakfast, but really, we should. It's pretty delicious. There was also endless coffee, which made everybody happy. And Trivial Pursuit cards on the table, which we decided is a very American way of getting families to talk at the dinner table.
With full stomachs and heavy hearts, we bid farewell to Liverpool and are currently driving to Cardiff in Wales. Sheryl Crow's "If It Makes You Happy" was playing when we got in the car. If I have to end this update anywhere, I'm choosing to end it here. Bye for now.
Like what you just read? Support Flagpole by making a donation today. Every dollar you give helps fund our ongoing mission to provide Athens with quality, independent journalism.