The last time we rented a car in the UK, they offered us a sat-nav for a huge extra charge, but there was one built into the car. We kind of banked on the same thing happening this time, and it didn't. We couldn't deal with how much it cost, so we drove to the nearest Currys and bought one for ourselves. We also stopped in Argos, which is kind of like Ikea, except that you select products from Sears-type catalogs, enter them into a computer and then get in line to pay for them. It has been in the 60s during the day so far (unexpected to someone in our party) and at one of the services we saw "summer coats" for sale. That is a thing.
We had to drive to Middlesbrough to meet ex-Athenian Davey Burdon to borrow a guitar amp. We met at a sports bar, The Southern Cross, and were encouraged to not go in due to Jake's jean shorts. The drive there and back from Leeds was mostly through the countryside and very beautiful. Back in Leeds, we went to a massive Tesco Extra so Jake could buy some actual pants, since summer is cold here. There was a Subway right next to it, and this whole compound was really close to our hotel, and we were tired, so Subway it was.
They were pretty stingy with their toppings, but their chip options were far superior, and they had a selection of side items we did not explore, including nachos, a "cheese toasty" and a bowl of meatballs. In Leeds, we stayed in the smallest hotel room we've ever been in, I think, where we ate our Subway and perused the cable offerings, settling on Rush Hour. It was fine until we all woke up at 3 a.m. in a sweat, as the heat was on.
The next day we left to go meet up with a guy from Gumtree (basically Craigslist) to buy a ride cymbal. Our drum kit rental (from Nash) did not include cymbals. I stuffed some hi-hats I borrowed from my high school bandroom in a suitcase and someone else on the Internet had promised a free broken crash. The transaction went as smoothly as those things can go, and it turned out that guy lived on the same street as the guy we were borrowing drums from, so we showed up to his house way too early.
We got the drums from his practice space and Tetris'd them into the car. The drive featured lots of dogs and lots of parks, including a skatepark. Also, while driving past Sheffield, we noticed a massive mall. Like, giant. We hope to go back there later so Jake can hopefully buy a My Chemical Romance T-shirt at the British equivalent of Hot Topic. Anyway, it seemed really doubtful that everything was going to fit, but it did, drum cases and everything.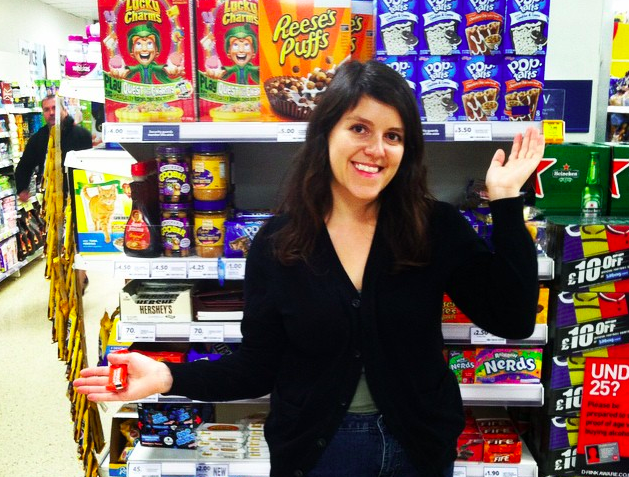 We ended up at the wrong place in Nottingham due to some navigational errors and probably spent about an hour driving the six miles to the venue and finding a parking space. There was a coffee shop nearby and a business we weren't sure was a cat cafe or a cat-themed cafe (it's a cat cafe). We decided to return to a vegetarian cafe we had been to before, but on the way, a "two for 7.50" sign distracted us. We finished that (fish and chips and bangers and mash) in time to load into the Chameleon, four or five blocks away from the car and up three flights of stairs.
The day had a lot of what a typical tour day can feature: moments of delirium (our fixation on the phrase "butt money"), navigational difficulties, not finding a parking space, getting lost in a city, a hard time loading in and filling the hours between loading in and the show actually starting. However, touring isn't all bad. We got to see some old friends from Nottingham. And we got to play a fun show, which is kind of the point.
The other bands on the bill were Fever Dream, Lost Pets, Evans the Death and our tourmates Bunnygrunt. The show was a kind of warm-up for Indietracks, which we are all playing this weekend. Everyone did a good job, and everyone was nice.
After the show we drove over to Andy and Haley's house, where we were instantly offered tea (yes) and cable (yes). We watched an episode of "Top of the Pops" from the '80s and admired their collection of Moomin stuff and their assortment of flavored pretzels. Some other stuff probably happened, but that's for another time. Now it is almost 3 a.m. and we are going to bed. Goodnight, Athens.
Like what you just read? Support Flagpole by making a donation today. Every dollar you give helps fund our ongoing mission to provide Athens with quality, independent journalism.