We all woke up pretty late Friday and eventually left Andy and Haley's house to go find our Indietracks hotel. We weren't sure if we'd need one, so by the time we got around to reserving it we had to get something about half an hour away. But it was pretty cheap. Not that a hotel on tour ever feels "cheap."
Everything started up at Indietracks around 6 p.m. Jake and I were both really happy that Mike Turner had been there before, because we felt on our own we might have been really confused about it. You park in the lot at the train station and then get on the slow-moving train to the Midland Railway Centre, which doesn't usually host this kind of thing. Shows are held in a train car, inside a church, in a big warehouse-type thing called "the shed" and on a massive outdoor stage.
Mike had a table for selling HHBTM stuff, and he let us and Bunnygrunt have half the space for our merch. Not only did this enable us to make more sales, but it gave us a place to hang out all weekend between watching bands and while avoiding the rain. Multi-purpose.
The show Friday night was Fever Dream from the last show, The School and Cinerama (David Gedge from The Wedding Present). Everyone sounded wonderful and super professional. Sometimes it seems to not take much rain at all to be a death sentence for an outdoor event, but the rain didn't deter anyone here—actually, it doesn't seem to bother anyone in the UK at all. They wouldn't, for instance, skip their college classes or call in to work over it. Not that anyone does that where we're from.
Saturday Jake and I checked out the free breakfast we got with our hotel room. It was probably the most amazing free breakfast I've ever had. They had like, cereal, bacon, sausage, eggs, toast, yogurt, coffee and juice, but it was all English. I dunno, it was different. There were mushrooms. That's a weird thing, right?
We got to the train station and realized that Jake didn't have his power converter for his pedals and stuff. We took the train to the festival and the sound guys seemed amused that we'd even ask. No one had batteries. There was no relevant gear. At that point, we were about an hour away from having to set up. We took the train back to the station and were going to drive into town and see what we could find when we ran into Bunnygrunt, who saved the day with some borrowed batteries.
Jake and I were too antsy to wait on the train back, so we took the "upper trail," which at some points was a good bit higher than the height of the trains. It was a single-file dirt path alongside endless wheat fields. A very nice walk. There was also an owl and parrot rescue between the stages, and they had brought a lot of birds to just hang out all weekend. At some point, at least one of us petted an owl.
Marie hit up the bar for some lukewarm English ale, and we set up and offended the sound guy on accident. Before long, it was time for us to go on. At some point we looked up and there were more people than we'd ever played to before. That was kind of weird.
When our set ended, we were supposed to go to our merch table and sell stuff, but pretty much right away we got asked for an interview by a press outlet, and right after that we got whisked away for a radio interview. We also got asked to sign a lot of stuff, which was definitely super weird. Throughout the day we caught glimpses/a few songs/full sets of Bunnygrunt, Evans the Death, Mammoth Penguins, Flemmings, The Ethical Debating Society, Colleen Green, The Wave Pictures and The Pains of Being Pure at Heart. And we had coffee and (warm) beers and bacon sandwiches and chips. Lots of chips.
Sunday we were a little late, but we got to ride the fancy train and have a whole compartment to ourselves. It started raining pretty much right away, and it was super cold. From about 12:30–11:30 p.m., we were outdoors in the cold and rain under a sort-of leaky tent. There were bands playing, and they were great, but at least one of us had to be at our merch table all the time, plus we both felt like we were fighting off being sick.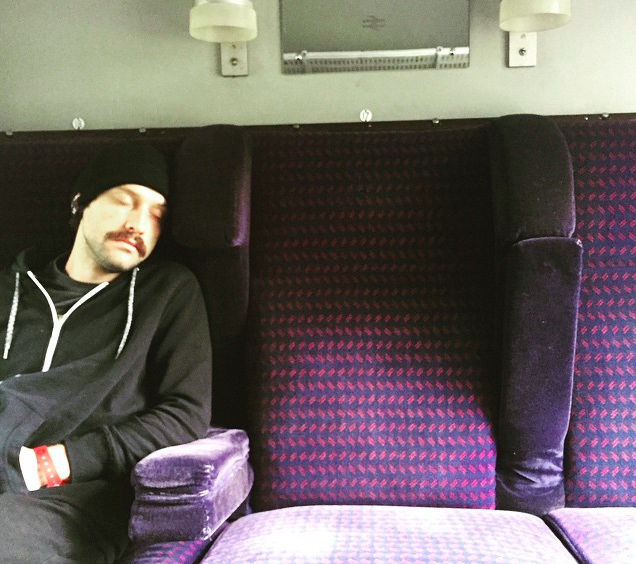 We caught glimpses/a few songs/full sets of Firestations, The Fireworks, Luxembourg Signal, Two White Cranes, Martha, Pam Berry, Simon Fox and Amelia Fletcher, Matt Harnish from Bunnygrunt covering Sparks and The Go! Team. One of the highlights for Marie was watching Laetitia Sadier in a field in the countryside in the rain (but it was a short-lived highlight, because it was very cold and we were very unprepared). It was kind of magical.
During our set, Jake announced he had six albums on his iPhone and if anyone could guess one of them, we would give them a free 7-inch. A lot of people actually came over and tried, and finally, towards the end of the day on Sunday, someone correctly guessed one. Very shocking. Here they are:
Titus Andronicus: The Monitor
Brand New: Deja Entendu
Brand New: The Devil and God Are Raging Inside Me
Brand New: Daisy
Fucked Up: David Comes to Life
My Chemical Romance: Danger Days: The True Lives of The Fabulous Killjoys (a late-era entry. You get why that's worse, right?)
Indietracks was in many ways not at all what we expected, but we try to keep our expectations to a minimum. We spent three days somewhere very beautiful, experiencing a wide range of weather conditions. I think we probably rode more trains than we have in our lives. We saw countless familiar faces: people we have played shows with before, people that let us crash on their floors, people who put on shows for us and people who had attended those shows. Everyone involved with Indietracks was very sweet and it was just really exciting to play a show like that. So many people came up to us and were incredibly kind and enthusiastic about our band.
Like what you just read? Support Flagpole by making a donation today. Every dollar you give helps fund our ongoing mission to provide Athens with quality, independent journalism.