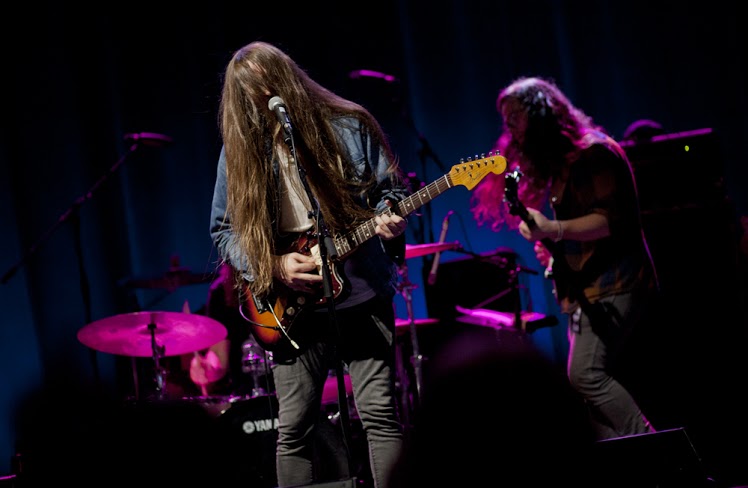 Photo Credit: Joshua L. Jones
The post-work Friday evening start to AthFest always brings out an interesting mix of office workers, undergraduates back in town for the weekend and scowling townies looking for the next best place to down a beer. When I finally made it downtown to Pulaski Street a bit before 9 p.m., I poked my head into a packed Flicker Bar and saw no familiar faces other than a few favorite bartenders preparing themselves for the next hour of serving as the "Reptar sidebar."
Georgia Theatre offered the best way to start the evening—Brothers on the rooftop. Following on fond memories of the last time I saw them perform during Easter Island's last show at Caledonia, it seemed perfect to dance with friends in the front, with Easter Islander Asher Payne to my left and two former Red & Black coworkers to my right. What stuck out most about the show is that the band seemed to lose themselves in the atmosphere, as if playing an intimate setting among close friends. The audience responded in kind, cheering on their new songs released just this week and calling for favorites, such as "Light." As the set came to a close and friends cheered for more, guitarist Ryan Gray Moore offered up nine cassettes for sale.
Roadkill Ghost Choir took the stage downstairs soon after to a sparser-than-desired audience. I worried about the energy during the first song, as many of the Theatre's balcony viewers sat and look at their phones, but Andrew Shepard stepped up the mood by stomping across the stage and handbanging during the second song. RGC appropriately shifted between high and low-energy tunes as the audience filled in and began to dance.
Upstairs, The Woodgrains brought Southern-tinged rock to the rooftop, infusing impressive three-part harmonies with equal parts drum, guitar and bass, and New Madrid packed the downstairs with a mixed crowd following on its Thursday night Album of the Year win during the Flagpole Athens Music Awards. Friends who were in the front row say cord problems were deftly handled by the sound guys, though I had already pushed my way through the crowd for some fresh air after being surrounded by people who insisted on yelling to each other during the songs.
Back at Flicker, regulars regathered at midnight to support bartender William Chamberlain and his latest venture, Spoils, which hit Chase Park Transduction Studios this month for their two-song demo, Fiction. Having fun with publicity, Chamberlain posted cryptic messages on the group's Facebook and event pages throughout the week, handed out promo cards to Flicker frequenters on Thursday and released one song on Bandcamp on Friday afternoon. With the entire Flicker staff decked out in Spoils T-shirts, the energy was high as friends showed up to dance and a war-themed flick played on the projector.
Keeping the energy high, Timmy and the Tumblers took the stage for usual quirky tumbling and singing, which left Flicker regulars and Tumblers enthusiasts dancing on chairs and couches, finally stumbling into the street long after the bar actually closed. As two bike cops circled the now-empty space in front of the Pulaski Street stage, dozens lingered just outside of the rail, signaling anticipation for Saturday night.
Like what you just read? Support Flagpole by making a donation today. Every dollar you give helps fund our ongoing mission to provide Athens with quality, independent journalism.