The South's Always Been Dirty But Now It's Gettin' Ugly: There a major-league rumble emanating from the impact of Bubba Sparxxx's brand new album, Dark Days, Bright Nights. Sparxxx (born Warren Anderson Mathis) is a rookie hip hop artist with a buzz cut and country accent who grew up in a small town just north of LaGrange, Georgia. He happens to be a white boy (say that in a George Carlin voice). Sparxxx recently moved to Athens for real and is now poised to become one of the hottest white rappers in the country. The album initially came out last year on the indie label Newtown Music. It hits stores on October 9 with the Interscope imprint. "Ugly," the first single, is a highly syncopated track with some clever rhymes about growing up in the "dirty South" produced by Timbaland and Atlanta's Organized Noize. It's already climbing the charts. In a full-page piece in the latest Rolling Stone (Oct. 11), Sparxxx defined his sound as "hillbilly hip hop," dismissed the inevitable comparisons to Eminem facing him and stated, "Good hip hop is authentic – who you are, where you're from and what you do… that's all it is." Sparxxx has already hit the ground runnin' like a nosebleed. And all those extra "x's" in the name make sense when you hear his lyrics (Ludacris would approve). Bubba, give your man Bal a peep, yo.
Kudos: Tasty World's Murphy Wolford was kind enough to book a last-minute show last weekend for Dexter Romweber. The former Flat Duo Jets guitarist was in Atlanta for a show at the EARL on Friday, September 21 and managed to secure an early-evening slot at the downtown Athens venue on Saturday, September 22. He and drummer Sam "Crash LaResh" Sandler performed in front of a crowd of about 30 from 7-8 p.m. One highlight was a rendition of Charlie Rich's "I'm Goin' Home." Dex and Sam happily made off with about 70 bucks from "passing the hat."
What's Poppin' At 90.5 FM WUOG, You Ask?: Through turbulent times, WUOG ("whoo-awg") abides. Presocratics, Smog, The Arsonists, Paul Van Dyk, the new Sigur Ros EP, the Cuban Hip-Hop All Stars comp, Daniel Johnston, Doc Watson, Chris Harris, Centro-Matic, Stereolab and the re-appeared Bombay 2, Samba Soul 70! and Cosmic Funk are all on tap until close. We're also still playing The Faint, although several DJs have claimed they're able to "see through" the band. (Listen hard enough and you too can join this enigma-enshrouded illuminati. That's why whoo-awg exists, after all: to make you feel superior.) Be of good cheer. [Emerson Dameron]
Spoke Too Soon: JetSet Records has rescheduled the release of the Seaworthy's new album, The Ride. Seaworthy is the new recording project from Athens multi-instrumentalist Josh McKay (of Macha). The album was initially due out on Tuesday, October 16. The new date is January 22, 2002. Go figure.
Requiem: Master violinist Isaac Stern – the internationally-acclaimed virtuoso who saved Carnegie Hall from the wrecking ball – died on Saturday, September 22. Stern was one of the last great violinists of his generation and helped advance the careers of musicians who followed, including Itzhak Perlman, Pinchas Zukerman, and Yo-Yo Ma. Stern suffered from heart disease for several years and died of heart failure at New York Cornell Medical Center. He was 81.
That eerie but highly-successful Hollywood telethon – titled "America: A Tribute to Heroes" – was shown on 35 separate broadcast and cable networks simultaneously on Friday, September 21 and was seen by just under 60 million viewers. Appeals by Hollywood actors and musicians during the unprecedented event reportedly generated more than $150 million in pledges to benefit victims and families of those who perished in the September 11 terrorist attacks. The money will be distributed through the United Way. Highlight: Neil Young singing John Lennon's "Imagine." Lowlight: Canadian freak show Celine Dion singing "God Bless America."
Hall Of Fame Still Rockin': In association with the Georgia Music Hall Of Fame, the annual five-day "Georgia Music Week" festivities and the free "Jammin' In The Street" concert set for last month in Macon was canceled due to the events in New York and Washington. The Hall of Fame announced last week that The B-52's (inducted to the Hall of Fame last year), Mother's Finest and Caroline Aiken will perform at a new "Jammin' In The Street" outside the museum on Friday, October 19. The concert will take place in Cherry Street Plaza, which is located in downtown Macon one block south of the Georgia Music Hall of Fame at 200 Martin Luther King Jr. Blvd. Music starts at 7 p.m. The 23rd Annual Georgia Music Hall of Fame Awards Banquet has also been rescheduled for Monday, October 22 at 8:30 p.m. at Thomas B. Murphy Ballroom of the Georgia World Congress Center in Atlanta. The Georgia Music Hall of Fame Awards and Banquet is "the premiere music industry event in the state." For more information, call the Hall Of Fame at (888) GA-ROCKS or at gamusichall.com.
DAMN! Hits The Stage… For Real!: The Damn! Show scheduled for Wednesday, September 12 at the Georgia Theatre was canceled in the immediate wake of the events in New York and Washington (good move). Fans of the low-brow Athens comedy troupe's blue humor will be glad to hear that the show has been rescheduled for this week. Damn! Show hits Lumpkin Street on Thursday, October 4 at the Georgia Theatre with the premiere of its "pilot episode" comprised of live-action and animated skits. Check out damnshow.com.
Weird Jams: The bad news: The Chadbourne/Bennink performance scheduled for Wednesday, October 3 at the Flicker Theatre & Bar was canceled last week. The good news: According to local promoter Marshall Marrotte, German drummer Han Bennink felt uncomfortable traveling in the U.S. due to the recent tragic events. Luckily, crazy-eyed guitarist and Southern legend Eugene Chadbourne has rescheduled for a special solo show this week at Flicker at 11 p.m. on Saturday, October 6. It's seven bucks well spent, friends. On a related note, Marrotte's "Second Annual Athens Improv Festival" will take place on Friday, November 2 and Saturday, November 3 at the Flicker Theatre & Bar. For information on the event, contact Marrotte via email at gkmm@earthlink.net.
Whadda Lineup, Whadda Cause: The "Athens Music Tour de Sprawl Fundraiser" is an event designed to raise money and awareness for various vital transportation, safety and pollution issues in Athens-Clarke County set for Thursday, October 11 at the 40 Watt Club. The event will benefit BikeAthens, the Upper Oconee Watershed Network (UOWN), and Athens Grow Green. Featured performers include (in order) folk musician Art Rosenbaum, classic Athens dance-rock band The Squalls, roots-rocker Jack Logan with Kevin Lane and William Tonks, fatherly rock legend David Barbe, and the newly formed Circulatory System (featuring members of Olivia Tremor Control and other hip E-6 acts). The doors open early at 8 p.m. and the music starts at 9 p.m. There's a $10 "suggested donation" at the door, but the actual cover charge is $7.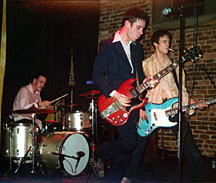 The mighty Figgs are set to play a show backing up legendary British pop-rocker Graham Parker on Saturday, October 13 at the Variety Playhouse in Atlanta. Graham Parker previously utilized the talents of The Figgs on tours back in 1996 and '97. This is a pairing that shouldn't be missed. At most shows, The Figgs will do an opening set of their own. Parker is supporting his new album, Deep Cut To Nowhere, which features Figgs bassist Pete Donnelly.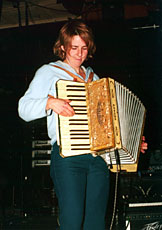 This Just In: E-6 powerhouse Elf Power, still hard at work on its next album, left Athens last week to play eight shows up the East Coast opening for Wilco. As you read this, the band is driving or playing somewhere up around Toronto or Detroit. The Elves head back out on another tour in late October for a string of dates with Masters Of The Hemisphere. A full European tour is in the works for November and December. Look for Elf Power back in Georgia on Friday, November 2 at the EARL in Atlanta and on Saturday, November 3 at the 40 Watt Club – both with support from The Places.
The busybodies at the Secretly Canadian/Jagjaguwar label are sending "crazy rock band" Oneida back to Georgia behind its latest pile of rock, Anthem Of The Moon. Look for the creepy fuzz-wah fellas on Saturday, October 13 at the Echo Lounge in Atlanta with Those Peabodys and at the Caledonia Lounge on Wednesday, October 17, again with local noisemongers Je Suis France.
Hey, The Rock*A*Teens have a new EP coming out next week! We're excited. Please forward music news to us by email at music@flagpole.com; by voice mail at 549-2630; by fax at 549-8981, by simple post at P.O. Box 1027, Athens, GA 30603 or by walking in the front door at 112 S. Foundry St.
Like what you just read? Support Flagpole by making a donation today. Every dollar you give helps fund our ongoing mission to provide Athens with quality, independent journalism.