The South's Getting Ugly Again… What The Hell?: Athens-based rapper Bubba Sparxxx celebrated the official release of his brand new album, Dark Days, Bright Nights (Beat Club/Interscope), downtown at the two-story Gator Haters bar on Clayton Street on Wednesday, October 10. Sparxxx (born Warren Anderson Mathis) is rapidly becoming become one of the hottest rappers in the country and his first single, "Ugly" (co-produced by Timbaland), is already climbing the charts and seeing major airplay on MTV and BET. Interscope and Sparxxx's management team "rented" Gator Haters and provided passes for various fans, press (not us) and celebrities. Over 200 eager fans – many of whom drove in from out of town – gathered outside the bar all evening, clogging traffic and freaking out the local bike cops. Most were denied entrance. Atlanta-based heavyweight champ Evander Holyfield was spotted at the party early in the evening. Sparxxx made his entrance around midnight. No sign of MTV's Carson Daly.
Cash Hospitalized: Country Music Hall of Famer Johnny Cash was hospitalized on Sunday, October 7 in Nashville, diagnosed with bronchitis. According to his manager, it doesn't look serious, "but because of his condition we don't take any chances." The 69-year-old singer was listed in stable condition shortly after. The country legend suffers from autonomic neuropathy, a disease of the nervous system that makes him susceptible to pneumonia.
Sad News: Colorado-based "slamgrass" ensemble Leftover Salmon has canceled its East Coast tour due to banjoist-vocalist Mark Vann's health situation. Vann was recently diagnosed with melanoma and began chemotherapy on Monday, October 15. The band has canceled dates through October 27 including the show slated for Tuesday, October 23 at the Georgia Theatre. The band has put together four nights of "Salmon & Friends" in Colorado during the first week of November. Check leftoversalmon.com for details.
What's Poppin' At 90.5 FM WUOG, You Ask?: Your pimpadelic college radio station is experiencing a bit of a hip hop renaissance these days, what with The Arsonists, Roots Manuva, the Funky Precedent, Vol. 2 comp all in rotation and the Cuban Hip Hop All-Stars collection resting at #1 on the chart (as of this writing). Of course, Athens is a rock town, currently cowering from and snarling at the electro/hip hop tide much as the bandleaders of the late 1950's tried to put off acknowledging rock and roll, so we've also got some Tricky Woo, Idaho (specifically Levitate, their saddest and finest record since Year After Year) and other more traditional rock/roll type stuff to keep you oriented. For however long. Enjoy. [Emerson Dameron]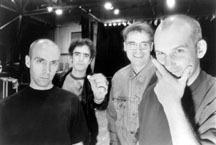 Photo Credit: Shawn Scallen
Repeater: After spending last winter in the studio, the serious-minded D.C. punk vets in Fugazi finally released the fruits of their labor this week: a killer 10-song album called The Argument and a three-song single titled Furniture + 2 – both on the Dischord label, of course. The Argument features some of the strongest and most frightening guitar-rock stuff the quartet has ever recorded. The release date for the film documentary Instrument DVD is November 12. The disc contains two extra short films by indie filmmaker (and former Athens resident) Jem Cohen with Fugazi providing the soundtracks as well as three additional unabridged live songs from three different concerts. No tour dates as of yet.
Ilk City: Athens-based label WARM Recordings has another release in the oven. Elk City, an experimental pop trio out of New York City, have a new five-song EP due out titled The Sea Is Fierce. "This is a preview of their full length to be released early next year," says WARM's Brian Causey. "They have a sound between Yo La Tengo and a schoolbus full of children." Look for the disc on October 23. Elk City is scheduled to play in Athens with The Nationals on Wednesday, November 7 at the Caledonia Lounge.
Escape From Oak Mountain: On October 1 and 2, the Georgia Theatre hosted a "DVD Release" party commemorating the first ever release of an entire Widespread Panic concert. A portion of the proceeds will benefit the American Red Cross. The official release date of the double DVD, entitled Widespread Panic Live At Oak Mountain, was October 9. The disc – produced by filmmaker Geoff Hanson (Scrapple) – features the Athens jam band live at Oak Mountain Amphitheater in Pelham, Alabama on August 12, 2000. The DVD is being released by Panic's label Sanctuary Records. In addition, Hanson is completing production of the new documentary film, The Earth Will Swallow You, due out early next year. The film "captures the sights, sounds and spirit of Widespread Panic' monumental Summer 2000 tour." Widespread Panic, meanwhile, is currently on yet another U.S. tour and will be back at Philips Arena in Atlanta for three "New Year's" shows on December 29, 30, and 31.
Breaking Up Ain't Hard To Do: Jeez, didn't somebody ring the bell or something? A slew of rock bands have tossed in the towel recently. Atlanta "all-girl" trio Lift has called it quits after six years together. Frontlady Molly Bancroft will press ahead as a solo artist, however (look for her at Smith's Olde Bar on Sunday, October 28). Here in Athens, violinist-vocalist Amy Heaton very recently reported that her off-kilter "folk rock" group Frangipane broke up on the eve of its performance at last week's "Green Lantern Music Showcase" at the Watt. Hell-raising, black shirt-wearing, Seattle-based garage-punk band Murder City Devils is also grinding to a slow halt. According to reports from the group's longtime label Sub Pop, keyboardist Leslie Hardy has left the band. A tour behind the new EP Thelema will go on as scheduled with replacement keyboardist Nick DeWitt. After the tour, bassist Derek Fudesco will leave the band to concentrate on his new unit, Pretty Girls Make Graves.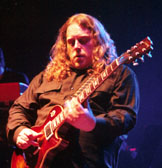 Photo Credit: Jason Lewis
Dude: ATO Records has signed Georgia Southern-fusion band Gov't Mule for a massive recording project called The Deep End, a three-part series of releases features singer-guitarist Warren Haynes and drummer Matt Abts alongside 25 of the world's premiere bass players. The Mule recorded new original material and select cover tunes with bassists including Bootsy Collins, Flea, Me'shell N'degeocello, Phil Lesh, Mike Watt, John Entwistle, Larry Graham, Stefan Lessard, Mike Gordon and others. (If you've never heard of any of these bass players you deserve to be hog-tied.) The project includes two separate albums of music and a documentary film directed by Phish bassist Mike Gordon. The endeavor follows the death of Mule bassist Allen Woody just over a year ago. "The inspiration was really not knowing how to continue forward," states Haynes in a recent press release. "When Woody passed away, we were in the middle of preparing for what would be the next Gov't Mule record anyway. We didn't know how to continue that process – we didn't want to start auditioning bass players to try to find a permanent replacement. So the idea came about that all of our favorite bass players might be too busy to join the band, or even do a whole tour, but maybe they wouldn't be too busy to do one song. All these guys are different from each other, and the array of influences really covers the whole gamut, but they're all people who influenced us, especially Woody. They are all people who found their way into his playing." Watch for the band at the Tabernacle in Atlanta on Saturday, October 20 and look for The Deep End Vol. 1. in stores on October 23.
More Unlikely Collaborators: Under the moniker Oysterhead, Phish guitarist Trey Anastasio, Primus bassist Les Claypool, and Police drummer Stewart Copeland have released a studio album titled The Grand Pecking Order (Elektra) and plan to tour under the moniker. After an impromptu jam session at Jazz Fest in New Orleans a year ago, the three veterans began jamming on song ideas and actually penned 13 songs. Early word-of-mouth on the project is huge and curious fans gobbled up tickets for a 20-date concert tour that launches on October 21 in Seattle.
Hey, was that the rhythm section of Flickerstick chowing down at Weaver D's last week, or just two shaggy tourists with bad tats and do's? The "Bands On The Run" champs played to a full house at the Georgia Theatre, armed with a massive light show, a battery of guitar effects and a large-scale projection of insect footage. Can't remember a single tune, though. Saucy "Bands On The Run" cohort Harlow is next in line for Athens, opening for drivin n cryin at the 40 Watt on Friday, November 9.
So long, puds. I'm outta town paying the tubs for a few weeks. Please send any music news to my overqualified fill-in Brandon Butler by email at music@flagpole.com; by voice mail at 706-549-2630; by fax at 706-549-8981; or by simple post to P.O. Box 1027, Athens, GA 30603. He'll take care of things for ya.
Like what you just read? Support Flagpole by making a donation today. Every dollar you give helps fund our ongoing mission to provide Athens with quality, independent journalism.