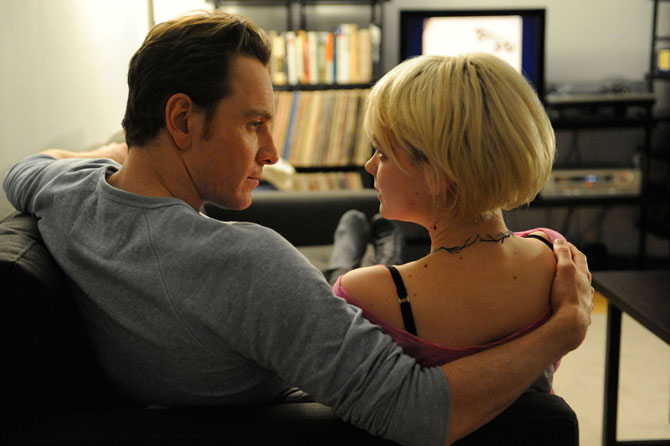 SHAME (NC-17) If you need more proof as to why the Academy Awards can't be taken seriously when discussing real artistic merit, look no further than the exclusion of Michael Fassbender from the Best Actor category for his role in Shame, director Steve McQueen's second feature film. Although Fassbender is probably best known to mainstream audiences for his work as Magneto in the blockbuster X-Men: First Class and playing film critic/soldier Lt. Archie Hicox in Quentin Tarantino's revisionist World War II anti-epic Inglourious Basterds, he's been carving out an impressive reputation as one of the finest actors working today from his performances in smaller films such as Hunger (directed by McQueen), Fish Tank and Jane Eyre. Fassbender's work for McQueen shows bravery for the craft of acting, reminiscent of Brando's virtuosic work in Last Tango in Paris, De Niro in his career-defining roles for Scorsese (Taxi Driver, Raging Bull) and Daniel Day-Lewis' parts in My Left Foot or There Will Be Blood. There's courage in the choices Fassbender makes and a surprising lack of ostentatious theatricality despite how emotionally raw and physically intimidating he can be.
There's nothing false about Fassbender in Shame. Even when McQueen methodically implements stylistic distancing effects—e.g., filming Fassbender in unfashionably long takes or isolating him severely in the widescreen frame—the actor contrasts the coolness of McQueen's approach with a performance that is tactile in its physicality and brutal humanity. He may play an emotionally cut-off character, sex-addicted executive Brandon Sullivan, but there's nothing inhibited or too cerebral about Fassbender's performance. Carey Mulligan, who's also been ratcheting up an impressive resumé of late, plays Brandon's needy and chaotic sister Sissy. When Sissy unexpectedly arrives in New York City and subsequently disrupts Brandon's clockwork regime of casual sexual encounters, masturbation and porn watching, McQueen gives us hints about their turbulent family life and a possible incestuous relationship that has arguably helped shape Brandon's inability to make any lasting relationships. Where most directors would pad out the narrative with needless backstory, McQueen and co-screenwriter Abi Morgan imply just enough to satisfy.
Shame is aggressively engaging even when it's plummeting into the depths of Brandon's compulsion. It's sometimes painful to watch, particularly in its last act, but also exhilarating because we're observing two actors—Fassbender and Mulligan—risking it all and succeeding. And that's rare in this era of artistic reassurance and emotional timidity.
Like what you just read? Support Flagpole by making a donation today. Every dollar you give helps fund our ongoing mission to provide Athens with quality, independent journalism.