Since Bruce Robinson's Withnail & I explores a friendship formed over bottles and pints, it's fitting that Flicker Theatre & Bar's Feb. 7 tribute to the British classic will feature specialty cocktails from The Side Hustle, in addition to food inspired by the film. (See The Calendar for details.) For another inebriated buddy comedy with a more hallucinatory twist, check out Terry Gilliam's psychedelic masterpiece Fear and Loathing in Las Vegas at home.
Go Out and Watch
WITHNAIL & I (1987) The George Harrison-produced film follows the titular roommates over two weeks in 1969. Down and out due to floundering acting careers, poverty and constant drinking and drugging, Withnail (Richard E. Grant of Logan and "Game of Thrones") and Marwood (Paul McGann, or the Eighth Doctor to "Doctor Who" fans) flee their Camden Town flat for the country home of Withnail's closeted Uncle Monty (the Harry Potter series' Richard Griffiths.) During their vacation, the duo's friendship is strained and tested as much as their livers and brains.
Seeing Withnail and Marwood interact is a compelling study in opposites. Grant's Withnail is a volatile engine of destruction fueled almost exclusively by booze; when he claims that alcohol is "the only solution to this intense cold" during his stay in an unheated country house, it's apparent that he sees it as the solution to most of his problems. Although Marwood more often than not joins his roommate on binges, his method of problem-solving is less reckless, pushing for compromise when faced with conflict.
Robinson emphasizes these differences in personality with skillfully executed two-shots used throughout the film. These give the director the opportunity to convey Marwood's gradual despair at his friend's spiral into drunken dysfunction. As Withnail belligerently spins into abstract speech and behavior, we see Marwood lurking in the background, warily eyeing his companion. The roommates' differences are so apparent that we are left to wonder what, besides their shared vocation, keeps the friendship afloat. Uncle Monty gets at the root of Withnail and Marwood's bond when he says that his nephew is "incapable of indulging in anything but pleasure." Withnail's frenzied disposition is all in pursuit of fun, and we get the sense—particularly in an infamous scene where Withnail screams for "the finest wines available to humanity" at a small-town restaurant—that all of this chaos is as fun to sow as it is to watch.
However, Withnail & I is the story of what happens when drunken fun wears on too long. Panning shots of Withnail and Marwood's shared flat early in the film show a cluttered hovel. The worst of it all is their kitchen, packed with piles of dirty dishes and spattered with unnamed fluids. The part of their home most associated with nourishment is toxic, foreshadowing the gradual deterioration their habits inflict on their bodies and, ultimately, their mismatched friendship.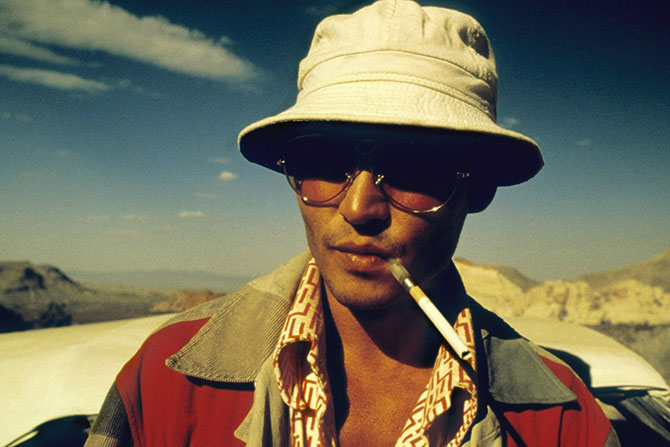 Stay Home and Watch
FEAR AND LOATHING IN LAS VEGAS (1998) The relationship between self-proclaimed "doctor of journalism" Raoul Duke (Johnny Depp, in an era when the viewing public could tell itself that he was only an abusive creep onscreen) and his Samoan lawyer, Dr. Gonzo (Benicio del Toro), in Fear and Loathing is actively harmful to anyone unlucky enough to cross their path. We first see them barreling down a desert highway in a convertible. Gilliam shoots them from the driver's side with a camera that bobs and weaves, struggling to keep pace with their craziness. Despite their freewheeling lunacy, Gilliam's protagonists are bound together by the suitcase full of "uppers, downers, screamers, laughers" and more in their trunk.
The film is an ontological horror story, exploring the beastly tendencies that the characters' imbibing unleashes. This danger is explored in a literal sense, as the duo and the people they encounter while covering events in Las Vegas morph into animals and demons with the ebb and flow of chemicals. After waking from a particularly hazy binge in a trashed hotel room filled with puddles and wallpapered with mustard-covered porn, Duke strides the room with a reptile tail strapped to his body trailing him.
Gilliam's use of practical effects for this tail and other scenes, including a particularly horrifying lizard orgy earlier in the film, makes the existential terror that much more potent. CGI would make the fantastic scenes appear distinctly separate from reality. By giving a physical grounding to these hallucinations, the threat of an inhuman transformation is realer and more immediate, amplifying the visceral thrill of Gilliam's trippy triumph.
Like what you just read? Support Flagpole by making a donation today. Every dollar you give helps fund our ongoing mission to provide Athens with quality, independent journalism.