This weekend the Bulldogs travel to the pit inhabited by semi-human Steve Spurrier, a place also known as Columbia, SC. Should you find yourself thirsty for good beer while accompanying the Red and Black on their trek east, look no further than this round-up of a few brews from the Palmetto State.
The best brewery in South Carolina is Westbrook Brewing Co., based out of Mt. Pleasant—far away from the home of the Gamecocks. BeerAdvocate gives their brewery a 98 rating out of 100. Their brews range from the refreshing White Thai—a witbier brewed with lemongrass and ginger root instead of the more common orange and coriander—to their wonderfully resinous India Pale Ale. Their most popular brew is the seriously salty, mouth-puckering Gose, a style of German sour that has caused Athenians' collective minds to explode this summer. Their offerings are extensive, and if you find yourself in a bar or tailgate serving Westbrook, go ahead and try it if you haven't already. It's the best "local" beer you can drink.
Thomas Creek, based out of nearby Greenville, SC (Athens' Platonic ideal) has fewer offerings than the ambitious Westbrook, but their brews are well-made. The most interesting is the Castaway Chocolate Orange IPA, a brew that is much tastier than its name suggests. True to IPA form, Castaway focuses on the bitter side of chocolate, which combines well with orange peel. By all accounts, this beer shouldn't work, but it does. Do yourself a favor, sports fan: Drink it up.
Thomas Creek is bold enough to offer a strong Coffee Stout year-round in the Deep South, and for good reason—it's delicious. Normally, Southern breweries don't offer stouts year-round; it's just too hot here. Thomas Creek's Coffee Stout is a welcome exception to the trend, however. Go ahead, pour yourself a strong, inky black stout to go with your breakfast on game day.
Just make sure not to drink Up The Creek: Extreme IPA if you plan on avoiding a blackout before noon—this double IPA with the yellow and black warning label clocks in at an absurd 12.5% ABV. Despite the best efforts from the brewery, the flavor burn of alcohol is readily apparent in this beer, and choosing this beer as your go-to brew on game day will ensure that you forget everything that happens after noon (which may come in handy if the Dawgs lose).
Additionally, if you're feeling particularly ambitious, Thomas Creek also offers an extensive homebrew supply shop alongside its brewery.
Not too far from the home of Thomas Creek lies RJ Rockers Brewing, in Spartanburg. I've only had two of their offerings: the Bell Ringer, an American Strong Ale, and Son of a Peach. The Bell Ringer is unremarkable, as the high alcohol content (8.5% ABV) dominates the flavor profile, taking the malt base from slightly sweet straight to cloying. The hops are definitely present but aren't assertive. A stronger hop presence and a slight reduction in alcohol content would make this beer much better, but as it stands, this beer is simultaneously overcooked and musty.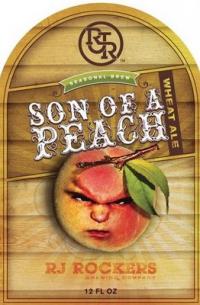 Despite the horrifying face on the label, Son of a Peach is good. As expected, sweet peach dominates this brew, to the point that it tastes more like peach soda than beer. While Terrapin's peach beer, Maggie's Farmhouse, is the better of the two (because it actually tastes like peach AND beer), Son of a Peach is worth trying. Another note about the label: Son of a Peach tells me to "Savor the Anger," but there's nothing angry about this beer. It's just delightful, mutant peach-faced, Doctor-Who-villain label aside.
As far as Columbia itself, there are several breweries in the home of the Gamecocks. You could try Conquest Brewing, a brewery with a website that I could have designed in 8th grade. As far as I can tell, their beer isn't distributed outside of South Carolina, so I don't know if it's any good. For those of you who trust online reviews, the brewery gets a score of 94 on BeerAdvocate—a score that high bodes well for those adventurous enough to take on the Conquest. They've got four year-round brews, featuring a blonde, two IPAs, and a stout on the lighter side (5.2% ABV, compared to Thomas Creek's 8% ABV.) The brewery also features five seasonal brews and Der Alte Fritz, a dark brown ale brewed with rye should be the brew available to visitors for the UGA-USC game.
Besides Conquest Brewing, Columbia also features a few other options: River Rat Brewing, which has a better website and five year-round brews that look promising, as does the Hunter-Gatherer, a brewpub featuring four taps, food and growlers.
Like what you just read? Support Flagpole by making a donation today. Every dollar you give helps fund our ongoing mission to provide Athens with quality, independent journalism.