THE 39 STEPS: UGA's Thalian-Blackfriars, the oldest theatrical group in town (established in 1893), is presenting Patrick Barlow's hilarious adaptation of Alfred Hitchock's classic film adaptation of the John Muchan novel. It's a mystery thriller with a strong dose of complete silliness as four actors (Riley Carlson, Madison Smith, Bradley Burnham and Taylor Bahin) play every character from the original movie. If you missed it five years ago when University Theatre did it, here's your chance to rectify your mistake, because that one was hysterically funny and this one features some of UGA's most hilarious student actors under the direction of Bryce Benson, one of their most experienced student directors. It's in the Cellar Theatre of the Fine Arts Building Tuesday, Oct. 18 and Wednesday Oct. 19 at 7 p.m. Tickets are $5 at the door. For more information, visit ugathalian.wixsite.com/blackfriars.
A RAISIN IN THE SUN: UGA Black Theatrical Ensemble's fall show is a 1959 American classic by Lorraine Hansberry. It centers around a poor Chicago family (Aciana Head, Alicia Hampton, Alexis Allen, Russell Scott and Deja Pruitt) in conflict over how to use a $10,000 life insurance check. They run into opposition when they plan to buy a house in a white neighborhood but also face their own inter-family disagreements that reflect their differences regarding how to coexist with their white, hostile, would-be neighbors—and their own individual dreams. Director Anthony Nash finds the play to be relevant today, when issues are often viewed in a dualistic way (white vs. black, for example). He says the discussions are important but "intra-racial relationships—what does it mean to be intellectual, entrepreneurial, to advance in the world we live in today—need to be addressed within the black community." It's in the Cellar Theatre of the Fine Arts Building Thursday, Oct. 20–Saturday Oct. 22 at 7:30 p.m. with a 2:30 p.m. matinee on Saturday, Oct. 22. Tickets range from $5–12 and are available in advance at a discount at facebook.com/UGABlackTheatricalEnsemble. For more information, call 706-542-8069.
DRUNK! MACBETH: The "Boozy Bard Players" are a group of college students presenting nights of "drunk" Shakespeare at the Globe, featuring a mostly sober cast with a well-placed selection of wasted cast members who are over the legal drinking age. Directed by Tom Von Dohlen and featuring John Philip Buisman and Maggie Colvin as Lord and Lady Macbeth, it is a fun group of talented, theatrically-inclined mostly-not-drunkards. The last one sold out so get there early! It's on Saturday, Oct. 22 at 9 p.m. Tickets are $8 if you want a seat and $5 for standing room only. Ages 18 and up are allowed, but you must be 21 to participate in the booziness. Visit their event on Facebook at facebook.com/events/697115537119089 for more information.
NIGHTFALL: Rose of Athens Theatre presents Nightfall with Edgar Allan Poe by Eric Coble. The production adapts four of his most chilling tales: The Raven, The Fall of the House of Usher, The Pit & the Pendulum and The Tale-Tell Heart. The performance is part of Poe-tober, a month-long series of events supported by a "Big Read" grant from the National Endowment for the Arts. One night only, it's at Seney-Stovall Chapel on Saturday, Oct. 22 at 7 p.m. Tickets are $5–10 and available at roseofathens.org. The costumed cast will also lead a Poe Pub Crawl on Tuesday, Oct. 25 beginning at 7 p.m., when they will lead pop-up performances at Sister Louisa's, Manhattan, Little Kings Shuffle Club and Max.
FROM BURNING: This one is a full-length, staged reading with minimal blocking offered during Classic City Fringe Festival. Written by UGA student Mariah Manoylov, it's an independent student production featuring John Phillip Buisman, Savannah Hudson, Israel Tordoya, Hannah Wynelle and Maggie Clark. An ecology lecture becomes a story involving a group of people, all LGBTQ, stranded during the 1988 Yellowstone forest fire. Director Ellen Everitt says it could be called a tragicomedy, or else "'Stranger Things' meets the cast of 'Friends'" since it's a comedy "with heart," twists and a bit of a thriller. She also calls it "a Chekhov play in the woods," and they're creating a woodsy campsite feel for the audience by bringing in camping chairs and sleeping bags for seating (you can also bring your own gear if you wish to feel like a part of the story). The show will be held on on Thursday, Oct. 27 at 6 p.m. Tickets are $3 at the door. For the location, visit classiccityfringefestival.com.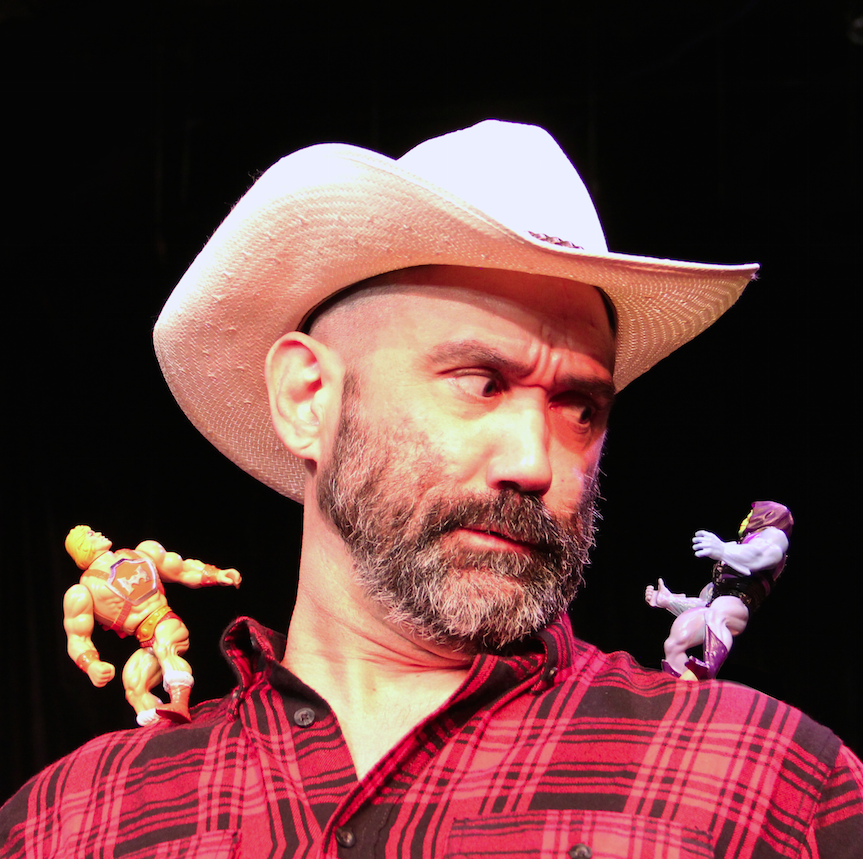 Photo Credit: Dina Canup
FRIENDLY'S FIRE: This workshop production (fully staged but with minimal set and costumes) presented by the Athens Playwright's Workshop and the Department of Theatre and Film Studies expands on this summer's staged reading of the new play by UGA professor/notable playwright John Patrick Bray. It's the other full-length play featured in Classic City Fringe Festival, directed by Dina Canup (yes, that would be me), and with half of the actors returning to reprise their roles from the reading. Guy Friendly (Scotty Gannon) is a bee-keeping, helicopter-piloting veteran of the first Gulf War who has ventured out after being holed up in his Alaskan cabin following the death of his brother in the war (Jordan Richards) and being left by his wife (April Boyer Brown). He makes a bad call and brings home the wrong woman (Melanie Sheehan), but fortunately his best friend Todd (Fred Galyean) finds him bleeding on the floor and rides along with Friendly's involuntary, drug-induced visions. There's a talking polar bear (Tom Von Dohlen), a guy who comes out of the toilet, cowboy bees… and things get really weird, poignant, funny, heartbreaking and human. It's one night only, so you have one chance to catch it in the Cellar Theatre of the Fine Arts Building on Thursday, Oct. 27 at 8 p.m. Tickets are $5 and available at the door. Visit drama.uga.edu for more information. The Classic City Fringe Festival also features one-person short plays by/featuring Marlon Burnley, Bridgette Burton and Steven Grainger, so check out the full lineup at classiccityfringefestival.com.
TWO CAN PLAY: Directed by a favorite UGA faculty emeritus, Freda Scott Giles, for Town & Gown Players' Second Stage series, Two Can Play tells the story of parents making hard choices for their children in violently troubled political times in mid-1970s Jamaica. Jim (Sean Polite) and Gloria (Kimarah Laurent) send their children to the U.S. as illegal aliens to protect them from the warfare around them. Jim "concocts a plan to follow the children with sometimes humorous, sometimes touching, sometimes dramatic results." By one of the Caribbean's top playwrights, Trevor Rhone, it runs for only one weekend. At Town & Gown Players' Athens Community Theatre Friday, Oct. 28 and Saturday, Oct. 29 at 8 p.m. and Sunday, Oct. 30 at 2 p.m. Tickets are $5 (free for season ticket holders) and available at townandgownplayers.org or 706-208-8696.
Like what you just read? Support Flagpole by making a donation today. Every dollar you give helps fund our ongoing mission to provide Athens with quality, independent journalism.