Uncanny Valley If you love "Battlestar Galactica," Ex Machina, "Star Trek," Rossum's Universal Robots or Isaac Asimov, this is the show for you. A pioneer in the field of robotics trains her creation in the ability to seem human, and does it well. Why? Does she have the right to create life? How will that new life affect her? What is the difference between artificial intelligence and human consciousness, and how do we navigate that uncanny valley between the two?
Directed by David Saltz, a cutting-edge researcher of the intersection between robotics and theater, and starring two graduate actors (Katie Butcher and Larry Cox Jr.) who appeared in the spring hit Sweeney Todd, this one is sure to be a think piece for lovers of theater who enjoy the rare chance to mix both science fiction and philosophy into the dramatic mix.
Uncanny Valley, by Thomas Gibbons, is presented by University Theatre in the Cellar Theatre of the Fine Arts Building from Thursday, Sept. 22–Saturday, Sept. 24 and Tuesday, Sept. 27–Friday, Sept. 30 at 8 p.m., with a 2:30 p.m. matinee on Sunday, Oct. 2. Tickets are $12–$16 and available at 706-542-4400 or drama.uga.edu.
Cotton Patch Gospel This Georgia-born musical retells the story of Jesus of Nazareth with a 20th Century rural Georgia twist. Jesus (Tery Overby) is born in Gainesville, raised in Valdosta and sets his sights on Atlanta, while his buddy Jud (Joe Costello) is destined to betray him.
Based on the Clarence Jordan book The Cotton Patch Version of Matthew and John, the show has charming music with an occasional punch; the setting is changed from Roman crucifixion to a Georgia lynching, and from a murder of innocents to a bomb thrown into a Southern church nursery. You've had chances to see both Godspell and Jesus Christ, Superstar in the area in recent years, so here's a rare chance to see the Southern musical passion play.
Cotton Patch Gospel, by Tom Key, Russell Treyz and Harry Chapin, is presented by Winder-Barrow Community Theatre in the Colleen O. Williams Theater on Friday, Sept. 23 and Saturday, Sept. 24 at 7:30 p.m., with a 3 p.m. matinee on Sunday, Sept. 25. Tickets are $10 and available at 770-867-3106. For more information, visit winderbarrowtheatre.org.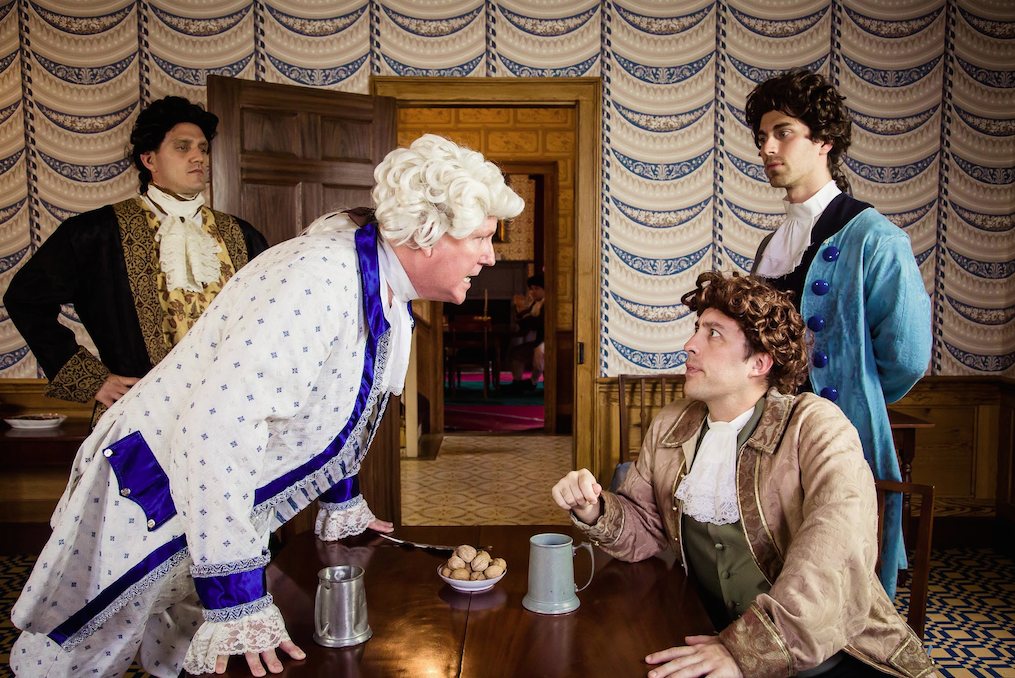 Photo Credit: Matt Hardy
1776 The much-loved, Tony Award-winning musical that debuted in 1969, made it to the silver screen in 1972 and inspired the current Broadway hit Hamilton is a perfect choice for the month leading up to the most surreal and depressing presidential election many of us can remember. It has musical numbers that are pure delight with plenty of laughs and, as the Hollywood Reporter wrote of a recent Encores! production at New York City Center: "The marvel of this show is how it manages to keep us in suspense even though its outcome is known to all. That it does so is a testament to the superb writing, which features generous doses of humor."
All this and another fantastic cast of T&G's best, including Drew Doss as John Adams, Dustin Ahkuoi as Benjamin Franklin, Joshua Darnell as Richard Henry Lee, Sam Hopkins as Edward Rutledge, Andrew Rabanal as Thomas Jefferson, John Flesch as John Dickinson and Amy Miller as Abigail Adams, plus many more you won't want to miss. Furthermore, if you get caught up in the patriotic fervor, you can even register to vote at the theater during the first weekend of the run.
1776, by Peter Stone and Sherman Edwards, is presented by Town & Gown Players at the Athens Community Theatre Friday, Oct. 7–Saturday, Oct. 8 and Thursday, Oct. 13–Saturday, Oct. 15 at 8 p.m., with 2 p.m. Sunday matinees Oct. 9 and Oct. 16. Tickets are $10–$18 and available at 706-208-2696 or townandgownplayers.org.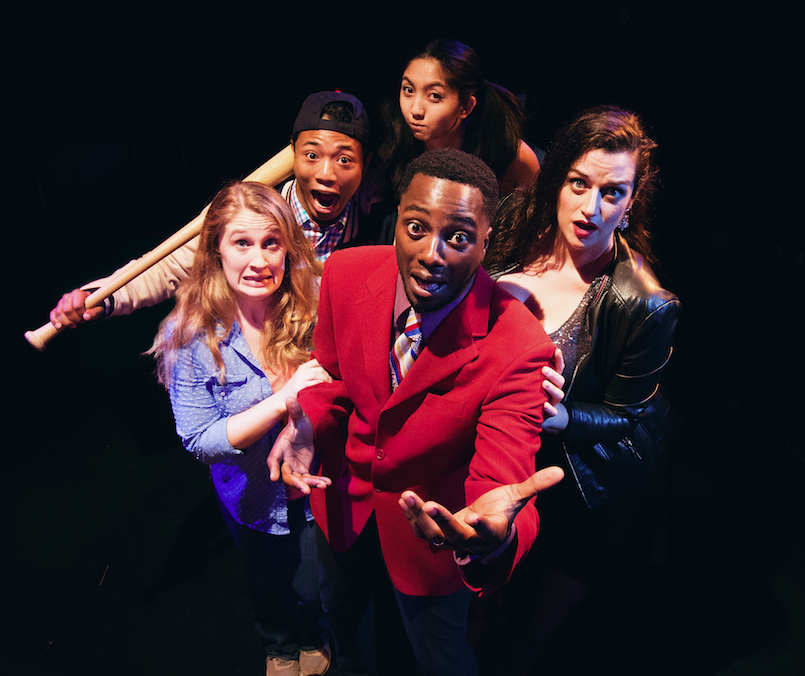 Photo Credit: Anthony Gagliardi
The Skin of Our Teeth If the events of 2016 have you feeling like it's the end of the world, you're not the only one. The Antrobus family is facing just that, over and over again, in this absurd Thornton Wilder classic. Paterfamilias George (Marlon Burnley) invents the alphabet, the wheel and infidelity. His wife Maggie (Taylor Wood) keeps the family and the world together. Squabbly kids Gladys and Henry (Crystal Le and Russell Scott) add to the drama and the comedy, while sexy maid Sabina (Anna Pieri) has a lot to say about all of it. Not only does this family break out of time, they break the fourth wall into tiny pieces by taking the action out of the theater space entirely at times, so be sure to wear comfortable shoes.
The Skin of Our Teeth, by Thornton Wilder, is presented by University Theatre in the Cellar Theatre of the Fine Arts Building Friday, Oct. 7–Saturday, Oct. 8 and Tuesday, Oct. 11–Friday, Oct. 14 at 8 p.m., with 2:30 p.m. Sunday matinees on Oct. 9 and Oct. 16. Tickets are $7–$12 and available at 706-542-4400 or drama.uga.edu.
Also Coming Up: UGA's Next Act Musical Theatre Troupe will present a pop cabaret, Reinvention, at Hendershot's Coffee Bar on Wednesday, Sept. 21 at 8 p.m. Tickets are $5 at the door. Visit facebook.com/UGANextAct for more information. "Haints and Saints Historic Walking Tour: Legends of Law and Order," presented by Jefferson Community Theatre, meets at the Crawford Long Museum on Friday, Oct. 14 and Saturday, Oct. 15 from 6:30–9:30 p.m. Tickets (advance reservations required) are $10–$15 and available at 706-367-5307. Visit jeffersoncommunitytheatre.com for more information.
Like what you just read? Support Flagpole by making a donation today. Every dollar you give helps fund our ongoing mission to provide Athens with quality, independent journalism.