April in Athens theater is a little crazy. It has music lovers who are nuts for each other (Much Ado About Nothing, University Theatre Apr. 9–19), lunatics rebelling against tyranny in the asylum (One Flew Over the Cuckoo's Nest, Town & Gown Players Apr. 10–19), candy-crazy kids on a musical tour with the mad candy-maker (Willy Wonka and the Chocolate Factory, Black Theatrical Ensemble Apr. 16–19), insanely shameless playwrights (Rose of Athens No Shame Athens/Athens Playwrights' Workshop weekend Apr. 18–19) and more.
Much Ado About Nothing
They don't call Shakespeare "The Bard" for nothing, and plays like Much Ado are best with the songs, which are too often cut. The original script includes four musical numbers, and director Kristin Kundert-Gibbs planned from the beginning to use live music in this production. Though the set and costumes are firmly placed in the Renaissance, Kundert-Gibbs found her inspiration in modern music when she encountered the song "Sigh No More" by Mumford and Sons. It's clearly inspired by and quotes Much Ado. Many of the characters in this production are also musicians in the band within the play, breaking out into song at various points during the show with a hey-nonny-nonny and a cover song or two.
It's a top-notch cast with some of UGA's finest. Zack Byrd and Stephanie Murphy are the snarky, mutually disdainful Benedick and Beatrice, friends of newly-in-love Claudio and Hero (played by Brad Burnham and Rebeca Ispas, who are also musicians).
Claudio, Hero and their friends plot to trick the two cynics into falling for each other, while the villains Dona Anna and Boracchio (Jasmine Thomas and Aaron Klein) scheme to trick Claudio into jilting Hero. There are additional plots, much silliness and more music before all turns right in the end.
Much Ado About Nothing is presented by University Theatre in the Fine Arts Theatre Apr. 9–11 and 15–18 at 8 p.m. and Apr. 19 at 2:30 p.m. Tickets are $16—$12 for students—and are available at 706-542-4400 or drama.uga.edu/boxoffice.
One Flew Over the Cuckoo's Nest
Get in touch with your inner merry prankster, celebrate neurodiversity, and try to stick it to the man (or nurse) with the play the New York Times described as "scarifying and powerful."
Dale Wasserman's adaptation of Ken Kesey's groundbreaking 1962 novel was also adapted into an Academy Award-winning film in 1975 and won a Tony Award for Outstanding Revival of a Play in 2001. It offers an ensemble of psychiatric patients with various forms of mental illness and a rebellious criminal named McMurphy, who thought pleading insanity was the easy way out until he ran afoul of Nurse Ratched, an abusive tyrant who could give even the sanest person nightmares.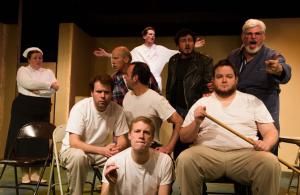 Photo Credit: Matt Hardy
Amy Miller is a perfect choice for Nurse Ratched; her keen wit sharpens the edge of this most vicious of stage villains, the head nurse of the facility, who doesn't hesitate to use all her power, including shock therapy and lobotomy, to maintain her dominance over patients and subordinates. Another great choice is Joel Altherr as McMurphy, the charming convict who becomes a leader among the inmates, transforming their lives and battling with Nurse Ratched in a rebellion he may not be able to win. Harriet Anderson brings years of experience to the director's chair, so expect yet another top-notch production from Town & Gown with this one.
One Flew Over the Cuckoo's Nest is presented by Town & Gown Players at the Athens Community Theatre Apr. 10–11, and 16–18 at 8 p.m. with 2 p.m. matinees Apr. 12 and 19. Tickets are $15—$12 for students, seniors and members—and are available at 706-208-8696 or townandgownplayers.org.
Willy Wonka and the Chocolate Factory
Black Theatrical Ensemble, the UGA student club that focuses on plays by black playwrights, is making a bit of a departure with Roald Dahl's Willy Wonka—but not as much as it might seem. Director Jayln Fleming, recent UGA theatre alumnus who is also playing Willy Wonka, points out that BTE wanted to do something to bring in a wider audience and that several members wanted to do a musical.
They hope to do The Wiz next season, but Willy Wonka was a spontaneous idea, with many members reminiscing about songs they remembered and parts they enjoyed. Fleming states that they decided to do the show "with a black lens, so to speak. When you think of Willy Wonka, you usually think of Gene Wilder or Johnny Depp, but I thought it would be interesting to have a black Willy Wonka."
Fleming has worked to add more soulful qualities to the vocals without changing the music, cast the Oompa Loompas as a powerful all-female tribe that look otherworldly rather than orange and green and add "a bit of ethnic flavor" to the visual look inside the factory.
It's very ambitious for Fleming to take on the lead role in his BTE directing debut. He was looking for someone else to play Wonka during auditions, which drew not only from BTE but from UGA theatrical groups Children's Theatre Troupe and Baptist Campus Ministries. He didn't find someone who fit his vision, but based on his work with University Theatre (Bray's Plays in particular, in which he gave standout performances in a variety of roles) it might be fortunate for the audience that Fleming needed to cast himself. While they didn't originally plan to do a child-friendly production, it's Willy Wonka—they did come to embrace the idea and even plan to offer free admission to children for the Sunday matinee and give them candy. So, yes, it's all that and a bag of candy.
Willy Wonka is presented by the Black Theatrical Ensemble at the Morton Theatre Apr. 16–17 at 8 p.m. with a 3:30 p.m. matinee Apr. 19. Advance tickets are $7—$5 for students ($10 and $7 at the door), and can be purchased at the Tate Center Ticket Office at UGA (tate.uga.edu/tickets).
Playwrights Weekend
UGA professor and notable playwright John Patrick Bray is heading up this weekend of staged readings, panel discussions and workshops featuring locals, UGA students, and playwrights from around the country.
There's a dramaturgy workshop with Kevin Ferguson, a reading of Stanley Longman's Lady Susan (yes, Jane Austen's Lady Susan), and plays by Erin Lane, Taylor Gruenloh, and Will Coleman.
The weekend wraps up with an open potluck, and all events are free, so take this opportunity to be part of the new play scene in Athens! All events are at ATHICA Apr. 18–19, and you can contact Bray at johnpatrickbray@yahoo.com for more information.
But, Wait…
Mary Poppins at Cedar Shoals High School Cedar Theatre, Apr. 9–10 at 7 p.m. and Apr. 11–12 at 2:30 p.m. Tickets at the door $8—$5 for students. 706-546-5375 ext. 21321.
An Evening of Dramatic Play Readings (by Chekhov, Kushner, and Shakespeare) with Town & Gown regulars Steve Elliott-Gower, John Olive & Ginny Simmons at Unitarian Universalist Fellowship of Athens Apr. 12 at 7 p.m. It's a fundraiser for UUFA, with a reception following; suggested donation is $15 per person. uuathensga.org/stewardship/fun-fundraising
Grease plays at North Oconee High School's Red Titan Playhouse Apr. 24–25 at 7 p.m. and Apr. 26 at 3 p.m. Tickets at the door are $10—$5 for students.
The Last Five Years by Jason Robert Brown (Second Stage series) at Town & Gown Players' Athens Community Theatre Apr. 24–25 at 8 p.m. and Apr. 26 at 2 p.m. Tickets $8. townandgownplayers.org or 706-208-8696.
Like what you just read? Support Flagpole by making a donation today. Every dollar you give helps fund our ongoing mission to provide Athens with quality, independent journalism.