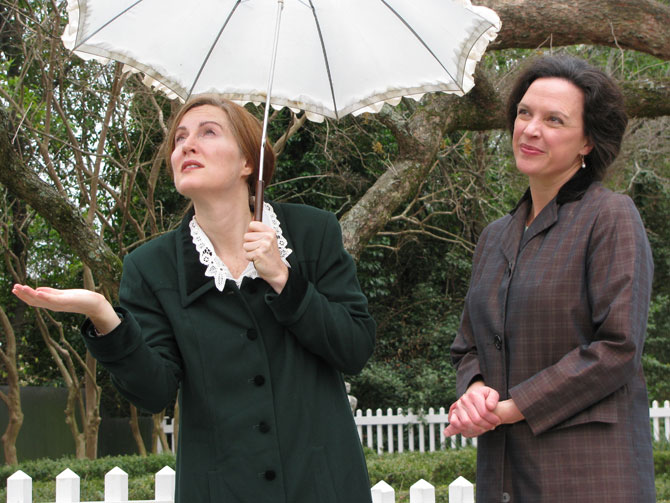 Are You Thirsty?: The UGA Performing Arts Center will host Neil Berg's touring musical revue 100 Years of Broadway on Monday, Feb. 6. If you're a fan of Broadway musicals, consider this show a drink from the firehose. The touring company brings several accomplished performers, including Sandra Joseph (Phantom of the Opera) and Ivan Rutherford (Les Miserables), onstage to do a greatest-hits package from Broadway blockbusters over the past century. Expect a lot of Andrew Lloyd Weber numbers as well as crowd-pleasers from Chicago and Aida and many others, backed by a full band, including Berg on piano.
Showtime is 8 p.m. Tickets can be purchased online at pac.uga.edu or by calling the Performing Arts Center box office at (706) 542-4400 or toll free at (888) 289-8497.
Office Pool: The Circle Ensemble Theatre Company will hold a fundraiser for its upcoming production of The Diary of Anne Frank at the Office Lounge on Friday, Feb. 10. A long lineup of musical acts will be performing, including Dodd Ferrelle, Caroline Aiken and John Keane, to raise money to offset production costs and allow the company to reduce ticket prices for schools. The fundraiser begins at 7 p.m., and tickets are $5.
Under the Tuscan Sun: The Town & Gown Players will present Matthew Barber's 2003 adaptation of Elizabeth van Arnim's Enchanted April, Feb. 10–12 & 16–19, at the Athens Community Theatre. Those who may be familiar with older renditions of van Arnim's novel, such as the excellent film with Miranda Richardson and Joan Plowright, will find some differences in this Tony Award-winner, but the story is the same: four very different women from England struggle to find themselves and their true desires in life while on holiday in a medieval castle on the Italian seaside. Directed by T&G veteran Beth Kozinsky, this production boasts a solid cast, so this should be pretty good. After the bombast of T&G's last two Main Stage productions, Enchanted April is definitely a change of pace, and many will find it a welcome one.
Showtimes are 8 p.m. for Thursday–Saturday shows, 2 p.m. Sundays. Tickets are $15, $8 for students with ID on Thursday, Feb. 16. Call (706) 208-8696 for reservations.
During the break between weekend performances of Enchanted April, Town & Gown will hold auditions for its next Main Stage show, Peter Shaffer's Amadeus (the basis for the Oscar-winning film), on Feb. 13 & 14 at 7 p.m. Auditions will consist of cold readings from the script between actors.
It's Alive!: Few people in this town know Frankenstein like John Vance does. When I was a grad student, Dr. Vance put me through my paces dissecting Mary Shelley's seminal novel about the radical scientist seeking the secrets of life beyond death and his tragic, malformed creation. As a dramatist, Vance has trained his sights on a new comedic version of the story as his JV Productions presents the original play The Frankenstein Zone at Seney-Stovall Chapel Feb. 17 & 18.
In this modern update, neither Shelley's novel nor any of the film versions ever existed, but the events of the book actually happened. Victor Frankenstein built his Creature and has been on the run from it ever since, searching the world for someone to whom he can tell his tale of horror and pity. Victor finds his audience in a rib joint in present-day Missouri, with the Creature at his heels…
As Mel Brooks showed us, it's possible to do Frankenstein and make it funny, and Vance is no slouch when it comes to staging his work. This looks potentially very good and certainly worth checking out. Showtimes are 8 p.m.; tickets are $10, $8 for seniors and students with ID, at the door.  For information, call (706) 543-2012.
Weird Fiction: It seems like February is a month for monsters—which actually isn't that surprising in the winter doldrums. Town & Gown's first Second Stage production of 2012 is The Call of Cthulhu, based on the stories of H. P. Lovecraft, and is slated to run Feb. 24–26. For those who don't know Lovecraft, shame on you. One of the 20th-century's foremost writers of horror, Lovecraft was considered by many the successor to Edgar Allan Poe with his tales of eldritch terrors and nameless dread, and every writer of scary stories in the last hundred years owes him a debt.
Director Cord Sibilsky has taken on the challenge of adapting The Call of Cthulhu from its origins as a radio play to a full-on stage production, and it will be interesting to see how he makes it work, especially since the hard-to-pronounce titular creature is, simply put, a god of madness from beyond the stars, pitted against a handful of human beings who must fight the impossible to save us all. If Sibilsky and his cast can pull this off, the results will be a lot of fun. Showtimes are 8 p.m., Friday–Saturday, and 2 p.m. Sunday. Tickets are $5 at the door, no reservations taken.
Curtain Calls: The UGA Chapel will host a special run of Eve Ensler's groundbreaking work The Vagina Monologues, Thursday–Sunday, Feb. 16–19. Performances are at 8 p.m., and general admission is $15, with all proceeds going to benefit Project Safe and its mission to end domestic violence… Burlesque Beta returns to the Go Bar stage on Saturday, Feb. 11, with special guest performances from Atlanta burlesque superstars Talloolah Love and Fonda Lingue. Burlesque Beta is Effie's Club Follies' monthly talent showcase, and in its short history has evolved into a wildly popular event and a helluva lot of fun. Showtime is 10 p.m., cover is $3 at the door.
Like what you just read? Support Flagpole by making a donation today. Every dollar you give helps fund our ongoing mission to provide Athens with quality, independent journalism.