As July rolls up on the Classic City and we celebrate 237 years of not being British, a couple of notions spring to mind. One is that somewhere between the pitcher's mound of potato salad (mustard, not mayonnaise-based, please) on our paper plates and our fifth PBR, we all might consider cracking open or dialing up the Declaration of Independence for a read. It really is a wonderful, radical document that not only ranks up there with "We're Not Gonna Take It" by Twisted Sister as a cry of defiance but also definitively refutes any and all claims that God ordains anyone to rule or claim authority over the rest of us. Pretty heady stuff, that.
The other notion actually occurred to me last year as I heard fireworks and things that weren't fireworks popping around my neighborhood. As we celebrate our various freedoms, including those guaranteed to us by the Second Amendment to the Constitution, I'm reminded of how responsible gun owners obey laws, not just the laws governing background checks, licenses, registration, and concealed carry but also the law of gravity. Responsible gun owners don't fire their weapons into the air, because they of course know that what goes up must come down at terminal velocity. As I said, just a thought.
Here's the list of who will be cavorting live for your amusement in July.
Wet and Wild: The Athens Showgirl Cabaret, the hardest-working drag ensemble in town, will hold their Second Annual Wet and Wild Drag Show at Go Bar on Friday, July 5. This is a fundraiser to support Atlanta Pride and will consist of the girls doing their usual cavalcade of lip-sync, dance moves, comedy and sass, plus a wet t-shirt contest for girls and a wet underwear contest for guys. I attended last year's event (no, I didn't enter the contest—believe me, nobody wants to see that—but I have friends who did and won by lobbying and raising the most money for the cause), and it was a lot of fun.
Doors open at 9 p.m. Admission is $3 at the door. 18+.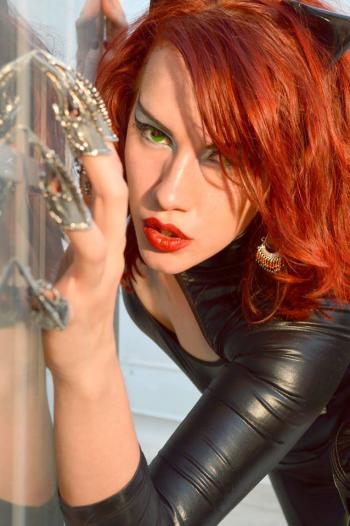 Photo Credit: Jason L. Bohannon
Hot Drag: Go Bar should just about be finished cleaning up from the drag show by the next night, when Sirens of Sin and BeatmatchedHearts show up to stage the new installment of their popular fetish-electronica extravaganza Insurrection Ball v4: Impetus Rising. This time around featured performer Preya, she of the slinky dance moves and light spanking, will be joined by Atlanta burlesque performer Foxy Roulette. The DJ lineup is also expanded, as DJs Incubus, Lexus Luthor and Lisa welcome Athens' favorite goth-spinner Trey Ehart. This should be a good night out for the kids who like to wear the black, though I wish godspeed to everyone cinching up in their leather/latex/PVC wear in July. Not being one to suffer for fashion, I'm grateful that formal attire is also acceptable at this event.
Doors open at 9 p.m. Saturday, July 6. Admission is $5 at the door. 18+.
Grimm Tales: For those whose tastes run to the more traditional (or don't—there's room for everyone at the table), the Circle Ensemble Theatre company will present Into the Woods, the 1986 Tony Award-winning musical and perennial favorite by Stephen Sondheim and James Lapine, at the Morton Theatre Friday and Saturday, July 12-13. For those who don't know this show, it's an atmospheric and often dark mashup of various Grimms fairy tales that follows a couple, cursed with childlessness by a witch, as they quest for the magical mojo items needed to break the spell and encounter legendary characters along the way. Directed by Joelle Re Arp-Dunham, this looks to be a great show and a good excuse to get out of the house and into the Morton.
Into the Woods runs at 7:30 p.m. Friday and Saturday, with a 2 p.m. matinee on Saturday. Tickets are $15, $10 for students, and can be purchased online at www.mortontheatre.com, by phone at 706-613-3771, at the box office (open Monday-Friday 10 a.m.-1 p.m. and 3 p.m.-6 p.m.) or at the door one hour before the show. Group discounts are available—call for details.
It's a Plane, It's a Duck… : The kids from Athens Creative Theatre's 2013 summer camp will perform this year's production, Brian D. Taylor's Super Duck, at the Morton on Friday, July 26. The story of a strange visitor from another planet who came to earth in an egg, hatched and grew up to defend us all from the dread machinations of Dr. Tabby Clawslice and Squishy the Worm, this looks to be a lot more fun than I hear Man of Steel was. The campers, aged 8-12, have been working hard on this production, so it should be a great night out for the family.
Showtime is 7 p.m. Call 706-613-3771 for ticket information.
Like what you just read? Support Flagpole by making a donation today. Every dollar you give helps fund our ongoing mission to provide Athens with quality, independent journalism.