With the new year come new beginnings. Thanks to the Affordable Care Act, some would-be parents are taking that idea literally, now that maternity coverage is part of individual health care plans.
That got me thinking about what it's like to have a baby now versus when I had my daughter six years ago. Granted, the ability now to share parenting-related stories via Facebook is a bonus. Even so, there has been a small explosion of brain research and early childhood development research in the past few years. New parents now have access to research that shows the first three years of a child's life are much more important than had been thought. Plus, here in Athens, we have mama-baby yoga classes, rhythm and movement classes and more formal parenting classes thanks to several enterprising moms in town. Or, jump back on Facebook to join one or several groups set up for new parents.
Know, too, that this research and support isn't limited to parents of a certain income level. That was my first fear when thinking about resources for new parents—it's one thing to want to take your baby to a yoga class, but if you've never been to yoga yourself, or are short on cash, are you out of luck? Not necessarily.
Lessons Learned
Clarke County's high poverty rate is a double-edged sword in this area. Yes, we have multi-generational poverty that makes it difficult for a child to attain a higher level of education than his or her parents. But there are several forces at play to help counteract this. Mainly, we have agencies such as Head Start, Prevent Child Abuse Athens and Children 1st that help spread the gospel of talking and reading to your baby. As a bonus, each of these agencies also works with parents to get them back on track with their own education or employment. (To get more details on their programs, call 706-357-5239 for Head Start, 706-546-9713 for Prevent Child Abuse Athens and 706-369-5670 for Children 1st.)
Head Start is federally funded and operates through the school district, Children 1st is a service of the state-run Public Health Department, and Prevent Child Abuse Athens primarily relies on grants and local donations. Each of these agencies looks at raising children from a holistic view. For example, working with the parents' issues is just as key to working with the new baby. Home checkups are key as well.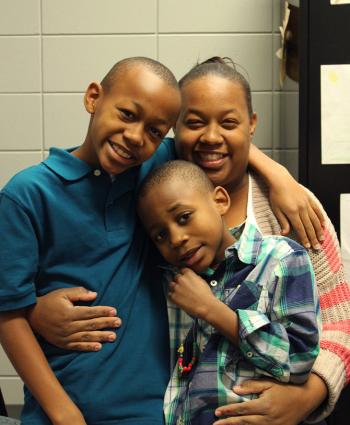 Photo Credit: Kristen Morales
Mary Hood, executive director of Prevent Child Abuse Athens, says its Healthy Families program incorporates the latest research on brain development in what it teaches new parents. The agency gets referrals from lots of places—hospitals, school social workers, doctors and other agencies—and works a lot with teen mothers or new moms who aren't getting a lot of support from their families.
The Healthy Families program is one example of how the climate has shifted. A decade ago, you were likely to get a visit at the hospital, and then later a phone call, from a volunteer with PCAA as part of its First Steps program. (I still vividly recall the lovely older woman who called me, as I was nearing home from a 45-minute commute as my four-month-old slept in the back seat, thinking how nice it was that she thought to call.) But the program mainly just checks in with new parents to make sure they're OK, while Healthy Families visits the parents in their homes to share parenting tips and methods that will better prepare the entire family for what's ahead.
Hood says that, along with some parenting classes PCAA offers, the First Steps program, which started more than 10 years ago, needed to go a little further for some families. "We have been over [at the hospital] more than 10 years, maybe 15, and we recognized then that First Steps, as great of a program as it was, some parents needed a little more support," she says. "So the home visits grew from the First Steps program."
The grant that keeps the program going and serving 900 families a year also reflects the long-term success of teaching families new options for parenting methods. "It's based on the research that shows if we invest in these children and their families early on, we can change the trajectory that says the child is going to follow in the same pattern as the mom," Hood says. "Many times, that mother's level of education is an indicator of where the child is headed. Right now it looks like a really good investment."
This month also marks a new beginning for PCAA's program, which begins working with dads at the Clarke County Diversion Center (work-release program). This gets fathers more involved in parenting lessons, too.
More than Mental
It's not just the emotional resources that have expanded in recent years—physical resources have, too. Specifically, there are more places to get stuff for you and your baby.
That's because unless you knew someone who was your size and already had a baby, your only resource for maternity clothes was one store at the mall. Yes, they have nice things there, but not everyone has $40 for a pair of pants. So thank goodness for a mini-explosion of consignment stores that have a selection of wardrobe staples. One of my favorites is reBlossom Mama Baby Shop (220 N. Milledge Ave.; 706-549-8900). Not only can you find gently worn maternity and baby clothes (and toys), but the shop also hosts parent get-togethers and educational groups. For example, check out the Early Learning and Care Fair, 10 a.m.–noon on Saturday, Jan. 18, for the chance to meet with representatives from local daycares and preschools.
Keep in mind, too, that in the past five years, there's also been a mini-explosion of activities for new moms (and dads) and babies. Several yoga studios, along with reBlossom and Arrow, have yoga classes that are baby-friendly. Treehouse Kid and Craft has "baby sensory" classes for small toddlers. The YMCA is starting basketball for toddlers. And all these are in addition to the Athens Mothers Center, which has met on the Eastside for decades, and regular parenting-style classes offered at the two local hospitals.
I'm not sure if it's this generation of parents, an expansion of research or simply the perfect storm of a DIY-fueled economy that has spawned a renewed focus on early parenting skills, but it's all a welcome addition to our community. Let's hope the kids entering kindergarten in 2018 are the best prepared yet.
Like what you just read? Support Flagpole by making a donation today. Every dollar you give helps fund our ongoing mission to provide Athens with quality, independent journalism.