The walk up the wide granite stairs between the elegant white columns of the UGA Chapel makes a visitor feel just as its architect no doubt originally intended: as if you have left the ordinary world and have arrived somewhere beyond. Approaching and entering it fills you with a sense of occasion. You are about to encounter something special.
On Friday, Jan. 30, the occasion was a visit to Athens by sustainable designer and fashion celebrity Natalie Chanin. The event was part of the Willson Center for Humanities and Arts' Global Georgia Initiative.
Chanin has built an international following with her skirts, dresses and blouses that, while exhibiting a high level of design and craftsmanship, celebrate the handmade and the imperfect with simple appliqués and large, playful stitching.
Local photographer Rinne Allen introduced Chanin. Allen has photographed the work of Alabama Chanin extensively. But on this day she recalled a visit to NYC when she saw Chanin's work for the first time at a boutique. She was drawn to it from across the room. "I saw these amazing stitches. I could see seams popping off the garment." Allen was moved by the fact that the label inside read "made by hand in Alabama."
Chanin's talk was inspirational and her narrative simple; you can achieve great things with simple tools. In her case, the tools were embroidery scissors, thread and needle—plus a commitment to her home state of Alabama and doing the right thing where labor is involved.
Photo Credit: Barbette Houser
But the road to achievement usually isn't short. Chanin began hers by attending North Carolina State University's School of Design. Vita Jones, a former classmate of the designer, made the trip to Athens from Durham, NC, to hear her speak. She remembered a determined young Natalie working in her studio at school with her baby in the crib in the corner. "When Natalie was 21, she was imagining connections to Louise Nevelson. In a sense, she became a Louise Nevelson many times over."
After graduating with a degree in environmental design, Chanin was frustrated when sending out her resume to more than 100 companies yielded no real results. So she did what lots of brilliant and disgruntled people do. She went to New York on a whim.
She found herself working in the sportswear industry, traveling with her job and getting a hard education in industrial manufacturing. "I saw a lot of things that you shouldn't see humans doing… and if you saw them, you wouldn't be buying clothes made there."
After another job in the industry, Chanin took a sabbatical. One night, getting ready for a party, she decided to take a t-shirt apart and reconstruct it. "I turned the seams from the inside to the outside because I felt kind of raw at that time in my life." The unexpected occurred when guests at the upscale affair admired the shirt. "Something special happened that night."
In a sense, Alabama Chanin—though originally under a different name—was born.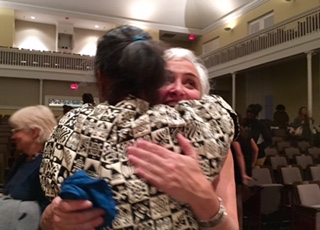 Alabama Chanin now occupies a textile mill in Florence, AL, that had been shuttered as companies started the flight out of the U.S. to pursue cheap outsourcing overseas. There is pleasure and sense of accomplishment for Chanin in seeing the mill revived as the home of her studio. Over 30 employees work there, and many more work in their homes doing handwork. Her artisans are paid a fair wage that they set themselves. Organic cotton adds to the slow fashion agenda. Chanin continues to create and to spread the word about fair textile practice. On this night, she urged her audience to have conversations about "price per wear" and to remember that with "every dollar you spend, you vote."
During the talk, given to a full house, Chanin was relaxed and appeared to enjoy sharing her message. Radiantly beautiful, with strong features and stark white hair, she smiled when outside the campus bell occasionally rang out. An audience member asked her where she got her inspiration. Chanin mentioned taking a walk around Athens earlier in the day. "There's so much beauty here."
To learn more about Natalie Chanin and her work, visit alabamachanin.com. The next event in the Global Georgia Initiative is a talk by Israeli author and translator Assaf Gavron on Thursday, Feb. 4. For more information visit willson.uga.edu.
Like what you just read? Support Flagpole by making a donation today. Every dollar you give helps fund our ongoing mission to provide Athens with quality, independent journalism.