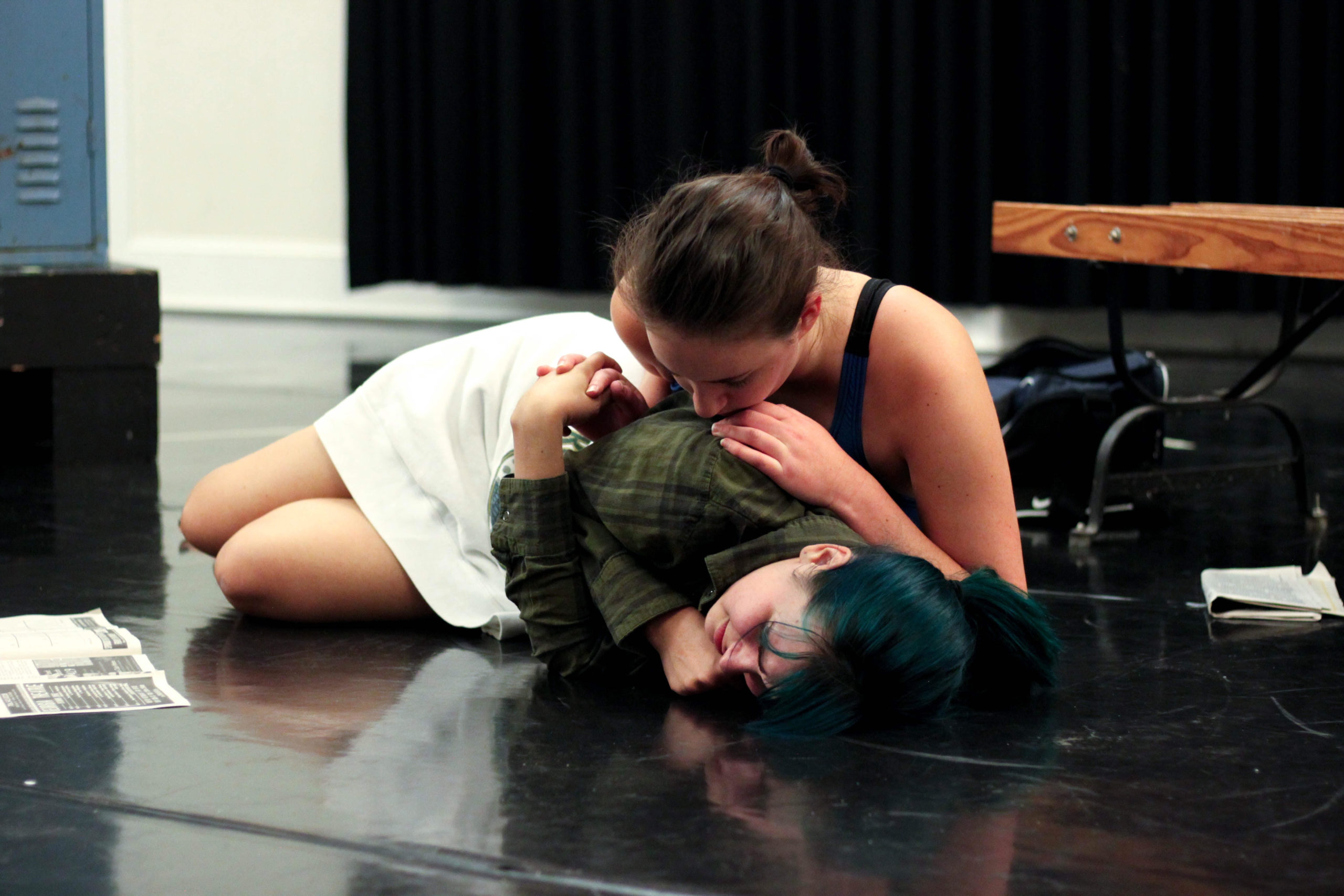 Photo Credit: Myles Haslam
Here's what's new on local stages:
Dry Land
Two teenage girls in a locker room grow close while attempting to undo an unwanted pregnancy, trying to find a safe place in a world that seems small and dangerous to them at that moment in time. This play shows that bodies can be frightening, especially to young women lacking true ownership over their bodies and their sexuality. One of the girls says to the other about her sexual experience, "It was sexy, but also really ugly, because sex is ugly."
It's not a pretty play. It's 90 minutes of very frank dialogue with characters in an intimate performance space doing disturbing things as they attempt DIY abortion.
And it's not a single-issue play either; it's also about friendships, female sexuality, suicide, bullying, eating disorders, adolescence and American politics.
Director Geoffrey Douglas says playwright Ruby Rae Spiegel "weaves them all together in a beautiful story about the friendship of two teenage girls… striking a unique chord by dealing with the vulnerability of adolescence in an unflinching way."
Dry Land is presented by the Thalian Blackfriars at the Cellar Theatre in the Fine Arts Building Monday, Oct. 26 & Tuesday, Oct. 27 at 7 p.m. Tickets are $5 at the door. A talkback after the Monday performance will be hosted by the Sexual Health Advocacy Group and Planned Parenthood. For more information, see ugathalian.wix.com/blackfriars.
Panthers Scream Like Women
It's exciting to see Town & Gown's Second Stage series once again become a vehicle for producing new regional plays. Murray J. Weed's debut work (reviewed here), directed by local theater staple Amy Miller, seems to evoke that feeling and recollection of the magic of a place—"the things we all share wherever we are from," Weed says. Whether they have a complicated or mystical or sentimental or confusing relationship with their own hometowns, audience members have the chance to connect to the otherworldly experience of protagonist Macky Martin's (Adam Darby) rich memories of home.
Panthers Scream Like Women is presented by Town & Gown Players at the Athens Community Theatre this Friday, Oct. 23 & Saturday, Oct. 24 at 8 p.m. and Sunday, Oct. 25 at 2 p.m. Tickets are $5 and are available at 706-208-8696 or townandgownplayers.org.
The Legend of Sleepy Hollow
Rose of Athens is doing one public performance of the classic story by Washington Irving, adapted specifically for the enjoyment of the young. It features the bumbling schoolteacher Ichabod Crane (Scotty Gannon) and his escapades that culminate in the ride of the headless horseman. The performance is at Seney Stovall Chapel Saturday, Oct. 24 at 7 p.m. Tickets are $7, available at 706-340-9181, booking@roseofathens.org or roseofathens.org.
Like what you just read? Support Flagpole by making a donation today. Every dollar you give helps fund our ongoing mission to provide Athens with quality, independent journalism.