Otters and wolves now grace the walls at Heirloom Café and Fresh Market in the Boulevard neighborhood. Will Eskridge's "Prairie and River," a collection of new paintings featuring animal imagery, opened last Thursday night and will be on view through the end of February.
The artist, dressed in a grey vintage western wear shirt, was all smiles for those who braved the unusually frigid temperatures to come to the opening. Guests enjoyed appetizers made by Heirloom, including baba ghanoush, housemade pimento cheese and delicious ginger cookies piped with cream. The venue, a service station converted into a restaurant, was welcoming and homey with lots of candles, sweet floral table cloths and mason jars stuffed with herbs at the bar. Somehow, the prettiness of the space didn't distract from the work on display.
Inspired by a folk tale from E.C. Babbitt's More Jatakas Tales, Eskridge explores environmental and ecological themes through his works. According to the artist, the paintings address "animals' attempt at survival in a technologically advanced and industrialized world: the push and pull of nature and modernization … I want my work to slow people down, make them think and, hopefully, become aware of what is happening to our animal brethren."
Photo Credit: Will Eskridge
Each painting features a realistically and deftly painted animal, some of them almost Andrew Wyeth-like in style, accompanied by geometric forms against a minimal background. In "Tireless Traveler," the contours of an otter, painted in a very watered down gouache, are emphasized with surrounding abstract fields of thick paint. The contrast of the translucent areas and the impasto ones provides interest to the work. The unexplained, elongated pyramids on the right side—one of them seeming to emit finely splattered red paint—also add interest and encourage the viewer to engage in interpretation.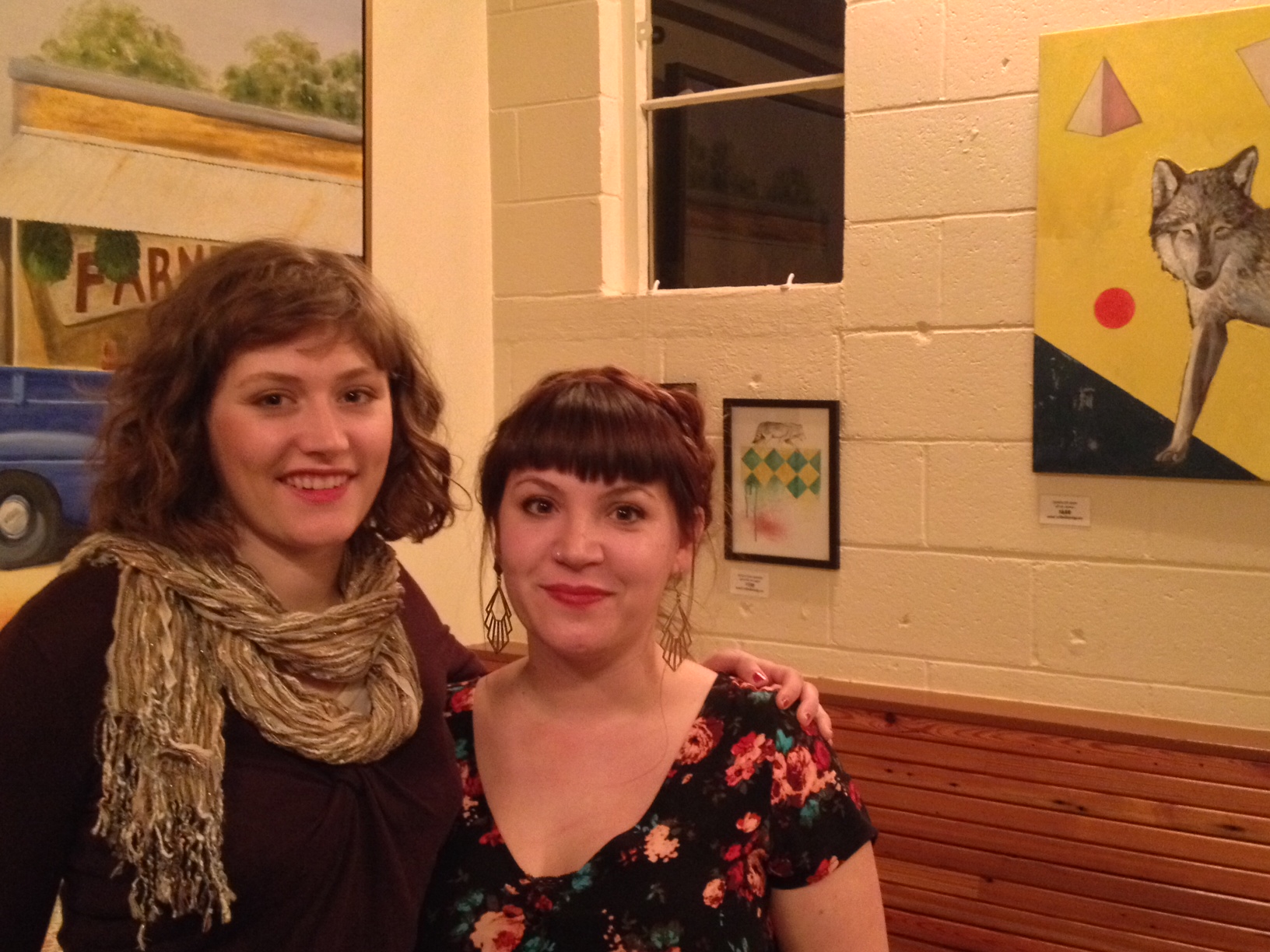 Photo Credit: Barbette Houser
Eskridge, who earned his BFA in Interdisciplinary Arts from the San Francisco Art Institute, moved to Athens temporarily in 2006 and, like so many of us, just couldn't leave. Heirloom Café was a natural choice as an exhibit space for him. It is dear to him because it is where he and his wife, Marie Eskridge, hosted their rehearsal dinner and have had many dates together. "The space is great with a couple of nooks and crannies to surprise the audience with a piece or two," says Eskridge.
"We're all incredibly excited to be displaying his work," Heirloom's new art director Kristine Leschper says. "Not only because of his talented hand and soft aesthetic, but also because his work delves into themes that are at the forefront of our minds at Heirloom [such as] the way that wild animals and livestock are affected by the human footprint, especially in regards to industrialized farming and mass breeding."
Like what you just read? Support Flagpole by making a donation today. Every dollar you give helps fund our ongoing mission to provide Athens with quality, independent journalism.