Long Road Studios, a collective of clay artists formed in 2012, celebrated the grand opening of its new permanent home in Bishop on May 10. The doors were opened and the shelves were fully stocked as Jorie Berman, Laura B. Cooper, Juana Gnecco, Nancy Green, Melanie Sgrignoli, Kendall Steele and Caryn van Wagtendonk welcomed friends and patrons to their new space. To add to the variety of wares on offer, Sara Lee Parker's hand-printed linens and Lisa Pickett's soaps were also on hand and will be carried at the gallery. Friend and guest artist Jim Norton had his jewelry on display for the opening, too.
The work of all seven clay artists shows harmoniously as a group, yet each has a distinctive and separate style. The works of Caryn van Wagtendonk, who teaches at Good Dirt, and Kendall Steele, a former art teacher, have a playful quality and an emphasis on pattern and illustration. Steele says that she "was into folktales and fairytales," and this shows in her work. She notes that "growing up, we had Asian decorative arts throughout our home" and that this may influence the style of her work and the emphasis on pattern.
Nancy Green, who studied ceramics in Japan, also exhibits eastern influences, but in a very different way. Her work has an emphasis on form reduced to its absolute essence. The pieces have a stillness to them that contrasts with the work of other group members.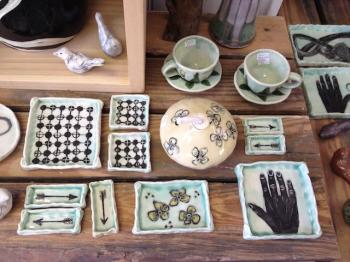 All of the Long Road artists create artworks that double as functional pieces. They also share a commitment to the lifetime process of developing their craft. It is this long journey of finding their unique voice and developing their work that inspired the name "Long Road." Plus, Juana Gnecco adds, "the gallery space we found is located on 441, a pretty long road" which continues into other states.
When asked about the relationship among Long Road's artists, Juana Gnecco said simply, "It has been kind of a pleasure working together." That pleasure is evident in this delightful new space filled with inspiring ceramic wares artfully made for daily use.
Long Road Studios is located at 4860 Macon Highway, Bishop Ga 30621 and is open Wednesdays through Saturdays, 10 a.m.–5 p.m. and Sundays 12–5 p.m.
Like what you just read? Support Flagpole by making a donation today. Every dollar you give helps fund our ongoing mission to provide Athens with quality, independent journalism.