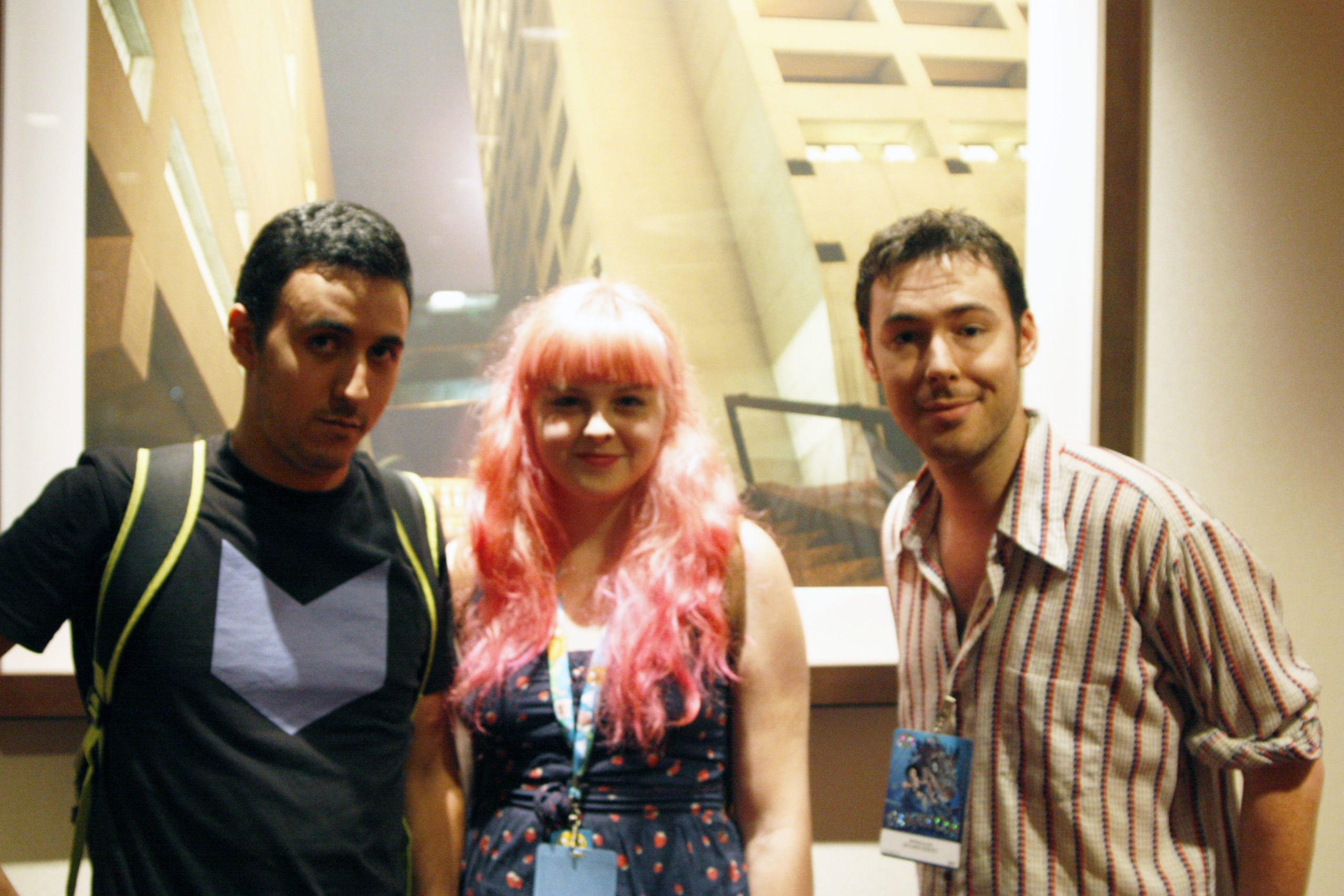 Photo Credit: David Schick
Film crew of A Plague So Pleasant
When three Cedartown locals set out to make their first feature-length indie movie, they dropped everything they were doing to make it happen.
After two years and practically no budget (less than $3,000 later), Benjamin Roberds, Jordan Reyes, and Tylar Carver, finished their film "A Plague So Pleasant," which is a fresh take on the zombie apocalypse.
Flagpole caught up with the intrepid trio last weekend at the Dragon Con film festival.
The film takes place in a post zombie apocalypse world where zombies and humans coexist peacefully together. After the outbreak occurred, it was discovered that zombies only attack when provoked, so the government makes it a felony to shoot a zombie (sorry Second Amendment advocates).
Some of the zombies exist in quarantine zones, where their former loved ones can — and in the case of one main character, do—visit them. Beyond your typical zombie apocalypse themes, the film sends a deeper message on the ability to "let go" of loved ones.
A lot of the zombie action actually takes place all around downtown Athens, and they used over 100 Athens locals who volunteered to play zombies. Without giving away too much of the plot synopsis, the full movie is available on YouTube and it's worth the watch:
Roberds and Reyes have been making movies for quite some time, but this has been their greatest accomplishment so far.
"We've known each other sine we were 11 years old," says Roberds. "We've been making movies since we met."
After saving up some money, both Roberds and Reyes quit their day jobs to make this film. Soon after they enlisted the help of Carver as their make-up artist.
Carver, who was 17 at the time they began making the film, taught herself how to do zombie make-up through hours of instructional YouTube videos. Because the group was fiscally limited, she says she looked up the "cheapest things possible" with which to simulate rotting flesh.
In addition to the filming at the University System of Georgia's dairy farm and downtown Athens, they say they used a friend's house who didn't realize what an endeavor it would be.
"After a while he was like, 'Okay guys, I thought this was going to be like a two week sort of thing, but it's been two years,'" says Reyes. "One time, we accidently blew up his sink."
The team literally went through everything, including the kitchen sink, to make this movie.
At the Dragon Con film festival, the movie didn't get the best time slot at 1 a.m. Sunday. However, that didn't stop about 50 or so zombie lovers from coming out to see their movie—or giving a lively round of applause at the end.
Overall, it's fair to say that I was impressed with the low-budget movie. And I commend the film crew's resourcefulness for being able to pull it all together. If you've ever wondered what it would be like to see a zombie apocalypse in downtown Athens, I recommend that you check it out.
Like what you just read? Support Flagpole by making a donation today. Every dollar you give helps fund our ongoing mission to provide Athens with quality, independent journalism.