Among the Athens gaming crowd, the question is: How do you play? Traditional gamers stuff their shelves with dice and boxes in every imaginable size and color, while generally younger electronic gamers accumulate purchases and points on all manner of devices. Both types of gaming have become increasingly more popular among University of Georgia students and locals alike.
"Games are good for everyone," says Sean Holland, who has owned and operated Tyche's Games on Lumpkin Street, in the middle of the UGA campus, since 1997. His store specializes in traditional board games, card games and role-playing games (RPGs), in addition to holding weekly events that attract a diverse crowd from the area. Since opening, Tyche's has worked closely with gaming clubs at the university, as well as similar groups all around Athens.
Holland says that, during his experience working and writing for the RPG industry over the years, he has seen it grow, shrink and then stabilize again. He describes his clientele as 30–40 percent UGA students, and the rest are locals. As a diehard traditional gamer, he believes "there will always be a place for sitting around the table with just paper, pencil and dice."
Holland says his store works to bring in players who might not fit the typical gamer mold. While the local community has grown in terms of diversity and variety, he says, "Gaming, traditionally, has been a very white-male hobby, and that's one of the few things I find distressing about it, is that we have not fully broken out of that."
Dragon Star Hobbies, on the Eastside, opened its doors five years ago with only 20 board games. Its owner, Joe Teskey, a UGA graduate and former parking lot attendant, says, "We like to pride ourselves in just making people feel included." His store continues to grow in games, merchandise and customers, now boasting more than 450 games and hosting about 20 events each week, with something for all ages.
One of Dragon Star's biggest areas of focus is community outreach via donations to schools, libraries and similar organizations. Teskey marvels at how much more accepted gaming is now among all types of people.
"I think it should've always been popular. It's just people are [now like], 'Oh, cool, I'm not gonna make fun of the kid playing D&D now.'" He adds that his customer base includes a cross-section of the local community that includes doctors, lawyers, teenagers and even UGA football players.
Stocked with over 800 games, downtown cafe The Rook & Pawn is a unique local gaming space. Locals Tim and Carrie Kelly opened the restaurant in 2015. Events for all ages and are held throughout the week, and the venue offers traditional old-school board games along with newer role-playing games. The Rook & Pawn doesn't have any screens or televisions, in an effort to keep interactions personal and tech-free.
"It's very analog, and you have to be very present," says Tim Kelly. "You're not hiding behind anything, you're not on a screen, you're not talking through a microphone. It's just you and the people you're around the table with."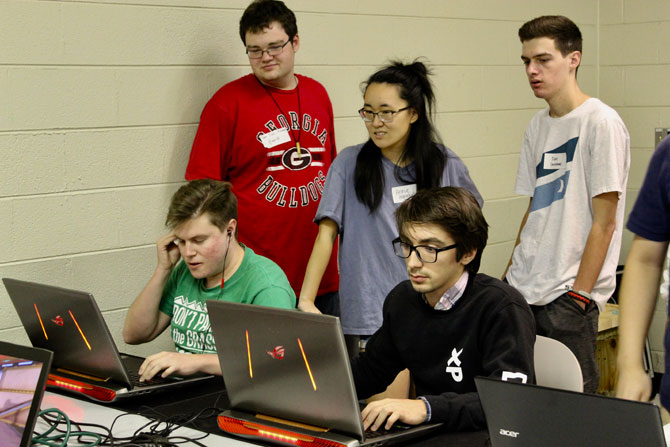 Photo Credit: Jessie Goodson
Though traditional gaming is still going strong in Athens, there is also a growing focus on electronic online gaming, or esports. UGA even has an electronic gaming club, Esports at UGA. The club started a few years ago and has a membership body of around 200, with 50–100 people attending each event.
"Gaming is an activity for everyone, and this is something where everyone is truly equal and we can all enjoy the same activity," says the club's community manager, Emily Morrow.
Not only is Morrow active in the esports club, but she also branched off with a friend to start their own club, Girls for Games. "My goal is to just provide a space for LGBTQ people, women [and] minorities to find a place where they can be comfortable to discuss games and also discuss making games," Morrow says.
Both clubs have been well received at UGA, and Morrow says she sees them growing. "We live in a time where these two organizations are viable, we feel as though they're respected, and we provide real opportunities for members in leadership. It's just a great day to be a gamer," Morrow says.
Advocates for both types of gaming have reasons why they prefer theirs over the other, but it's clear that they are equally important to the larger gaming community. Traditional gaming has been around longer, and those who play are adamant that it will stick around for many years to come. "I love games online, but the ability to be able to sit across from somebody and actually physically interact with them is awesome," Teskey says.
Holland agrees, saying traditional gaming is "a chance to get away from the constant barrage of media in our lives and just focus on one thing and your friends."
Meanwhile, the UGA esports group is more social-media-driven. "The ease of being able to play with others and your friends at any given time is a really big draw for online-based games," Morrow says.
Local gamers of all stripes agree that the main draw is community—playing with friends and potential friends. "If you find out somebody plays the same game as you or enjoys the same games that you do, it's just this instant connection and instant friendship—a mutual understanding," says Morrow.
Like what you just read? Support Flagpole by making a donation today. Every dollar you give helps fund our ongoing mission to provide Athens with quality, independent journalism.