Don't look now, but Athens is bursting with young musical talent—and we mean young. Boasting some of the most original band names around, these gifted teenagers came out of programs like Nuçi's Space's Camp Amped, middle and high school orchestras and Full Moon Studio's School of Music. They may be barely old enough to drive, but they're just as skilled as your average jaded townie. Here are six teen bands you should check out.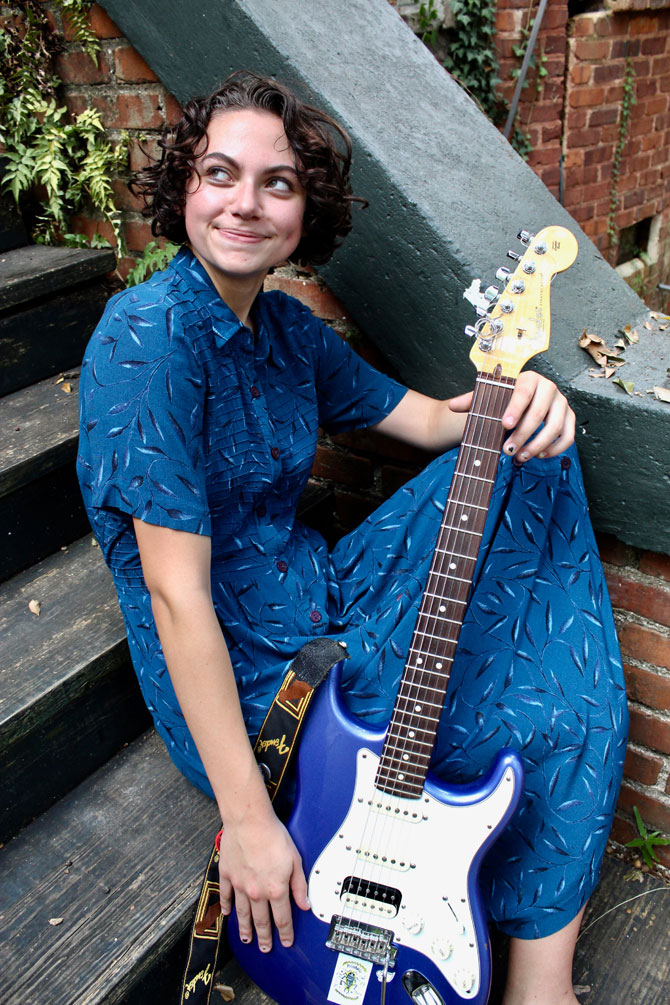 Photo Credit: Jessie Goodson
Fishbug
Lineup: Stella Perkins, Isaiah Pope, Parker Dillard, Moss Ivy
Influences: David Bowie, My Chemical Romance, Jimi Hendrix
About: Since January, Fishbug has been making a name for itself by playing just about every venue in Athens, along with AthFest, Porchfest, Athtoberfest, the Wild Rumpus and more. The four-piece originally called itself A Chinese Restaurant Koi Pond before deciding to shorten the name.
Bassist Dillard says he and guitarist Ivy had a band that broke up just before they found guitarist and singer Perkins and drummer Pope. "We all come from different places and different backgrounds and inspirations, and I feel like that's part of what makes us unique," says Dillard. The band has four songs currently released as the Funky Floaty Fishbug Melodies EP and has 16 others ready to record at Full Moon Studios with Jay Rogers.
Recently, Fishbug has made its way onto radio stations across Athens and even as far away as New York. Self-described as "pop-punk with a meshing of different genres," Fishbug blends styles with its unique lyricism and inspired sound.
Next Show: Nov. 30 at Hendershot's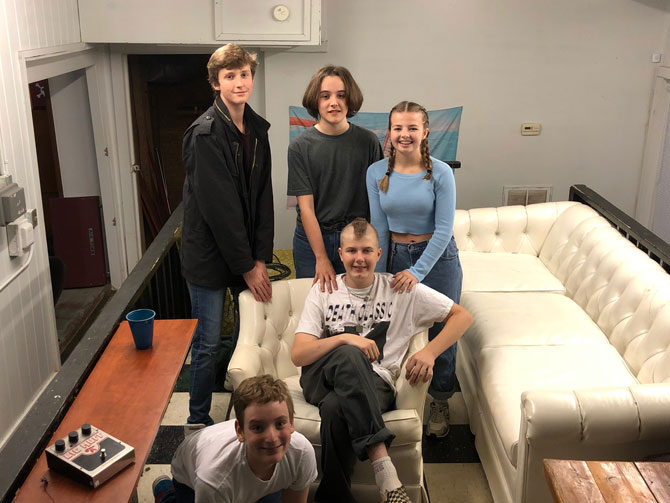 Swowce
Lineup: Kaija Gilbertson Hall, Tripp Sandifer, Holland Zwart, Jake Pence, Jack Ingalls
Influences: MF Doom, Ghostface Killah, Travis Scott
About: One of Athens' newest bands was formed during Camp Amped just a few months ago. The five members were assigned to each other and ended up continuing the group after camp ended. Their namesake is a "meme-ified" YouTube video where someone says, "I figured out why city boys don't drive lifted trucks very much… Swowce."
"We were like, 'That's funny,' and we took the name," says vocalist and guitarist Zwart, who describes Swowce as "broadly experimental hip-hop noise." The band's lyrics address many topics, but arguably the most common is Subway sandwiches. Beginning with the group's first show, a friend has hidden in the crowd with a fresh sandwich ready to pass onto the stage. The members of the band eat off of it, then pass it around.
Swowce is only one song away from finishing its first EP and has a few shows lined up to finish the year. "It makes me feel really good to see everyone at the shows," Zwart says. "I just love everyone in the band—we have great chemistry together."
Next Show: Nov. 30 at Hendershot's
AD Blanco
Lineup: Bennett Evans, Adaira Chapman, Owen Lange, Aaron White
Influences: The Black Keys, Cage the Elephant, Modest Mouse
About: Beginning as Full Moon Studio's Varsity Band, AD Blanco is now five years into honing its alternative rock sound. The name comes directly from the band's drummer, White—it's his first two initials and his last name in Spanish. With blues and psychedelic rock influences, the four-piece has been booking and promoting on its own, playing venues all over Athens and drawing inspiration from beloved locals like Love Tractor, Dashboard Saviors and The Glands.
"There's a certain type of energy and mojo that you're just going to create while working with other people that come from completely different backgrounds than you, which, I think, in a way, is what makes Athens so beautiful with its music scene," says guitarist and vocalist Evans.
The next step for AD Blanco is to record a full-length EP and plan a tour. When asked where the band would like to play most, Evans says Athens is his favorite city to play. "There's no place like home—there's no place like Athens."
Clarke Central
Lineup: Tommy Lynn, Isaiah Pope, Owen Hebenton
Influences: The Who, Wu-Tang Clan, The White Stripes, The Cars
About: Named after the high school, Clarke Central started six years ago when guitarist and vocalist Lynn's computer lab teacher paired him with drummer Pope for a talent show. The first song they performed was "Twist and Shout" by The Beatles, and they've been performing together since with bassist Hebenton.
Originally, they called themselves The Cannons before switching it for an admirable reason. "Oh, I just thought it would be funny if I [could] piss someone off with the name of my band—it would be a complete success," Lynn says.
The three-piece draws inspiration from a wide range of music and has a mixed bag of styles, including rock, jazz and pop. Lynn says two of his favorite memories in the band have been playing a lock-in with fellow students and the time he smashed a real guitar on stage at a school performance.
"If this can be my source of income for the rest of my life, that'll make me the happiest person in the world," Lynn says. "And if we get a couple fans along the way, that'll be cool, too."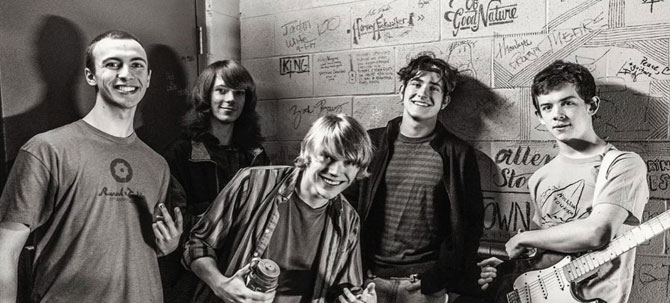 Cheese Dream
Lineup: Cullen Pynn, Moss Ivy, Roan O'Reilly, Parker Dillard, Thomas Evans
Influences: Red Hot Chili Peppers, The Who
About: "Parker, our bassist, came to me one day and said, 'Hey, I lied to the orchestra teacher to get out of a concert and said that my band has a show coming up, and she asked us to play at homecoming, and now I need a band. Do you want to make a band?'" says drummer Evans. "And that was it." About four years ago, Cheese Dream was born, taking its name from a random word generator.
The group describes its sound as alternative hard rock with punk influences, finding inspiration from older and newer bands. Evans says they have learned the most so far out of releasing a self-titled EP and playing with other bands.
All four members are either 17 or 18 and are unsure of what comes next. "We're all sort of in a point right now where we've either started college or are about to, so we don't really know who will be where, so we're just playing it by ear and writing new music," Evans says.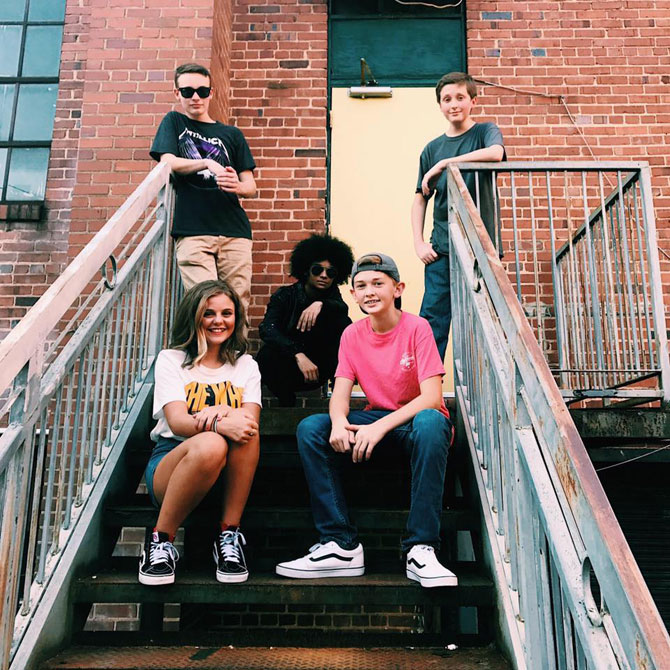 The Voltures
Lineup: Bryson Carithers, Blaze Mason, Grace Kanavage, Orion deRevere, Alex Redmon
Influences: Janis Joplin, Led Zeppelin, Nirvana
About: Jumping out of Camp Amped in the spring of 2016, The Voltures have released one full-length album, Kaleidoscope, in 2018 and have continued writing music since. The Voltures were originally a cover band, playing 1990s hits and other favorites. After a while, they started to write their own music. "Getting the opportunity to record music that I've worked on and had a part in writing has been the coolest thing for me," drummer Mason says.
The Voltures have played local events like the Athens Farmers Market, AthFest, AthHalf and the Twilight Criterium, as well as venues like the 40 Watt Club, The Foundry and more. The next plan for the young band is to record two new songs to release as singles and play more shows around town.
Like what you just read? Support Flagpole by making a donation today. Every dollar you give helps fund our ongoing mission to provide Athens with quality, independent journalism.