Athens' holiday theater offerings this year are as offbeat as any townie could hope for, though there's more traditional fare further afield. Considering how many great activities there are for kids in town this time of year, it seems appropriate that the plays are just for the adults.
First up (Dec. 3–4) is Rose of Athens' annual holiday "FUNdraiser" with a disgruntled Macy's elf in David Sedaris' Santaland Diaries. There's a bonus feature this year: an original play presented by UGA's Next Act musical theatre troupe, We Three Queens—billed as "a Drag Spectacular with Traditional Family Values." Then, Town and Gown Players, Dec. 5–14, gives us Inspecting Carol, about a struggling theater company's attempts to stage A Christmas Carol for an annual fundraiser.
If you want to get out of town for a while, you can drive to Lawrenceville for Aurora Theatre's one-man show, A Christmas Carol (Nov. 28–Dec. 21) and their one-woman show, The 12 Dates of Christmas (Nov. 29–Dec. 20). Or, if you're just sick of Christmas-themed merrymaking altogether and prefer a six-and-a-half-foot imaginary rabbit over an imag… Santa Claus, head out to nearby Elberton for Encore Productions' Harvey, Dec. 5–14, or stay in town for UGA's Graduate Acting Ensemble's California Suite by Neil Simon, Dec. 8–9.
Rose of Athens Theatre For all who've ever been over-booked, out-shopped, worked retail during the Christmas season or who have just found themselves in a love/hate relationship with the holidays, there's the anti-Elf, Joe Mantell's adaptation of David Sedaris' Santaland Diaries. The vibe is more A Christmas Story than It's a Wonderful Life, a one-man show starring T. Anthony Marotta (who just wrapped up directing The Great Gatsby at UGA and was most recently seen in Athens and Edinburgh in Mafia on Prozac) as an unemployed writer who takes a job as a holiday department store elf named "Crumpet." He meets a variety of seasonal elves, some who are holiday-obsessed and some who are wannabe stars, along with a unique collection of Santas, one of whom believes he's the "real Santa Claus." And then there are the parents who bring their kids to meet Santa.
As would be expected, misery ensues. And hilarity. With a bit of well-timed observation about the madness we make for ourselves in our quest for the perfect holiday season. According to director Kristin Kundert-Gibbs, a professor in UGA's Department of Theatre and Film Studies who is also directing Much Ado About Nothing at UGA in April, "it's about the expectations we put on ourselves for the holiday, especially for our kids." The humor comes mainly from the parents, she says, "who try to force the holiday to make magical memories, and the stress and pressure that come from that. It gets out of control." She calls Santaland Diaries the perfect parents' night out during a crazy, magical season.
Photo Credit: Hayden Field
The second act of the evening is a shortened version of Next Act's We Three Queens, an original musical by UGA students I.B. Hopkins, Harry N. Haines and Patrick Ian, directed by Abby Holland. It's a musical about a drag burlesque house in peril. The headliner, Mimosa (Bryan Perez) has gone into retirement, and now the show is a dud. Ticket sales are poor, and a fried-chicken chain "with traditional family values" is determined to buy out the venue. They have to sell out one show by Christmas, or it's all over. In an attempt to save the day, Mimosa's son (played by David Iduate) begins his own career in drag and soon threatens to outshine his father, the fading star, leading to a Christmas Eve showdown over the fate of the queens, the chicken and the family.
Hopkins is already a published playwright who produced JIMMY! A Musical Fable, which he co-wrote with Haines off-Broadway this summer through the National Theatre for Student Artists, so you can have high expectations for We Three Queens. It's only 10–15 minutes shorter than the full-length production they did on campus in mid-November and an excellent companion to Santaland Diaries. It's an evening for the 18-and-up crowd, however—this is no White Christmas. The show is at The Melting Point December 3 and 4 at 7 p.m. Get your tickets at 706-254-6909 or online at meltingpointathens.com.
Town & Gown Players If you favor a holiday movie like Scrooged over A Christmas Carol, Town & Gown's Inspecting Carol by Daniel Sullivan is the Christmas play for you. Director Rebekah Williams, a seasoned T&G performer seen in Evil Dead the Musical, She Kills Monsters and Cabaret; is taking the director's seat for the third time at Town & Gown. She agrees with the Scrooged reference, but would add Waiting for Guffman and Noises Off to the mix.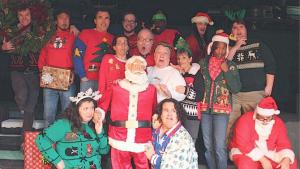 Photo Credit: Amy Smoler
Inspecting Carol is about a struggling, supposedly professional theater company and its annual fundraising production of A Christmas Carol. The ensemble portrays all the backstage drama, passion and anxiety behind the scenes of any theater group. And then some. For example, there's Larry, a frustrated, middle-aged actor/social activist, who plays Scrooge every year but gets bored and does crazy things onstage like doing the entire show in Spanish on a whim. He's played by Joel Altherr, an accomplished Georgia actor who has appeared at Town & Gown in many notable roles from King Henry II in A Lion in Winter and Riff Raff in The Rocky Horror Show, and won a Metropolitan Atlanta Theatre award in 2013 for his role in The Odd Couple with Fabrefecation Theatre Company.
A random guy named Wayne shows up to audition, and the group mistakes him for an adjudicator who is scheduled to visit from the National Endowment for the Arts. Wayne, played by T&G veteran and recent UGA Theatre alumnus Jace Wingate, strikes up an unlikely friendship with Larry and finds that all his suggestions are taken as gospel, due to the misunderstanding. The show is certainly well cast, with other veterans like Beth Kosinsky, Steven Carroll and Sean Polite—plus the new faces you hope to see in every show to keep Town & Gown in that ideal combination of continuity and freshness.
It's a Christmas show but not a "Christmas Show," as Williams notes: "It's not gooey or schmaltzy but a really, really funny script." It shows the insanity that goes on in theatre, "though luckily real theater is not that insane," and also makes a not-so-silly point about financial support for the arts. The fictional company is in danger of losing its funding by the NEA "due to a lack of artistry," and A Christmas Carol is the one production each year that makes money, which is why they are doing the show.
Williams points out that lack of funding (declining donations and endowment problems as a result of the recession) is a serious problem in theater right now, even though Inspecting Carol approaches it with humor. "The day we cast the show, Georgia Shakespeare announced they were closing; Theatre in the Square had already closed, the Atlanta Symphony is in trouble," she says.
Williams had always wondered why Town & Gown didn't do a holiday show (as the company in Inspecting Carol does as an annual fundraiser). She thought they'd sell a lot of tickets, but then she says she thought, "Would I want to do A Christmas Carol or The Best Little Christmas Pageant Ever? Our playreading committee investigated this one, and I thought that this was one I might be interested in doing and would actually want to go see." Inspecting Carol may, like Santaland Diaries, just be that perfect break from the usual holiday shows while still enjoying the season. But also like Santaland Diaries/We Three Queens, this isn't for the little ones, either, primarily because of the language, which Williams rates at PG-13 at worst. Shows are Dec. 5, 6, 11, 12 and 13 at 8 p.m. and Dec. 7 and 14 at 2 p.m. at the Athens Community Theatre. Tickets are $15 for adults, $12 for students, seniors, and members and $8 for students and members on Thursday. For tickets, call 706-548-3854 or buy online at townandgownplayers.org.
Aurora Theatre Yes, Virginia, you can still find A Christmas Carol if you want a Christmas classic. Aurora Theatre, Lawrenceville's professional theater, presents the one-man show A Christmas Carol, starring Anthony P. Rodriguez, Nov. 28–Dec. 21. If instead, your idea of a Christmas classic is Love Actually or The Holiday, perhaps their one-woman show The 12 Dates of Christmas is more your style. It stars Jaclyn Hofmann Nov. 29–Dec. 20 as a woman who stumbles back into the dating scene after seeing her fiancé kiss another woman on national television during the Macy's Thanksgiving Day Parade. Tickets are $15-20 and can be purchased at auroratheatre.com, or you can call 678-226-6222.
Graduate Acting Ensemble Not interested in Christmas shows? You can escape the holidays locally by checking out UGA's Graduate Acting Ensemble production of Neil Simon's comedy California Suite in which four different groups of people visit the same hotel suite. These are well-trained actors on the verge of finishing their MFA degrees, so they will be at the top of their game. It's in the Cellar Theatre Dec. 8–9. Tickets are $5 at the door, and there's more information at calsuiteuga.weebly.com.
Encore Productions You could also head to Elberton for Harvey, featuring an imaginary six-and-a-half-foot rabbit—and the question of whose delusion he actually is. It's at Elbert Theatre Dec. 5–6 and 12–13 at 7:30 p.m. and Dec. 7 and 14 at 2 p.m. Tickets are $8 for students, $10 in advance and $15 at the door. Call 706-283-1049 for tickets or visit elberttheatre.org for more.
Like what you just read? Support Flagpole by making a donation today. Every dollar you give helps fund our ongoing mission to provide Athens with quality, independent journalism.