I decided to walk to Music Midtown. Not from Athens, but from my sister's townhome about two miles up Monroe Drive. It was only an inch on the map but it took almost 40 minutes on foot, so I experienced Joan Jett from the sidewalk. I imagine she covered "I Love Rock 'n' Roll" and the crowd went crazy, while somewhere in New York City a guy named Alan Merrill is still waiting for an invitation to Midtown. (Anywhere in the upscale Atlanta neighborhood will do.)
Allegedly, that was T.I. performing "Live Your Life" several hundred yards across the meadow on the Electric Ballroom Stage. It wasn't worth plowing through 40,000 people for a closer look to see if that was Rihanna for real, or just a recording being broadcast throughout Piedmont Park. Instead, I sought a prime piece of real estate in front of the Great Southeast Music Hall Stage, a half-hour before The Avett Brothers would take the stage.
Pretending to be invisible, because that's a superpower that sunglasses give everyone, it was time for people watching. Music Midtown is a cruel game of hide and seek. Everyone is lost and has to pee. Thankfully, everyone in the park has sewn a smartphone to his right palm, making it easy to find missing persons on Facebook (and search for catheter apps online).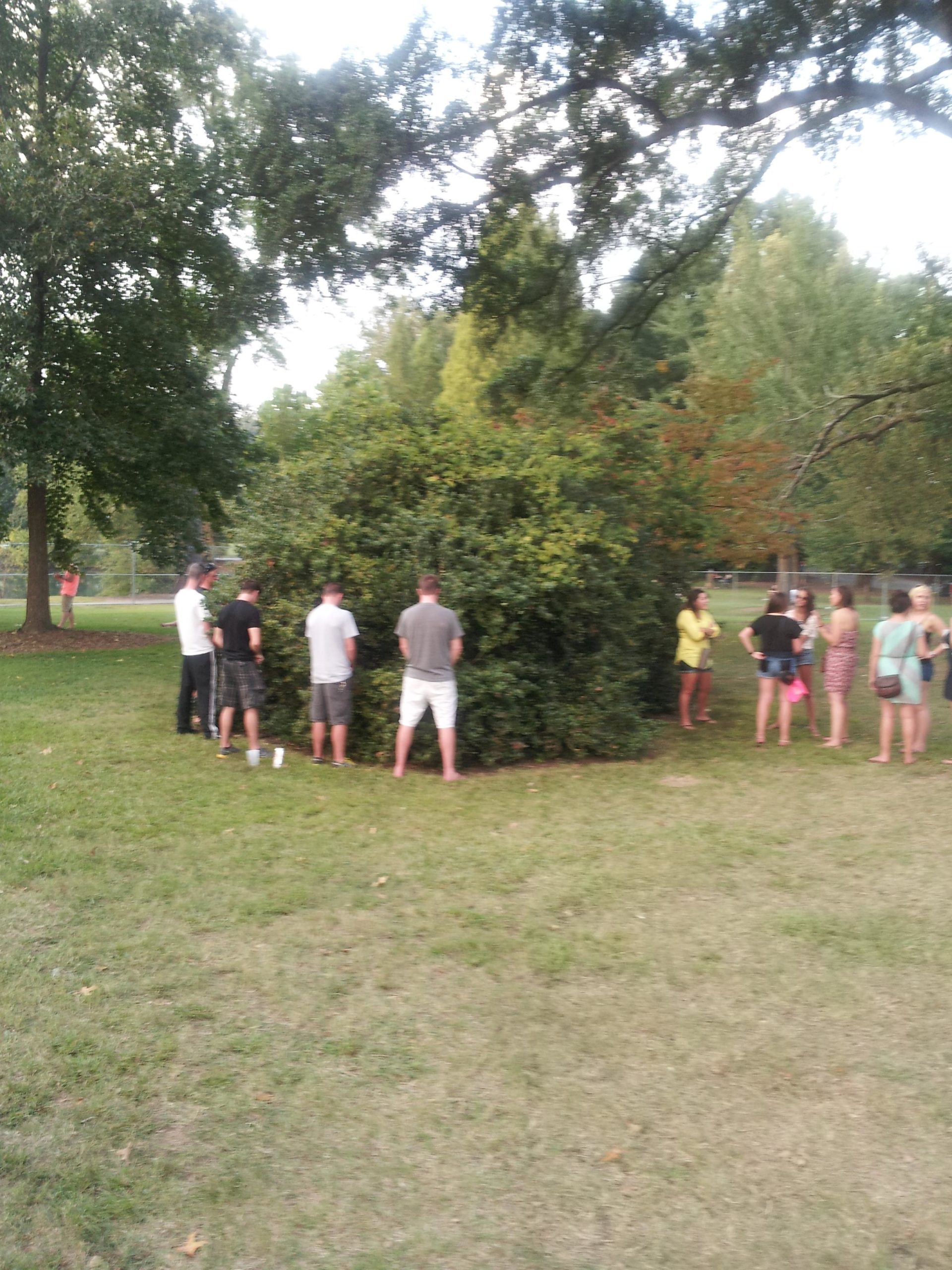 PHOTO: Says David Eduardo: "There are several girls urinating in the bush. A line of girls wait for the opportunity. The men around the bush are in fact, peeing on the women. There were not enough port-a-potties."
A group of freshmen from Georgia Tech had been sharing a fake ID, and after several trips to the concession stand for $10, 24-ounce Coors Lights, half began chanting 'Avett' while the others responded 'Brothers,' over and again. They mispronounced 'Avett,' every time. The ladies behind me made comments when they smelled marijuana, every time.
The band took the stage as a six-piece and immediately owned Atlanta, opening with older gems "The Fall" and "Will You Return," from 2007's very excellent album Emotionalism. The setlist was peppered with several songs from their Rick Rubin-produced and very recently released The Carpenter, including "Paul Newman vs. The Demons" and "Down With The Shine," and it was impossible not to be impressed by tens of thousands voices in the crowd singing along, knowing every word.
The smell of meat cooking perfectly on an open flame might as well be waterboarding for the man with a mostly empty wallet. The Foo Fighters were loud. They performed "Monkey Wrench" and everyone in the park sang "There Goes My Hero" at the top of their lungs. A girl walked past me, holding succulent lamb meat wrapped in pita bread and stuffed with feta cheese and fresh vegetables. I scribbled, 'there goes my gyro' into a notebook, ending the Friday night chapter of Music Midtown…
Saturday afternoon was spent listening to Garbage from a friend's back porch as he patrolled the small parking lot behind his condominium, politely explaining to the people from Cobb County walking away from their cars the concept of private property. It would've been nice to see if Shirley Manson has aged gracefully, or if Butch Vig was behind the drum kit, but the sights and sounds and free Stella Artois on 7th Street delayed my arrival until it was time for Adam Ant.
Dressed like an admiral in her majesty's navy circa Sir Walter Raleigh, Adam Ant looked hot and tired and old. He asked the less than enthusiastic crowd, 'Have you come to rock? Have you really come to rock?' before adding, 'Here's a number you might recognize!' Unfortunately, I didn't. Then he played "Goody Two Shoes" and everyone sang the chorus, then left in haste to get a good spot for Ludacris across the park. A Cessna flew over the park, dragging a banner advertising no cover with ticket stub at The Cheetah, tonight.
Florence Welch of Florence & The Machine took the stage to applause, then decided against it, chanting 'Rewind, rewind, rewind…' as she backpedaled off, stage left. She quickly returned, to even greater applause, and performed an electric set as the sun went down behind 52,000 festivalgoers. She encouraged people to put their loved ones on their shoulders. Many complied, and then The Machine—complete with a harpist, a trio of soulful backup vocalists and the best drummer at the festival—tore into "Rabbit Heart (Raise It Up)" and won over your humble correspondent. Florence reminds me of Annie Lennox.
The sun went down, but not before I counted 11,000 people wearing Pearl Jam t-shirts. After dark, Pearl Jam played more than 20 songs and the crowd called for two encores. My friend was happy to hear "Porch" and I couldn't help but wonder where Ludacris, undoubtedly a fan of flannel-rock, was during the PJ set? At the Cheetah? In the DJ booth? In the back of the VIP?
Like what you just read? Support Flagpole by making a donation today. Every dollar you give helps fund our ongoing mission to provide Athens with quality, independent journalism.