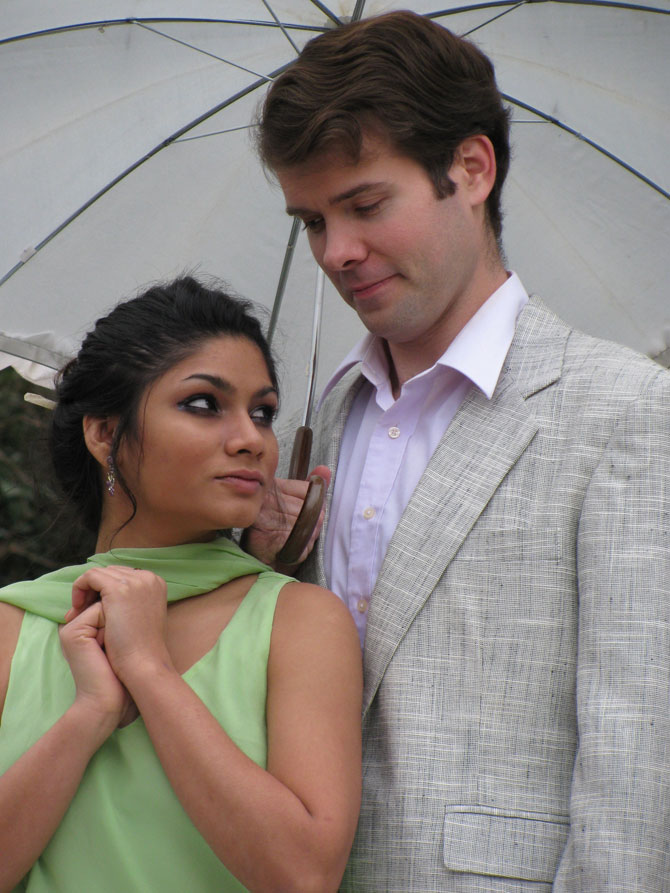 February sucks. Of all the months of the rolling year, February has the least going for it, at least in our half of the globe. It's mired in the winter doldrums, far away from all the cheer and singing about it that we did in December (where's your winter wonderland now?) and deep enough into the new year that we've already reneged on all those grand promises we made to ourselves a month ago. There's a reason Valentine's Day was invented for February rather than for one of the more appropriate spring months: we're so numbed by winter that we're easy marks for the greeting-card and jewelry industries. Hell, we could be talked into buying Valentine's Day aluminum siding without much effort.
What's worst about February is that in our mind's eye we can see the glimmer of spring, hanging just out of reach like the apples of Tantalus, and that makes every cold, wet, stultifying February day just that much more miserable. We crave the sunshine, the return of flowers and the rich, heavy scent of new life in the air, and many of us would do anything to have it.
Enchanted April is all about that, and Town & Gown's production of Matthew Barber's play (based on a novel by Elizabeth van Arnim) comes at exactly the right time. It is the story of four women mired in February, inside and out, who seek the warmth and redemption of spring and the rebirth of their souls.
The first act of the play is set in a dreary England, still reeling from the impact of World War I, in wet February, as Lotty Wilton (Bryn Adamson), the somewhat flighty and distinctly dissatisfied wife of a solid Hampstead solicitor (Murray Weed), finds an ad in the Times for an Italian castle for rent. On an impulse, she reaches out to a woman she barely knows from church named Rose Arnott (Virginia Simmons), whose primness hides a deep sorrow that divides her from her husband Frederick (Tim Dowse), a poet-cum-popular-novelist with a developing taste for gin and jazz. Together the two ladies conspire to rent the castle and spend April in Italy, away from the damp and emptiness of their English lives. To defray expenses, they seek out two fellow travelers, the thoroughly modern Lady Caroline Bramble (Mallika Dinesh) and the hardline-establishment Mrs. Clayton Graves (Kelly McGlaun-Fields). Among the four of them, they have a great deal of baggage following them to Italy.
Act II takes place at the castle, San Salvatore, well-worn but awash in the charm and flowers of northern Italy. There the four women acclimate themselves to Italian custom, to each other and, perhaps with most difficulty, to themselves as independent women with the space and freedom to decide what they truly want and whether they dare achieve it. Lotty drinks it all in with overindulgent gulps while Rose struggles to overcome the unhappiness that has become her normal state of being. Lady Caroline wraps herself in solitude and strains to forget her secret pain in sun and cognac, and Mrs. Graves dithers in a vain attempt to make Italy as English as possible, putting her at war with the castle's caretaker Costanza (Genevieve Esquivie). Complications ensue when men intrude on the ladies' conclave, first the charming landlord Anthony Wilding (Adam Shirley) and then Lotty and Rose's husbands. Will they bring the gloom of England with them or is the enchantment of Italian spring enough to transform the ladies' lives?
Director Beth Kozinsky has assembled a great cast here. Adamson brings her veteran chops in a bright and textured portrayal as Lotty, while Simmons continues to demonstrate an amazing range (if you saw the recent run of Hedwig and the Angry Inch you'll know what I mean). In the smaller roles, Shirley does his usual fine work and Esquivie takes what is basically a stereotype—Costanza is every Italian housekeeper ever written—and imbues it with life and humor. Dinesh could stand to play a bit stronger, as her character has the slightest presence in the cast and so requires a bit more brass to stand out, but she meshes well with the ensemble.
What is especially striking about this production is the set. Kozinsky employs a recessed curtain here that separates Act I, done in sparse arrangements of tables and chairs that suggest both the austerity of England and the fragmented, incomplete lives of Lotty and Rose, from Act II, in which San Salvatore is rendered in warmth and color and multilayered dimensionality. Nathan Altman has designed and built a set that goes beyond the mere suggestion of the Italian villa, with its stairs and hallways and garden gate; it's the first theatrical set I've ever wanted to move into.
Enchanted April is not for everyone. It's long and quiet in its tone, a comedy of manners and quiet desperation (which, as the line goes, is the English way), and distinctly lacking in bombast. But if you enjoy having your Merchant-Ivory tickled, this is a beautiful and very well-executed show, if not a cure, then a respite from the February blues.
[Enchanted April continues its run Thursday–Saturday, Feb. 16–18, at 8 p.m., and Sunday, Feb. 19 at 2 p.m. Tickets are $15, $8 on Thursday for students with ID. For reservations call (706) 208-8696.]
Like what you just read? Support Flagpole by making a donation today. Every dollar you give helps fund our ongoing mission to provide Athens with quality, independent journalism.