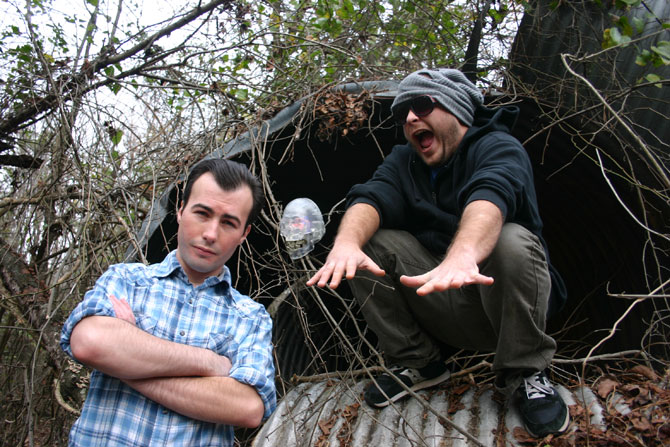 Lineup: Walter Kovax, Louie Larceny and Cubenza. Shares members with: Deaf Judges, Old White Women, Monkeys on Laptops, Carla LeFever and the Rays, Dark Meat (Teen Brass Auxiliary). Influences: MIA, KMD, BDP, WTC, NWA, CCR, EPMD, Run-DMC and Tom Petty & the Heartbreakers.
You think you're hard? You ain't nothing compared to Mad Axes. These local thugs say they "initially bonded over a common love of ice fishing and the classic TV sitcom 'Golden Girls,'" biatch—as if we could ever get a serious answer out of anyone associated with Athens' (mostly) beloved hip-hop group, Deaf Judges. Mad Axes features three-fourths of that rowdy bunch, including Rorshak (now performing under the name Walter Kovax), emcee Louie Larceny and producer/DJ Cubenza. And although they create their own mythology, I do believe the guys when they say Mad Axes' first full-length album, prophetically titled Debut Smash, will be available in February. I am less inclined to believe their plans to "collaborate with rap legend Tone Loc on a soul food cookbook," but I really, really want it to be true. Good luck with that, fellas. And if it happens, here's hoping you can spin it into a reality show on Food Network, too.
For our readers who may have missed the in-depth Q&A with Mad Axes posted on Homedrone last month, Kovax shared with writer Jeff Tobias the meaning behind their "pro-life suicide rap" philosophy.
"It's not about abortion or anything," he said. "Those people, they call themselves pro-life—they're pro-embryo. But as far as walking-talking, thinking-feeling-breathing people, they don't seem to care too much. But Mad Axes is pro all life forms. In all its forms. We try to uplift all life forms, and we're taking that title, pro-life, we're taking that from the anti-abortionists. We're taking it away from them. Because we're pro-life in all forms. Suicide is when you go to the soda fountain and mix in all the flavors. That's what we're doing. Mixing in all the flavors."
You can get your fill of Mad Axes' many flavors at www.madaxes.com.
Next show: Friday, Feb. 10 @ Caledonia Lounge
Like what you just read? Support Flagpole by making a donation today. Every dollar you give helps fund our ongoing mission to provide Athens with quality, independent journalism.