Lineup: Andrea DeMarcus, David Kirslis. Shares members with: Glupist, Midnight Revival. Influences: The Beatles, classical music, roots music, Gillian Welch and Dave Rawlings, Fleet Foxes, Wood Brothers, Joe Mcguinness, Nate Nelson & His Entertainment Crackers, First Aid Kit, Michael Hurley and the local music around us.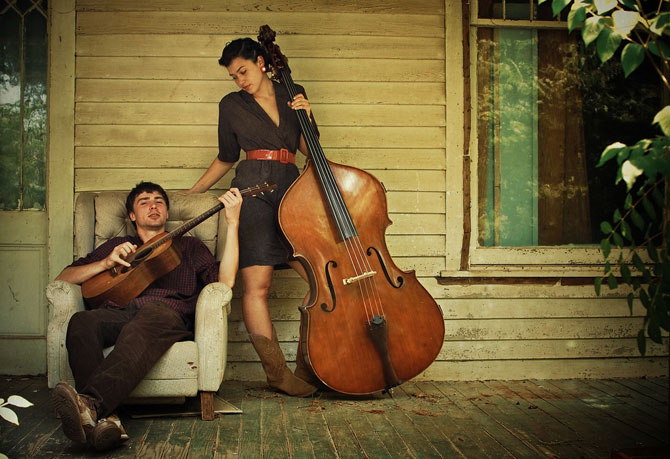 An unlikely pairing brought together by unusual circumstances, the duo behind Cicada Rhythm create beautiful harmonies together, offering a refreshing blend of jazz and roots music.
Andrea DeMarcus is a graduate of Julliard, where she studied upright bass—her instrument of choice in Cicada Rhythm as well. She sang in choirs and church throughout her life, but it was not until the last several years that she began composing her own original tunes.
Guitarist and singer David Kirslis, on the other hand, is a
self-taught musician who says he draws most of his influences from "roots music and from older musicians within the Atlanta blues/roots community."
As the band tells it, the pair met when Kirslis was riding freight trains around Georgia. "One rainy day when riding from Athens to Atlanta, Dave called his friend to pick him up outside of Atlanta. His friend came and was accompanied with Andrea to pick him up. When the two met, Dave was covered in black soot and dirt, and Andrea thought the whole situation was quite unusual."
Despite the awkward first impression, Kirslis and DeMarcus became good friends over the next three years and would often share songs. Last June they decided to start making music together, and after a series of text messages—Kirslis suggested "Rhythm Oil," DeMarcus suggested "Cicada Village"—they settled on the name Cicada Rhythm. About three months later, the duo became romantically involved as well, and Cicada Rhythm has since shared the love with frequent tour dates across the Southeast. Get a taste of the magic at www.cicadarhythm.org.
Next show: May 25 @ Farm 255
Like what you just read? Support Flagpole by making a donation today. Every dollar you give helps fund our ongoing mission to provide Athens with quality, independent journalism.