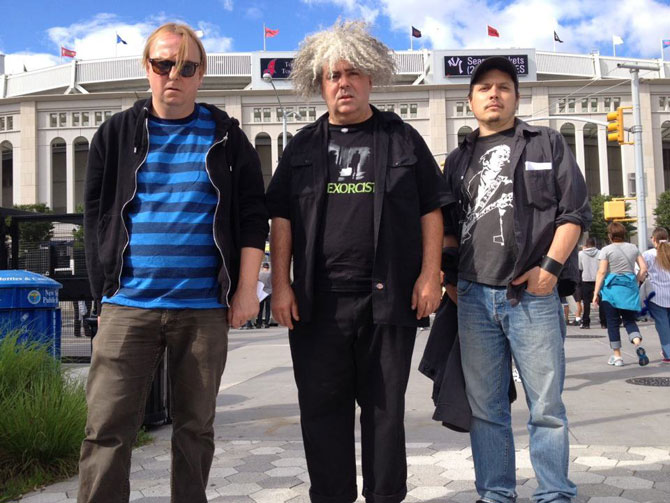 Dale Crover has been the drummer for the Melvins since 1984. Many reading this can't claim to have been breathing for as long, and most will never be committed to a single pursuit or profession—or person—for that amount of time. But while Crover's dedication to his prolific and influential experimental metal band is impressive, it isn't a world record or anything.
Flagpole caught up with Crover as he and fellow bandmates Buzz Osborne and Trevor Dunn, touring this fall as Melvins Lite, were, in fact, in hot pursuit of a Guinness world record: The trio is attempting to tour all the 50 United States—and the District of Columbia—in 51 days. The intense, historical jaunt, which started Sept. 5 in Alaska, rolls through Georgia this Thursday night.
Ever appealing to our natural curiosity, the Guinness Book is cited as one of the most frequently stolen books of all time. It contains pictures of stuff like the world's longest fingernails, Siamese twins and gigantic Great Danes. Naturally, it was, and is, a pretty big deal to young boys. As such, we wanted to know if Crover had a copy growing up.
"Yes, I did," he admits, adding, "Well, my parents did." When asked how his folks came about their copy, he says, "I think they bought it… I'm pretty sure they did. My parents weren't thieves."
Melvins Lite is on the road not only to set a record, but in support of one, Freak Puke, released this past summer.
"I suppose that is an important part of this tour after all," laughs Crover. The truth is, all of these great ideas—the tour, the album, recording as a three-piece with a standup bass—were hatched at the same time. We knew what we were gonna do about a year-and-a-half ago… It was all part of our master plan."
Like what you just read? Support Flagpole by making a donation today. Every dollar you give helps fund our ongoing mission to provide Athens with quality, independent journalism.