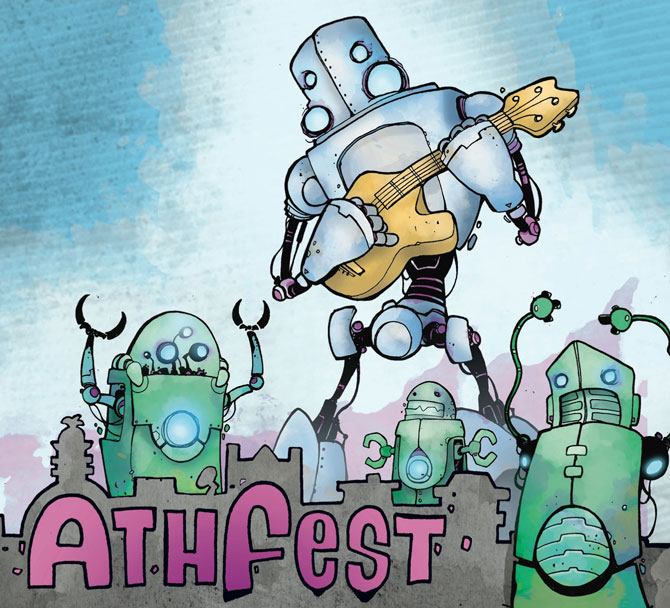 Without even Googling it, you can rest assured that Peoria, IL and Provo, UT and Victorville, CA have not released compilation CDs featuring the city limits' finest musicians, for 15 years running. These towns are mentioned because of their population rankings directly above or below Athens, GA, depending upon which list you trust on the Internet. While Peoria can boast to be the birthplace of both Dan Fogelberg and Mudvayne, and Provo is where Neon Trees call home, the average annual temperature in Victorville in July is 99 degrees, and there's only .16 of an inch of rainfall to frolic in. So, you probably wouldn't want to live in any if them, and between the three they'd have a hard time composing a 19-track mix as compelling as the AthFest 2012  album  produced by Russ Hallauer (Ghostmeat Records).
"We received nearly 200 submissions. The quality of the recordings makes it harder and harder each year to decide who makes the final cut,†shares Hallauer, before adding, "I have to give a ton of credit and thanks to [festival marketing coordinator] Andy Whitehead for helping put this year's CD together. He was instrumental in getting submissions from Reptar, Futurebirds, FLT RSK and more.â€
To celebrate the compilation release, scheduled for May 8, AthFest is throwing a free party at Little Kings, featuring performances by Ruby Kendrick, Sam Sniper and pacificUV. Advance copies of this AthFest CD—featuring cover art by Mike Grove— will be available for $5.
Album highlights: There's the pro-downtown preservation, mid-tempo, all-star jam you've heard about from Patterson Hood & The Downtown 13 ("After It's Goneâ€); a dreamy home-recording ("Ambivalence in Dâ€) from 40th Street Candid Coal People—a one-man-band handling all the singing, drumming, guitar, bass, violin and piano—and, of course, there is the ubiquitous Clay Leverett, making his fifth AthFest comp appearance, this time with his band The Buzzards.
"It's just awesome to be on it," says Leverett. "I hadn't written a song for a while; I'm glad it made it on there… It's good to know people still give a damn after 15 years.â€
You can stream the entire AthFest CD now care of Paste Magazine!
Like what you just read? Support Flagpole by making a donation today. Every dollar you give helps fund our ongoing mission to provide Athens with quality, independent journalism.