After its inception three years ago, the Wild Rumpus Halloween Parade has
become an Athenian tradition. Currently, we're quickly approaching the halfway point between Rumpuses, and to celebrate this semi-momentous occasion, Kite to the Moon is hosting an all-ages rock-and-roller-skating jamboree.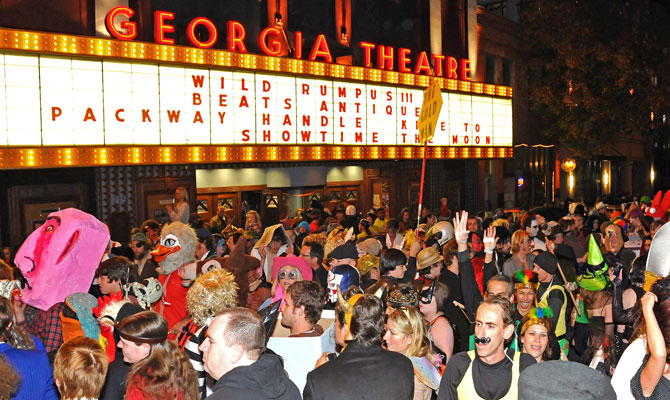 "The whole idea is just to have a damn good time,†says singer/guitarist and Rumpus founder Timi Conley. And if Conley's band has any focal idea, it's having a damn good time; its offbeat musical style, oddball lyricism and flamboyant stage show make Kite to the Moon one of Athens' premier bands of merriment.
After DJ Immuzikation spins some tunes, Kite to the Moon will perform a typically wild set, plus "some popular '70s and '80s roller-jam cover songs†at the Skate Inn. Additionally, the band is going to "add a couple of performers and do some Ziggy Stardust material,†a move that, according to Conley, is back by popular demand.
And where do the proceeds go? Conley explains the event's fundraising element. "The [Wild Rumpus] parade is affordable, but it takes quite a bit of cash to pull off,†says Conley. "This will [provide] some funds to go towards that, and we always choose a nonprofit charity to give our extra money to. Whatever we've made above the parade operating costs has gone to a charity the past two years.â€
Conley reveres the primal aspects of our nature; from his overtly crazy music to his roles in utterly unruly events, the artist puts great value on letting loose. "I think [the popularity of the Wild Rumpus events] speaks to the primordial urge to just howl at the moon and let your inner-self out,†he says. "All that fun that gets stuffed down in daily life can just burst out… I can't take much credit for all this. It really belongs to the people of Athens.â€
Things get rolling at 7 p.m., at 295 Commerce Blvd., Bogart,
and the admission is $10, which includes skate rental.
Like what you just read? Support Flagpole by making a donation today. Every dollar you give helps fund our ongoing mission to provide Athens with quality, independent journalism.