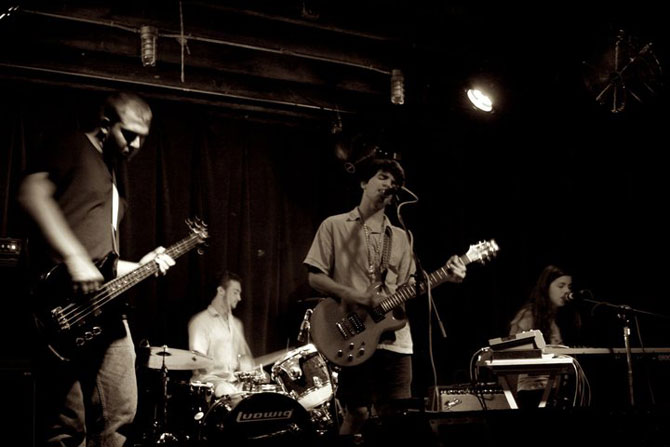 "Well, some of them live in Oconee,†says Henry Barbe with a sly grin, going along with the joke, but in effect putting to rest the thought of turf wars when Flagpole asks if our town is big enough for two remarkably talented teenage rock bands. While Athens (the band) has clearly dominated the local juvenile-jam spotlight, Justified True Belief appears to be quietly coming into its stride. The quartet­—Barbe on guitar and vocals with bassist Phil Carpenter, keyboard player and vocalist Gabriela Mejias and Glenn Reece on drums—recently recorded eight songs at Chase Park Transduction for forthcoming full-length debut Proof Is in the Pudding and have a few all-ages dates booked on their spring calendar.
The names probably sound familiar. Glenns dad is honky-tonk legend Redneck GReece. Henry's dad produces Drive-By Trucker records and serves as director of the Music Business Certificate Program at UGA. Considering heredity and environment, there wasn't much choice but to play rock and roll for these two. The second-semester seniors from Monsignor Donovan High School can't remember not knowing each other—a friendship dating back to third grade. As for playing music?
"It kinda just happened,†says Reece. "It started in middle school when I got a bass and Glenn got drums,†adds Barbe. Now they traffic in a genre they call scientist rock. "We lifted it from a Minutemen song called 'History Lesson Part II,'†admits Barbe. As for science class: Barbe reports he's pulling down a strong B in Earth Sciences while Reece is presently trying to stay above the C level in AP Biology.
Philosophical power-pop shuffle "Macaroni†and the syrupy, ethereal song "Beetles†clearly demonstrate songwriting and musicianship beyond the members' teen ages. The players have graduated from the days of simply aping heroes to taking chances.
A free four-track sampling of Pudding can be found at Bandcamp.com. Sunday's show is early and all-ages.
Like what you just read? Support Flagpole by making a donation today. Every dollar you give helps fund our ongoing mission to provide Athens with quality, independent journalism.