There will be beads. But if the presence of beads is all you care about, then you can get yourself to any half-assed college bar that does it up "right" for any theme night with promises of debauchery that never quite live up to expectations. And if you care instead about culture—the reason for the season—you could hop in a car and make the eight-hour trek down to New Orleans, because, yes, this is Mardi Gras week.
There is a middle path. Athens' own New Orleans-style brass outfit, Half Dozen Brass Band, is putting together a party. And while most of the country turns a blind eye to Carnival time and thinks Mardi Gras is maybe like a French St. Patrick's Day or something, "HDBB always tries to bring a little bit of New Orleans to Athens," says tuba player Joshua Cutchins. This year the combo celebrates its fourth year performing together. The seven-piece (but who's counting?) group revels in the funky mix of ecstatic jazz, bouncing hip-hop and ebullient Dixieland that makes up one of our country's indigenous treasures.
"We'll be playing down our usual list of originals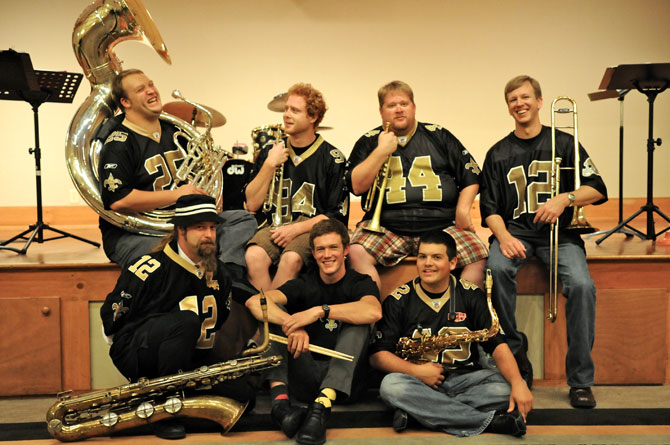 and Big Easy favorites, as well as some stuff that we've worked up just for Mardi Gras," says Cutchins. "In all four years that the band has been together, none of us have ever been more switched on about a show here in Athens!"
It's a New Orleans-ish party you're looking for? The Half Dozen are classy guys, and the likelihood of dead-eyed and frothy-mouthed chants of "Show! Your! Tits!" is less than at other watering holes downtown. Plus, the Theatre's nicer now! There will be beads.
Like what you just read? Support Flagpole by making a donation today. Every dollar you give helps fund our ongoing mission to provide Athens with quality, independent journalism.