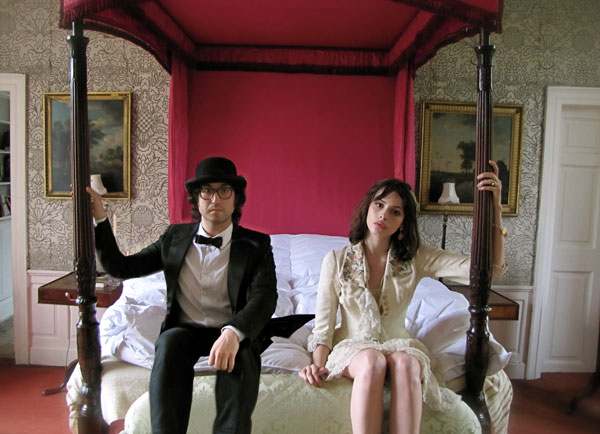 Well, they must be in love. The way Sean Lennon's voice sweetly, playfully, intermingles with that of bandmate and girlfriend Charlotte Kemp Muhl, it's like you can just see the little cartoon hearts popping up between them. The duo calls themselves The Ghost of a Saber Tooth Tiger (GOASTT), and their debut album, Acoustic Sessions, is filled with ethereal whimsy. But don't be lulled by these folky pop gems without giving the words a closer listen; they will surprise you.
Superficially, Acoustic Sessions feels like an album of love songs, but the duo take surprising lyrical detours that range from dark to absurd. You'll find tongue-in-cheek wordplay and clever turns of phrase, but there are also moments of nearly comical juxtaposition. For example, you won't hear a line sung more emphatically than when Lennon proclaims "the moon is made of American cheeeeeese!" on "Dark Matter/White Noise." It's almost hard to tell when and to what degree the pair take themselves seriously, but that's just part of the fun. While the songs are immaculately crafted, Lennon and Muhl embrace the sort of '60s-era wide-eyed innocence that Spinal Tap parodied with "Cups and Cakes." You can practically hear their eyes sparkle in the recordings, throwing out lines like "put on your new pants and move out to France" with buoyant pleasure.
Of course, Lennon carries with him a legacy of lyrical ingenuity—both inherited and established in his own right with his four previous releases—but there is a fresh feeling of effervescent joy with GOASTT. I half expect to see a bluebird or two land on Muhl and Lennon's shoulders when they grace the stage in Athens—with Lennon on guitar and Muhl, a former model and Atlanta native, on various instruments including accordion and bass. If the sparks between these two are this bright on record, live GOASTT should prove downright magical.
Like what you just read? Support Flagpole by making a donation today. Every dollar you give helps fund our ongoing mission to provide Athens with quality, independent journalism.