The local election in Athens is rapidly approaching, with the mayor's office, five odd-numbered ACC Commission seats and five odd-numbered Board of Education seats up for election on May 24. But before you decide who to vote for, you first need to know which district you're in. That's especially challenging this year, after Athens' Republican state legislators scrambled our local commission districts unrecognizably. If you're feeling confused about these changes, you're not alone.
Fortunately, there is a simple way to find out which commission district you're in: Head to mvp.sos.ga.gov and put in your initials, county and birthdate. Next, click on "elected officials information" in the top menu to see your districts. You can also click on the sample ballot to see everyone you'll be able to vote for in this year's local election and statewide primary.
If you prefer, you can check out the maps at accgov.com/redistricting to find out your district for yourself. We'll also break down the new commission districts for you one at a time right here.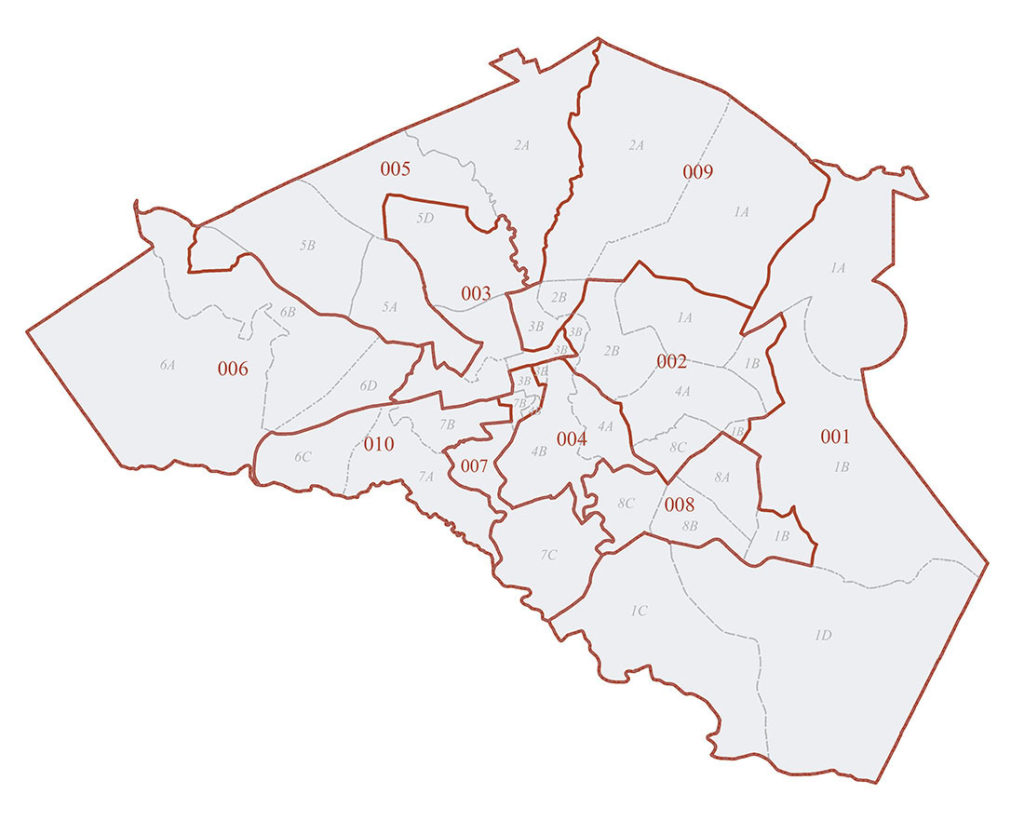 District 1: The state legislature made significant changes to District 1, which previously spanned the entire eastern part of the county from Winterville to Belmont Road. Now everything north of Lexington Road is in District 3, as are the areas east of Morton Road. There have also been additions to the district, the most notable of which is the entire Cedar Creek neighborhood. Cedar Shoals Drive, Shadow Moss Drive, Carrington Drive and Plantation Estates have also been added to the new District 1. Incumbent Patrick Davenport faces teacher Audrey Hughes in this race.
District 2: This district has been radically altered, sharing little with its former boundaries. In fact, it might help to consider the new District 2 to be the old District 3 for a more accurate understanding. It includes the neighborhoods of Boulevard, Cobbham (west of Milledge), Columbia Brookside, Broadacres and Rocksprings. It also keeps part of East Athens, which was in the old District 2, including MLK Parkway, First through Fourth streets and other roads east of Peter Street. Connecting those two regions are bits taken from District 9, including Childs Street, Pulaski Street and the south side of Cleveland Avenue. Commissioner Mariah Parker represents District 2 until 2024.
District 3: The state legislature moved District 3 across town to encircle a completely different set of voters. Having no overlap whatsoever with its former boundaries, District 3 now most closely resembles the old District 2, with Winterville and areas east of Morton Road thrown in for good measure. If you live east of Peter Street/Olympic Drive and north of Lexington Road, chances are you're in the new District 3. Some streets and neighborhoods south of Lexington Road are also in the district, including Lexington Heights, Edgewater Drive, Cabin Creek and Seagraves Drive.
No resident of the old District 3, including current Commissioner Melissa Link, is eligible to run or vote in the new district. Instead, voters here will get to choose between two new candidates: Tiffany Taylor and Asia Thomas.
District 4: The boundaries of District 4 have changed sharply, but it retains its essential character as a district centered around UGA. It includes nearly the whole of UGA campus from the Ramsey Center to the north campus arch. It also contains a portion of Five Points, including Morton Avenue, University Drive, Hampton Court and Southview Drive. The new District 4 also includes the downtown area and stretches along West Hancock Avenue until Milledge. The district loses Barnett Shoals and Carr's Hill, as well as Woodland Hills, Davis Estates and part of the Five Points neighborhood, including Milledge Terrace, Carlton Terrace and Greenwood Drive. Commissioner Allison Wright represents District 4 until 2024.
District 5: The new District 5 has been completely redrawn, but retains the neighborhoods of Homewood Hills, Moss Side, Knottingham and others off Jefferson Road, Oglethorpe Avenue and Whitehead Road. It loses parts of Normaltown but keeps the UGA Health Sciences campus and gains Sylvia Circle and Nantahala Extension. It loses everything east of Newton Bridge Road and north of Vincent Drive, a significant change for a district that previously extended northeast all the way to Nowhere Road. Finally, District 5 exchanged a lot of territory with District 6, giving up Lavender Road but gaining neighborhoods like Creekwood Estates, Westchester, Woodhaven and Forest Heights. Quailwood, the home of current District 5 Commissioner Tim Denson, is one of the neighborhoods that have been moved to District 6. That means Denson is unable to run for re-election, and instead voters will choose from among Jared Bailey, Dexter Fisher and Matt Pulver.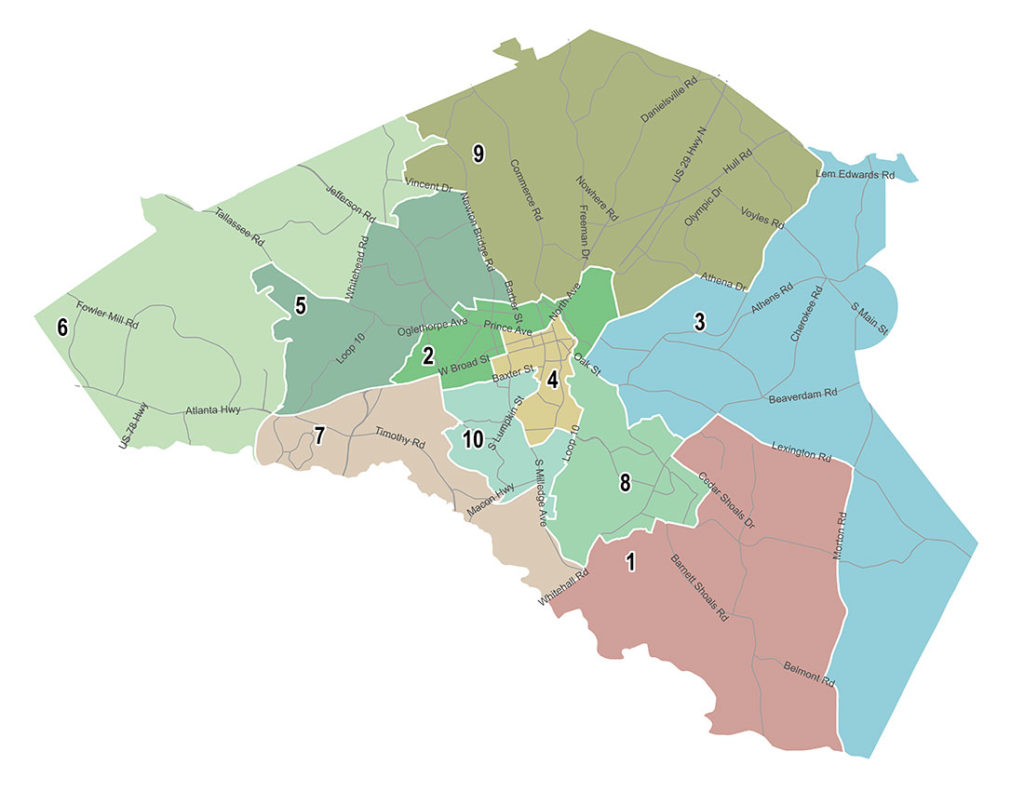 District 6: This Westside district was less affected by redistricting than some, but it still lost a large stretch of land east of Dahlonega Creek, a tributary of the Middle Oconee. As such, neighborhoods along Mitchell Bridge Road like Westchester, High Ridge, Woodhaven and River Bottom are now found in District 5. District 6 also lost Forest Heights, but it has gained everything along Lavender Road and west of Whitehead Road, including Maple Forge Drive, Merlin Drive, Camelot and Quailwood. Commissioner Jesse Houle represents District 6 until 2024.
District 7: The new District 7 is essentially the same as the old District 10 with some relatively small adjustments. If you were able to vote for or against Commissioner Mike Hamby in 2020—for example, if you live in a neighborhood off Timothy Road—odds are you're now in District 7. However, everything east of West Lake Drive has been removed from District 10-turned-7, including Hamby's home in the Five Points area. In exchange, neighborhoods west of South Milledge have been added, including Venita Drive and Will Hunter Road. Because of the renumbering, Edwards is barred from running this year, and voters here will have the chance to choose between John Culpepper and Allen Jones.
District 8: Historically made up of 1960s Eastside subdivisions, District 8 has also changed quite a bit, most importantly due to the loss of the entire Cedar Creek neighborhood, which has gone to District 1. Cedar Shoals Drive and surrounding neighborhoods have also moved to District 1, as have Shadow Moss Drive and Meadow Creek Drive. In exchange, District 8 has gained most of Riverbend Road, all of Riverbend Parkway and Carr's Hill, as well as some apartments off the north end of Barnett Shoals Road. Commissioner Carol Myers represents District 8 until 2024.
District 9: A slice of northeastern Athens, District 9 has remained largely unchanged, relatively speaking. The biggest change is that District 9 has gained a large stretch of land east of Nowhere Road and west of Newton Bridge Road that previously belonged to District 5. On the other hand, it lost areas east of Barber Street and west of North Avenue, including Childs Street, Pulaski Street and the south side of Cleveland Avenue. Current District 9 Commissioner Ovita Thornton is running for reelection unopposed.
District 10: The new District 10 has little similarity to its previous boundaries, which were centered around Timothy Road. Instead, the district has wedged its way into the heart of Five Points. It now includes all of Five Points east of South Milledge from the loop to the Five Points intersection. After reaching that intersection, the eastern boundary diverts to Lumpkin Street where it continues until Baxter Street (with a slight carve-out to exclude Legion Pool). On its western side, it is bounded by the Middle Oconee River. The district includes a few UGA dorms like Russell and Creswell Hall, but it mostly consists of the streets and neighborhoods around Five Points. Springdale Street, Highland Avenue, Milledge Circle, Milledge Terrace, Westview Drive, Davis Estates and surrounding streets are all included in the new District 10. Hamby represents District 10 until 2024.
Like what you just read? Support Flagpole by making a donation today. Every dollar you give helps fund our ongoing mission to provide Athens with quality, independent journalism.