Neither has held elected office, but they are vying to represent the newly redrawn District 7 on the Athens-Clarke County Commission. Both Allen Jones and John Culpepper have been involved in Athens nonprofits, and each has his own vision for Athens.
Jones' grandfather was a professor of poultry science at the University of Georgia, but Jones grew up in West Lafayette, IN, home to Purdue, another land grant university. There, Jones earned a degree in business. At Indiana University, he received a master's in education, with certification in learning design and technology. He began his professional life as a teacher and counselor, then segued into providing medical technology to large health-care systems focused on underserved populations. He works remotely for NextGen Healthcare, whose clients include Native American tribal health centers and Planned Parenthood clinics. He has lived in Athens since 1994, and has attended most county commission meetings for the past five or six years.
Jones says he wants to help make Athens "more livable and united" for everyone. That involves working to attract businesses, perhaps by providing incentives, that can provide living-wage jobs. It involves building community through groups like the two he started—Timothy Forward, which advocates for sidewalks and other enhancements along the Timothy Road corridor, and the Athens Paddlers, a 950-member group of volunteers who clean up and enjoy the waterways around town. He has completed the ACC Citizen Government Academy and applied to the ACC Citizen Police Academy.
"Right now, we have an abundance of student housing when what we need is workforce housing," Jones says. "I want our community to be a place where everyone can thrive. Athens is going to look very different in five to 10 years."
He is also involved with the Greenway Trail, the TSPLOST 2023 citizens advisory group and the Upper Oconee River Trails. He collects used Legos and distributes them to homeless shelters and other organizations serving marginalized populations. In 2020, Athens Clean & Beautiful selected him as Citizen of the Year for his litter-fighting efforts. He has volunteered with Habitat for Humanity, the Human Rights Festival and UGA's Campus Kitchen, and is on the TSPLOST 2018 advisory committee for Atlanta Highway.
Setting up and managing Timothy Forward put Jones in touch with elected officials and with staff members from various departments, including Leisure Services, Public Works and stormwater management. That work convinced him that becoming a member of the county commission would lead to a whole new level of involvement.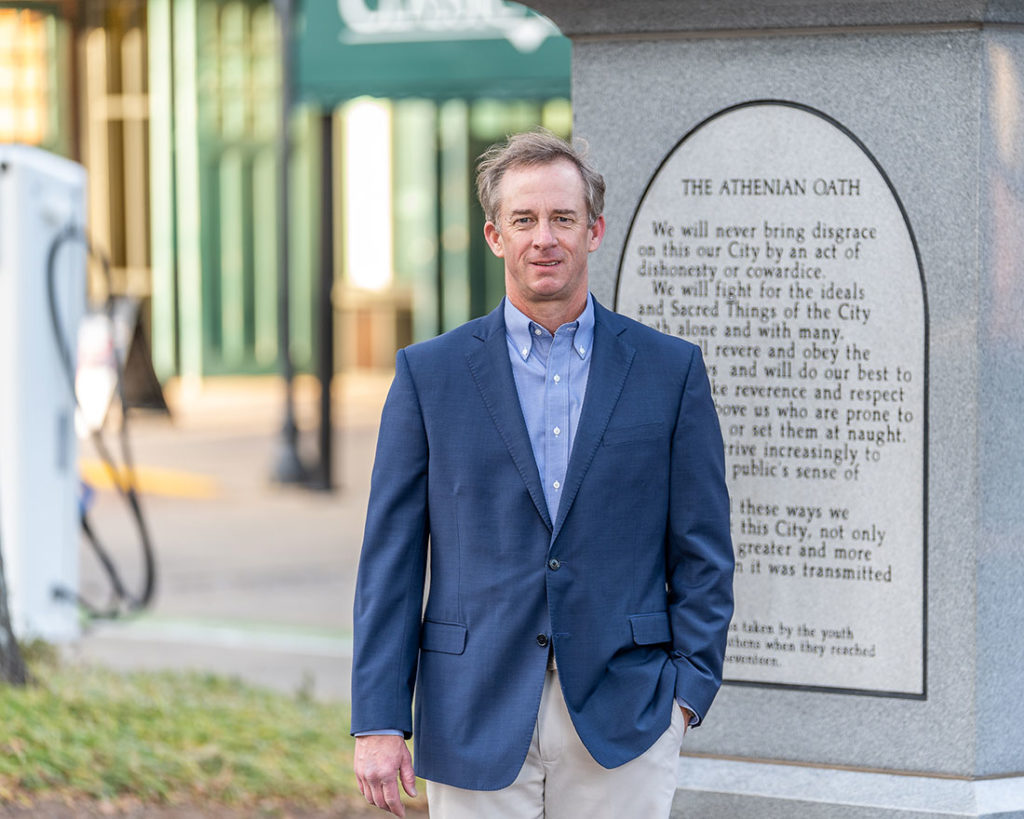 Born and reared in Athens, John Culpepper graduated from the University of Georgia and worked 10 years for the Yancy Co., selling Caterpillar equipment across Georgia. His father was the well-known civic booster E.H. Culpepper, and he's not to be confused with John Culpepper, the former finance director for the ACC government.
In 2006, Culpepper bought an Express Employment Professionals franchise based in Athens. In 2008 and 2009, he says, "the bottom fell out." But since then, he has opened additional offices in Braselton, Covington and Lawrenceville. He says he places 900–1,000 people in positions each week and the job "is very fulfilling." He is on the board of the Salvation Army.
He decided to run because "I'm sick of complaining. I wanted to be part of the solution, not part of the problem." High property taxes and crime are two big concerns. As of Apr. 21, the ACC Police Department website shows aggravated assault is 18% higher than in 2021, while simple assault is down 29% from 2021. Rape is up 33% from 2021, while robbery is down 10%, burglary has dropped 7%, DUI is 7% lower than in 2021 and disorderly conduct is down 41%. Violations of weapons laws have risen 85%.
"We lost a great police chief," Culpepper says of the recently retired Cleveland Spruill. "We need to support our police and to pay them more."
Culpepper's website contains a paragraph about the plight of Clarke County public schools, where, he says, children "are heavily exposed to alcohol, drugs, violence, and sex at an extremely young age." He himself graduated from Athens Academy, and one of his children graduated from Prince Avenue Christian School while another currently attends there. The website says that as a commissioner he will work with the Board of Education—the Clarke County Commission has no influence over the Board of Education—"to help partner with local employers to create curriculum that helps prepare students for whatever they want to do next. I see what's working in surrounding areas, and our employers are struggling. I want to bring our local employers together with the school district."
He cites the Jackson County Career Center, which opened in 2020, as a model for what Clarke County could be doing. There are similar career centers in Madison and Barrow counties and all across Georgia. Founded in 2011, the Athens Community Career Academy works with local businesses and industries, including Piedmont Athens Regional and the Classic Center, offering students different "pathways" that can lead to careers after high school. Now that the CCSD administration has moved its offices to a new facility on Prince Avenue, the Athens Community Career Academy will be expanding its existing programs and adding new ones in the H.T. Edwards building. It will also be able to accommodate more students.
State campaign finance disclosures show that Culpepper has donated to campaigns for Gov. Brian Kemp, Rep. Houston Gaines and Sen. Frank Ginn, all Republicans. Jones has given money to Democrat Mike Hamby's campaign, which, like all ACC Commission races, is nonpartisan.
District 7 incumbent Russell Edwards was drawn out of his district by Republican legislators and so cannot run for re-election. He's running in the Democratic primary for state Public Service Commission instead. That election is on May 24, the same date as local nonpartisan races. Early voting begins May 2.
Like what you just read? Support Flagpole by making a donation today. Every dollar you give helps fund our ongoing mission to provide Athens with quality, independent journalism.