If Tina Pic takes first place in the women's Twilight Criterium race on May 7, she'll be the first person in the history of the race to win Twilight four times. And she'll do it just shy of her 50th birthday.
But every Twilight is special to the New Mexico native, who started team cycling here in Athens and went on to win the Collegiate National Road Race title just a year later in 1995.
"I just sort of fell into it," she says. "I was running one day, training because I did duathlon," which involves running and cycling. "I saw these women cycling, so I asked if they knew anyone on the University of Georgia team. They said, 'Yeah, we're on the team.' And that was it."
Originally planning to become a surgeon—she jokes that medical school may be in her future yet—Pic was pre-med at UGA when she started to win in road races. More than two decades later, she's won a long list of races and earned the most points in the USA Cycling National Racing Calendar for four years (2000, 2004–2006). She was an alternate for the 2004 Olympics in Athens, Greece.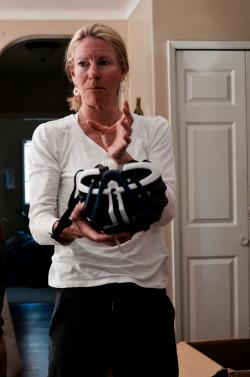 Retiring seems to be the only part of cycling she doesn't like. After stepping out of competition in 2009 and taking a director's job, she came back in 2012. "Directing has just as much pressure, just as much travel," she said. "So, I decided to race."
The Happy Tooth team member suffered a broken collarbone and a winless 2013, but came back to win Twilight in 2014 and 2015; with a win from 2004 as well, she is the only racer to ever take first place at Twilight three times.
"Twilight is always challenging for me because I consider Athens home. This is where it all started. This is where I met my husband and we got married. It's a special place," Pic says. "There's just that little extra bit of pressure for me."
A fourth Twilight win wouldn't be the only major life event for the week. She turns 50 on May 9. In some ways, experience is its own advantage. "This sport is so tactical. When you are younger, you ride with brute strength. You are just smashing as hard as you can," she says. "You get smarter the more you ride. It takes me time, but I learn from my mistakes."
She doesn't know what the future holds, though. "I started at 28. You can go further than you think," she says. "I'm still looking at Laura van Gilder and asking, 'How's she doing? Are her knees holding up?' But she seems to be fine." Van Gilder, who placed third in last year's Twilight, is 51.
In a sport where men often draw more attention, women like Pic give girls a role model. "Gender is a deep issue in the sport," Pic says. "Men make so much more."
The U.S. is better than in Europe, where she placed second in a road-race stage several years ago and won a whopping 100 Euros. After the team divided the prize eight ways, she walked away with $8—for a second-place finish.
While racing takes her across the country, the travel doesn't leave much time for anything else, including other outdoor sports that she loves, like skiing. "My husband asks how much longer we are going to do this," she says.
But she'd miss the camaraderie of riding with other cyclists. Where she lives in Utah, winter snow forces her to train inside; the other cyclists she meets on the road seem content to ride solo. "I miss the smells of the Southeast. I miss the humidity," she says. "But most of all, I miss the group dynamic of cycling."
Like what you just read? Support Flagpole by making a donation today. Every dollar you give helps fund our ongoing mission to provide Athens with quality, independent journalism.