The problems in downtown Athens run deeper than one racist drink name.
A national controversy erupted last month after a local copy-shop employee noticed a watermelon-flavored shot called a "N*****ita" on a list of drink recipes at Confederate-themed bar General Beauregard's. The drink sparked a conversation about what many African Americans, especially University of Georgia students, view as an overall discriminatory culture downtown.
"It's the reality that we don't have the same opportunities downtown to have fun like every other student," said Ryan Kelley, the community service chairman for the UGA chapter of the National Association for the Advancement of Colored People.
"Discrimination downtown is extremely, extremely prevalent," said Akash Shah, president of the UGA NAACP. "It happens so often that we had an event last year where people could explain when and where they were discriminated against. We had a 100-person room that was so full people couldn't sit down."
Immediately after the drink list spread on social media and people called for it to be shut down, General Beauregard's closed its doors in what its owners later said was a pre-planned closure for fall break. It reopened after a week.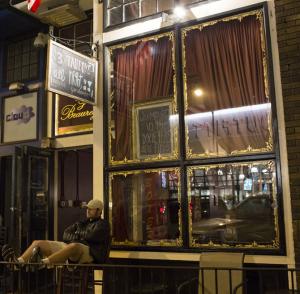 Photo Credit: Joshua L. Jones
On the Saturday following the UGA-Kentucky game, the bar was at full capacity with a queue forming at the door. One Wildcats fan was overheard asking for a "country bar," and locals sent him to General's—complete with its trademark drink, "Dixieland tea," and a statue of the Confederate general for whom the bar is named.
Despite the slavery-era theme, patron Michelle Freeman said she does not think the bar is racist or unfriendly to African-American customers.
"I've seen many African Americans here, and everyone is friendly to them," she said. "Yeah, it does have Southern decorations, but I don't think anyone who works here is openly racist to customers."
However, Kelley said hardly any African-American students go to General's, as it's known. "It's a general anecdote that black students aren't welcome there, so we don't frequent there at all," he said.
Students upstairs in the Irish-themed bar Flanagan's on a recent weekend said they have to be careful when choosing which bars to visit. Jessica Jones, Brit Sears and Tierra Sanford said they only came downtown to show their out-of-town friends around the city.
"We as black people rarely come downtown, because we know we'll be discriminated against," Jones said. "When we decided to go out, we had to think, 'Which bars can we actually go to?'" Among the ones they deemed "safe" for minorities were 9d's, Jerzees and Flanagan's.
Sanford said they are frequently denied entrance on the basis of dress codes. "It's all about your appearance. They'll find little things to deny you," she said, using the example of black men wearing earrings.
At many student-oriented bars, dress codes prohibit clothing deemed inappropriate or too casual by the establishment—often fashion favored by African Americans. They typically include athletic or baggy clothing, white T-shirts and male jewelry, among others.
"If people actually take the time out to read what the dress codes are, a lot of them are very culturally specific and racially specific. Certain things that are very prevalent in the African-American culture are not allowed in bars," Shah said.
Jones said a friend was denied for wearing athletic shoes that are common among black men, and indeed many white men can be spotted wearing similar shoes in many of the bars. A doorman at General's said that athletic shoes are not prohibited at the bar, but white T-shirts, jeans with holes and camouflage clothing are not allowed.
Jason Leonard, the owner of Flanagan's, Whiskey Bent and The Cabin Room, said his bars do not currently use dress codes; he found them "counterproductive" when his bars used them in the past. Leonard added that they don't want to be thought of as discriminatory and want everyone to feel comfortable.
"We don't want downtown to be portrayed in a bad light, so we are really trying to figure it out," he said.
But dress codes can serve a purpose, Leonard said, and many bars across the country employ them. "We want customers that respect themselves enough to look presentable," he said.
Dress codes not only target African Americans, but are applied unevenly to them as well, said Pierre Bass, a customer in Cloud, who wore a dress shirt and khaki pants. "I dress a certain way, and I can get in anywhere I want," he said. "I do know people who don't dress like me and can't get in many places."
Jones recounted a story of being denied entrance to bars based on dress codes, as well. "Last year on Valentine's Day, a group of friends and I came downtown, and we were told we were too casual. Right after, a large group of white people wearing jeans and T-shirts got in," she said. "They make it known that we are not wanted here."
In some cases, African Americans are turned away for seemingly no reason, Kelley said. One of his friends was so active in programs at UGA he was "a face of the university," but was turned away from a bar while wearing a suit and given no reason.
"They wouldn't let him in and wouldn't tell him the reason, so he ended up calling the police," Kelley said. "As soon as the police left, they kicked him back out."
If it is true that bars are discriminating against African Americans, they are breaking federal law, and legal action can be taken against them. The U.S. Department of Justice, not the local government, typically handles discrimination complaints, Athens-Clarke County Commissioner Kelly Girtz said.
However, a local course of action could be for a private group such as a nonprofit to establish an investigative team to look into bars that have been accused of discrimination, he said.
"If it was found that a business was using discriminatory practices, I would be interested in seeing what we could do, like restricting their business license," he said.
One reason for discrimination could simply be the fact that an older generation owns many downtown bars, Shah said. "Because they're older, they are used to the norms of an older society," he said. "It wasn't that long ago [1961] that the university was desegregated, and I think some of the bar owners want it to be more like it was before it was desegregated."
Economics could be another explanation, Kelley said. Some bars seem to want to keep out locals out due to the prevalence of poverty among African Americans in Athens, he said. "They want to keep them away because they don't think they'll spend money," he said. "Black students often come at the expense of that."
Kelley called for an outcry from students to quell discrimination in downtown bars. "We have a majority-white student body who continues to go downtown and give these businesses money knowing that these practices are still going on," he said. "Complacency can be just as bad as the act itself."
According to Shah, the NAACP has spoken to UGA President Jere Morehead about their experiences downtown. In a statement provided to Flagpole, Morehead said he has shared his concerns with city officials: "I strongly believe that all downtown establishments should treat our students with dignity and respect and ensure that every member of the UGA family feels welcome in this great community."
Sears, one of the African-American students in Flanagan's, said she is disturbed that bars don't accept African Americans after all the progress that's been made in curbing racial discrimination.
"We'll never be able to get to a place where there is no discrimination or racism if, even after all these years, we get denied from bars because of the color of our skin," she said.
Like what you just read? Support Flagpole by making a donation today. Every dollar you give helps fund our ongoing mission to provide Athens with quality, independent journalism.