A little more than 10 years ago, Jason Carter sat outside Caledonia Lounge in the middle of the afternoon along with a handful of other people and listened to Patterson Hood play. This month, Carter stood on the stage of the Tabernacle in Atlanta and introduced Drive-By Truckers to more than 2,000 of Hood's fans.
How much difference a decade can make.
In 2004, Carter was finishing up law school at the University of Georgia, heading off to Atlanta with his wife Kate after spending three happy years in Athens. Ten years later, he'd hold one of his first political rallies for governor here.
"Athens has been a really big part of my life on a personal level. We kicked off our marriage there," Jason Carter says. "But it's also the first place we appeared campaigning—it's where we kicked off the campaign, essentially."
Carter's first official appearance as a gubernatorial candidate was last December at Hendershot's in the Bottleworks on Prince Avenue. Polls now show him in a close race with Republican Gov. Nathan Deal, a feat few outside his immediate circle thought possible a year ago.
An Ordinary Life
Law school brought the Carters to Georgia. They met as undergrads at Duke University, and each spent a few years doing their own thing before tying the knot. Jason joined the Peace Corps and went to South Africa, later writing a book, Power Lines, about the experience. Kate got a master's degree in journalism from Columbia University in New York.
In the summer of 2001, as the next stage of their lives began, the couple rented a house in Five Points and spent a honeymoon month getting settled in Athens. Jason prepared to start classes in fall 2001; Kate took a job reporting for the Athens Banner-Herald.
"It's so strange the way it happened," Kate Carter says. "We found this house that we loved, and it is owned by Michael Joyce, who owned The Strand [a salon on Lumpkin Street]. Michael cut the hair of Jason Winders, who was news editor at the Banner-Herald then… That's how I got in touch with the Banner-Herald, and they just happened to have a reporter position open on the K–12 [education] beat."
The Carters would live in that house for their three years in Athens. "It was a small house, but it felt like a mansion to us," Kate says.
The first few weeks in Athens were carefree, she says. They had no money, but plenty of time. "We were enjoying living just as cheap as we could. We'd only been married a few months and having a wonderful time," she says. "Then, we were living off the very thin bacon I brought home, but we loved every second of it."
They haunted Caliente Cab—Bruno Rubio's popular BYOB outdoor restaurant on Tallassee Road—along with Achim's K-Bob, Five Star Day and Taste of India on West Broad Street. And Jason loves live music, especially Southern rock, his wife says. (His grandfather, President Jimmy Carter, famously introduced the Allman Brothers and had their support.)
"We saw amazing shows at 40 Watt and Caledonia… Tasty World," Jason says. "My good buddies from Calhoun always were playing in a band, under various names, so we'd go see them." (While Carter spent much of his school years in Chicago, he lived in Calhoun first and returned there throughout his childhood.) "When I think about Athens, I think about those days sitting outside Caliente Cab when it was just basically a trailer… Of course, we also celebrated our anniversary three years in a row at Five & Ten, because that is just where you go to celebrate an anniversary," he says.
The World Changes
In the middle of that carefree time, world events made everyone somber. "We started law school in August of 2001, so 9/11 happened three weeks into it… It had a profound effect on all of us," says Clete Johnson, a friend, fellow law school student and, for two years, the Carters' next-door neighbor on Springdale Street.
Johnson, whose father, Don, served in the Georgia Senate in the late 1980s and U.S. Congress from 1992–1994, had finished a stint in the military and was commuting to UGA from Royston when he and Jason started law school. "That first year, I spent two or three nights a week at their house, studying late. It's embarrassing to think how I must have been intruding on their time together, but they didn't complain," Johnson says. The following year, Johnson and fellow law school student Amit Bose—who today is deputy assistant secretary for the U.S. Department of Transportation—moved in next door.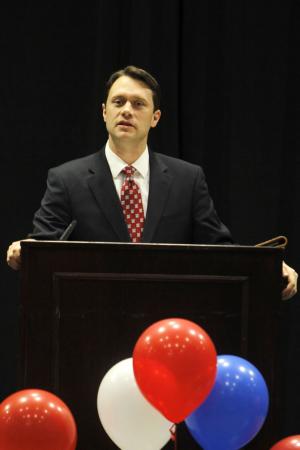 The terrorist attacks forced lots of young people to question whether their career goals still made sense, but Johnson really wrestled with his choices. "I had lived overseas for five years and served in the Army before I started law school, so 9/11 really made me question, 'What am I doing in law school? I need to work in national security,'" he says. "Due to a lot of advice from Jason and others, I decided to focus on national security and the law at the same time. That was definitely the right thing for me to do." Today, he is the Federal Communication Commission's chief counsel for cyber security.
"Jason had a serious commitment to public service. He showed up to law school with it. That's why he went to law school," Johnson says. "Those 9/11 days just furthered that focus for him and underscored how important public service is. I didn't know if I was meant to be here or overseas, but I think Jason always knew he was meant to serve and make a contribution in Georgia."
Carter and Johnson were in a two-semester torts class together that first year, one of the weeder classes that challenge incoming law students who are accustomed to being the smartest in the class. "It is statistically impossible for everyone to be in the top 10 percent of the law school class," says professor Dan Coenen. "That's hard on some students who just aren't happy where they are falling in the academic pecking order."
But Carter did better than he had as an undergrad, Coenen says; he graduated summa cum laude. He also was the only student Coenen ever granted an excused absence to go on a book tour, he says. Carter completed the work without falling behind. "Jason was just extremely sharp. He didn't have any trouble transitioning to law school," Coenen says. "He didn't get caught up in grades but enjoyed the academic challenge and understanding the material for its own sake."
Several of the students who started UGA law school in 2000 or 2001 have gone on to very successful political careers in just a few years, including Ryan Teague, who became Gov. Deal's executive counsel; Josh Belinfante, who was Gov. Sonny Perdue's executive counsel; and current Georgia House members Mike Jacobs (R-Brookhaven), Stacey Godfrey Evans (D-Smyrna) and Ronnie Mabra (D-Fayetteville).
The exact moment Americans realized what was happening on 9/11, Jason Carter was standing in a lobby area of the law school with friend Chris Young, who soon would go to work for Perdue. "He is a good friend of mine and very influential in Republican politics, but he and I were standing right next to each other when the second plane hit, and everybody realized it was terrorists. There were about 50 people who just held hands and said a prayer. People forget that unity that was there right after the attacks, because it got frittered away so fast in politics."
Carter didn't shy away from politics, though. In fact, in 2001, he and friends founded the Red Clay Democrats, a group designed to bring youth and energy to the flagging Democratic Party in Georgia.
Full Circle
While the law students debated gay marriage, war in Iraq, race relations and education reform, Kate Carter worked at the Athens Banner-Herald covering public education and then UGA. When they could afford lunch out, she and Jason would go to DePalma's, but Kate always worried she'd run into sources from the university—and that they'd be upset with her. "Reporting is so much fun but was a bit of a challenge for me. My personality is not naturally confrontational, but you have to ask questions, even if people don't want to tell you the answers," she says.
Kate worked two years at the Banner-Herald and then a year as advisor at The Red & Black, the student newspaper. After moving to Atlanta, she worked as a writer and editor for the Atlanta Business Chronicle before taking a job teaching journalism at Henry W. Grady High School in Midtown.
While here, Kate also served on the board of Athens Tutorial, a 30-year-old program that solicits volunteers to help at-risk kids in Athens with their homework. And Jason worked with Legal Aid, a type of internship that places law school students with public defenders to represent people who can't afford their own criminal defense.
The class and legal work is an elective, says Russell Gabriel, who ran the program then and still does. "It's a way for students to get real experience with hands-on clients—not always the most-liked clients," he says. The students, working with public defenders, help clients facing all types of misdemeanor or felony charges from theft and assault to drug possession or DUI. With 30 slots in the program, not all law students participate even one semester, but Jason worked two semesters.
Football was part of life in Athens—Kate is a Gator fan from Gainesville, FL—as well as basketball. "We didn't watch basketball as much as we played it," Jason says. He rattles off names of people who played together like it's a joke: "A chef, a bassist, a law student and a business owner walk onto the court—but that's what Athens is like. It's where a chef, a bassist and a professor play basketball together."
He did go see games, though, a few of them with R.E.M. bassist Mike Mills and manager/lawyer Bertis Downs, who met Carter at the law school. "I wasn't a playing buddy of his, just a trash-talking buddy who occasionally went to a game," Downs says.
While they did see some big acts in Athens, the Carters and their friends talk most about the smaller venues. "We would go see the Truckers all the time," Clete Johnson says. Those first shows were before Southern Rock Opera caught the music world's attention, including a show at the now-closed Locos just off Baxter Street. "It was just Patterson Hood and a guitar… and about 50 people listening," Johnson says.
The Truckers played for a near-capacity crowd at the Tabernacle in Atlanta on Oct. 10. Carter introduced the band, announced he is running for governor and settled in for the show. The admiration is mutual. Hood posted to Instagram a sweaty, post-show selfie of himself and Carter on Saturday with the message: "Post-show w next Gov. of Georgia Jason Carter. What a really cool and smart guy. He's pulling out of here to WIN!"
About a month before the Carters moved to Atlanta in 2004, they fell in love with a puppy outside Walmart on Epps Bridge Parkway. The terms of their lease in Athens didn't allow dogs, so they'd lived without one for the first three years of their marriage. That time was coming to an end—Jason was finishing his classes at the law school. They went inside the store and called their landlord to ask for a one-month reprieve on the no-dogs policy then hurried back outside to claim their puppy. They named her Jolene, after the 1973 Dolly Parton song about a beautiful woman who steals a man's heart.
That puppy, Jolene, is still with the Carters today. She lived up to her name and made an impression on their hearts in the same way Athens did.
Like what you just read? Support Flagpole by making a donation today. Every dollar you give helps fund our ongoing mission to provide Athens with quality, independent journalism.