Athens is a great town for outdoor fitness, especially if you don't mind a few—OK, a superabundant amount of—hills. To make things somewhat easier for you, Flagpole interviewed runners and cyclists to take the guesswork out of which routes will give you the most (or least, we're not judging) burn with a few suggested places to start.
Downtown Loops
Using the sidewalks around the downtown area is a great way to get your workout and, depending how you chose your route, can be the perfect blend of hilly and flat. The best time to run is probably earlier in the morning, when there's less foot traffic, but having run these courses both during the wee hours of the morning and around dinnertime, both are equally doable. (I wouldn't suggest to try running too late at night because of the overcrowded bar scene or on a game day weekend.) Note: If you want to increase the intensity, run them in reverse; the inclines are steeper that way.
Easy (1.4 miles): Start at the intersection where North Thomas Street becomes North Avenue and head west on West Dougherty Street; run south on Pulaski Street, then east on West Broad Street, finishing back on North Thomas Street.
Medium (2.4 miles): Start at the intersection of Willow Street and North Avenue. Head south up the hill on North Avenue, continuing on West Dougherty Street and Prince Avenue. Turn south on Newton Street, then east on East Broad Street to Willow Street and back to North Avenue.
Hard (3.5 miles): Same starting point as the medium course, but instead of turning south on Newton Street, you're going to run all the way to Dunkin' Donuts (don't stop and eat a donut), then turn south on North Milledge Avenue. Once you get back to West Broad Street, turn east, then follow that through downtown to Willow Street and back around to your starting point at North Avenue.
Nature Paths
South Milledge Avenue is another popular, relatively flat urban route, where you can check out the scenery. If it's not intense enough, add a few laps around the pond at Memorial Park or keep going to 2.2-mile Birchmore Trail. If you prefer a more natural type of run, Athens has many more great spots both within and just outside the Loop to satisfy your need for a woodland workout.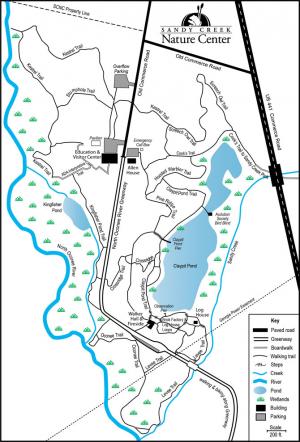 Cook's Trail: This course goes from the Sandy Creek Nature Center to Sandy Creek Park. The entire length is four miles one way, making it an eight-mile round trip, great for long-distance running.
North Oconee River Greenway: The greenway is another great hiking/running/biking trail for nature lovers. The concrete path connects Dudley Park (right next to Mama's Boy) to the Sandy Creek Nature Center, doubling as the Willow Street sidewalk for part of the route. The distance is 3.5 miles one way or a seven-mile round trip.
Sandy Creek Park: Seven miles of trails run around Lake Chapman, and now they loop together thanks to a bridge over the creek's wetlands built in 2012. For a nearly marathon-level run, start out at Dudley Park and take the greenway to Cook's Trail, then up to Sandy Creek Park and around Lake Chapman and back.
Oconee Forest Park: Located near the University of Georgia Intramural Fields, this greenspace has about 1.5 miles of trails that border the one-mile dedicated running path on East Campus Road, which ends at the Georgia Museum of Art.
State Botanical Garden: Seven interconnected trails ranging from a seventh to more than three miles and totaling more than five.
For more local run-routes, check out fitness apps like Strava or MapMyRun. These apps will show you maps of user-generated run locations in the Athens locale, and if you're into competition, there are ways to challenge other users' times on specific routes.
Bike Routes
When it comes to biking, Athens has a fair amount of bike lanes and even received a bronze award for being a bicycle-friendly community from the League of American Bicyclists. Overall, Georgia places 26th in national bike-friendliness. Check out BikeAthens' bike map, available at its website and at retailers around town. BikeAthens also regularly organizes group rides of varying lengths and difficulties.
Another group, AthensGABicycling.com, has group rides of varying skill and intensity that you can join six out of seven days of the week. Group rides are categorized by the average miles-per-hour of the ride—with "cheetah" rides being the fastest and "coyote" rides being the slowest. They even have a beginner ride for those just starting out.
As far as trails go, most of the routes mentioned for running are suitable for biking, although you may want to combine a few for added distance. If you're looking for off-road riding, you want to check out the Southern Off-Road Bicycle Association chapter in Athens. SORBA built a mountain-biking trail at East Athens Community Park and meets up there every Monday at 6 p.m. A little farther away, Fort Yargo State Park in Winder is one of the state's most popular spots for off-road biking.
Also, be sure to check out the same fitness apps listed above for user-generated rides.
Like what you just read? Support Flagpole by making a donation today. Every dollar you give helps fund our ongoing mission to provide Athens with quality, independent journalism.