The Saturday farmers market takes up three blocks along Main Street. There are two free trolleys that shuttle people from one end of town to the other. An amphitheater sits in the hill beside the river, which winds past the downtown's new and historic buildings. No, this isn't some mythical land imagined by Athens downtown master planner Jack Crowley—it's just up the road, and it's real. Welcome to Greenville, SC.
About 50 Athens citizens got the chance to see it firsthand the Saturday before Memorial Day as part of a trip sponsored by the Athens-Clarke Heritage Foundation. Participants interested in city planning, walkability, historic preservation and just how a city pulled off a major turnaround of a blighted downtown got to walk around downtown, take a tour led by a local expert and get a private question-and-answer session with Greenville's mayor.
The moral of the story? The city's downtown renaissance was one part leadership with a vision, one part solid planning and one part creative financing.
We'll get to the financing in a minute. But first, Knox White, who was elected mayor in 1995, noted a few ways Greenville turned around its ailing downtown. By the 1990s, the city suffered from a lack of hotels, retail and downtown residents, plus there was a feeling that the city was dirty, thanks to general blight and a river polluted for decades by textile mills. Ten years ago, White said, an effort began to remove a four-lane bridge built literally on top of waterfalls in the Reedy River, where the city began. An entire generation had grown up forgetting there was a waterfall in downtown Greenville, and White said he felt that it could be the centerpiece of the city's yet-to-be-polished crown jewels. "Politically it was very hard—I waited until I was re-elected," he said, laughing. "But by the time we got the city council to vote to remove the bridge, we had about 50 percent of the public on our side."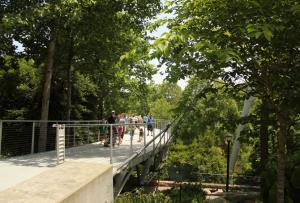 Photo Credit: Kristen Morales
Today, the bridge is gone, replaced with Falls Park, a natural area with miles of bike trails, an amphitheater and a foot bridge that highlights the falls once obscured by the automobile bridge. On a Saturday afternoon, the park and bridge were filled with visitors of all ages, some headed out to see the falls while others played in the grassy areas nearby or sat at an adjacent café.
The diversity of visitors is evident along Greenville's Main Street as well. John Boyanoski, a Greenville newspaper reporter, historian and author of the recent book Reimagining Greenville: Building the Best Downtown in America, led the group on a bus tour of the city and pointed out ways the city's leadership took an active role in the design, mix of businesses, parking and public art for downtown and attracting residential—the key to it all. For example:
• The city pushed for a baseball stadium downtown and insisted that it be mixed-use, with condos wrapped around the stadium, guaranteeing year-round use.
• There are no parking meters. Parking on the street is free, and parking in the city's garages is inexpensive—one garage is free on weekends and on special occasions, and the city makes sure the garages are kept clean and are well lit. "Every time we make them free, people learn about the parking garages," White said.
• Free, clean public restrooms are placed throughout the city.
• Public art has been chosen by the people, and it's on a human scale. While there is no active fund to purchase art, White said the city will allow any public art that has support from the community. For example, follow the hidden bronze mice along Main Street, which was a public art project proposed by a student and funded through donations. Also, Boyanoski noted, the art is set at eye level, allowing visitors to interact it with better than if it were on a pedestal.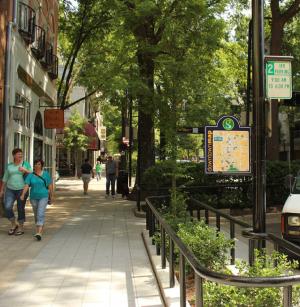 Photo Credit: Kristen Morales
Both White and Boyanoski noted the active role the city takes in managing its downtown. A city department, partly funded by a federal Main Street USA grant, actively plans events and acts as an assistant to outside groups that want to host events there. The city's public works and parks departments take great pride in keeping the area neat, clean and safe. "The organizations themselves are very focused on managing downtown," White said.
The city even had an active role in redevelopment, evaluating which buildings downtown were off the tax rolls and marketing them to developers. Today, the main city government complex is located in a defunct mall less than a mile from downtown; city-owned lots are now condos, increasing the population density. Even city parking garages incorporate ground-floor commercial along with residences around the outside of the upper floors.
So, Greenville had a plan, and it had a vision. But how was it put into motion? Here's where the financing came into play. Greenville took advantage of special tax districts, known as Tax Increment Financing (Tax Allocation Districts in Georgia), which allowed the city to create a special tax district in the downtown area. When property values or new development increased the tax revenue, the extra money went into a fund to pay for downtown improvements. Jack Crowley has proposed a TAD for the eastern part of downtown Athens, but Athens-Clarke County officials have yet to act.
Improvements could be cobblestone streets or barriers to protect roadside plantings. Falls Park, in the meantime, was funded by hotel and beverage taxes—the equivalent of our hotel-motel tax. "The park cost $13 million," White said. "Within two years of opening, we had more than $150 million in private investment. So the return on the investment was beyond our expectations."
Today, that hotel and beverage tax is paying even more, as it's difficult to get a room on a Tuesday night, and four new hotels are in the works.
The plan, which began decades ago, continues to be a part of the city's future—even as residents celebrate its renaissance. "We always have a plan. We set goals for what we want to accomplish," White said, noting there are always items on their list of needs. "We've created a walkable downtown. Retail is on fire… but we do put the emphasis on walkability. There's lots of public art [and] historic preservation. The result of all this is a phenomenon—everyone comes downtown."
Like what you just read? Support Flagpole by making a donation today. Every dollar you give helps fund our ongoing mission to provide Athens with quality, independent journalism.